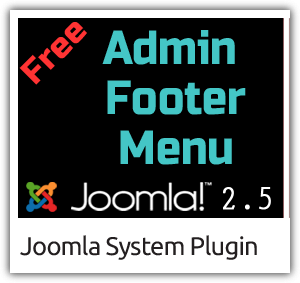 Admin Footer Menu for Joomla! is a simple Joomla system plugin that will bring your top admin menu at bottom fixed floating position. We noticed that sometimes people get confused to navigate the top menu for long page in joomla, so we developed this plugin to make this task easy.
We're giving this plugin away for free. We will be grateful if you could acknowledge us by sharing about this plugin on your Social Network. Please share and get it for free!
You may also like our Joomla Admin Power Menu. Check it out here.
Joomla Version Support

License: GPL2 (See the license)
Features:
Remove On Popup
Remove From Ajax
Disable for Mobile devices
Footer Position Left or right
Screenshots
Free Downloads
Admin Footer Menu for Joomla (5.6 KiB, 288 hits)
Free Download Now