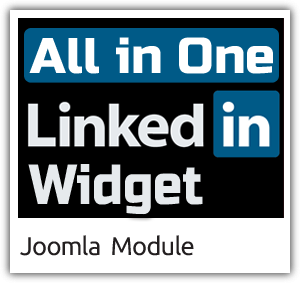 All-in-One Linkedin widgets is a bundle Linkedin plugins as Joomla module. Before you check our module details we will recommend to check the plugin overview page in Linkedin. What we did is made this easy for you to add these plugins in Joomla as module. Suppose you want to show your Linkedin profile badge in Joomla then this module will save your life and save you much development / coding time.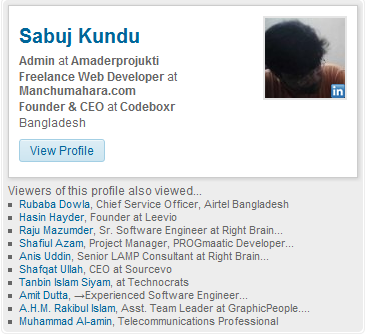 Joomla Version Support:
Joomla1.5 Native
Joomla1.6 Native
Joomla1.7 Native
Joomla2.5 Native
Joomla 3.x Native
License: GPL2 (See the license)
Features
Supported Linkedin plugins that works out of the box.
Member Profile
Company Insider
Company Profile
Default Module parameters
Module class suffix
Caching yes/no
Caching time
what's special in this module ?
Width for Member and Company profile box (From v2.0)
For Linkedin method-Synchronous/Asynchronous way of injecting javascript. Asynchronous way will help for lazy loading the box and browser will not hang to load it.
Avoid adding js in Normal JS mode
Language selection option.
Usages
How to get profile url or company url for your Linkedin profile.
For profile widget/module setting you need to put your public profile url

Login to your Linkedin, From main menu Profile->View Profile
Now the url mentioned as "Public Profile"

To get your company Name or ID

After login or from home page, go from Companies->Your Company
Or any company you follow
Again if you are advance user and own the company profile in Linkedin then Click the admin tools in company profile page and then mouse hover on delete, see the status bar for your exact company id.
Again you can go here, Type your company name , example "Codeboxr", hit enter, click "Get Code", See the value in data-id , For codeboxr it will show "2282648″
Download
Download link will be e-mailed automatically to your paypal id after payment is done.
All in one Linkedin Widgets for Joomla 1.5 V2.0

Size: 4.9 KiB | Hits: 13
Added: October 15, 2011 | Last Updated: July 25, 2012
USD 18.00 / Download

All in one Linkedin Widgets for Joomla 1.6 ,1.7, 2.5 V2.0

Size: 4.8 KiB | Hits: 20
Added: October 15, 2011 | Last Updated: July 25, 2012
USD 18.00 / Download

All in One Linkedin Widgets V2.0 for Joomla 3.x

Size: 4.5 KiB | Hits: 1
Added: October 14, 2012 | Last Updated: October 14, 2012
USD 24.00 / Download