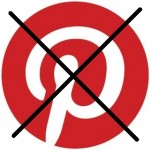 Pinterest allows anyone to Pin any images to their site. This means whatever image is there in a site, has the potential danger of being copied and carried on in other sites. While many people enjoy pinning, but there are situations when Pinning is undesirable.
For certain cases you may not want this to happen to protect your intellectual property, to protect a  certain design / photo which you hold copyright. This is even more true for photographers, commercial product developers. Pinterest itself added an option for webmasters to block their website from pinning (similar to how "nofollow" tag can direct search engine not to crawl a link). In the case of Pinterest, they introduced a meta tag to place in the website header to block from pinning.
We are aiming to make life easier for not so geeky developers or any one who doesn't want to mess up with the codes. That's why we are releasing a very lightweight system plugin for Joomla that will enable you to block content from any page on the fly. It offers you to tell which sites to block for and which site not to, so you have the flexibility. Supports Multiple Menu to block or unblock.
Usage:
Once this plugin is activated, there will be automatic generation of pinterest block code in your site which will disable users from pinning the content.
Once this plugin in activated for any content, the blocking works both from onsite pinterest button and also from "Add a Pin" from Pinterest itself. When someone try to pin an item from onsite using Pin button, the following message will pop up.
While someone try to pin the same blocked content on Pinterest itself, the following message will appear.
Live Demo:

Click here to see Live Demo of content blocked from pinning in Pinterest
Joomla Version Support:
Joomla 1.5 Native
Joomla 1.6 Native
Joomla 1.7 Native
License: GPL2 (See the license)
Demo
To see please check here. We just used our plugin's feature to add the "no pin" or "pin block" support for a specific itemid/menu id and it's working in that page.
Download:
Pinterest pinning block in joomla website v1.1 J25

Size: 3.2 KiB | Hits: 4
Added: June 3, 2012 | Last Updated: November 28, 2012
USD 6.00 / Download

Pinterest pinning block in joomla website v1.1 J15

Size: 3.1 KiB | Hits: 0
Added: June 3, 2012 | Last Updated: November 28, 2012
USD 6.00 / Download


Pinterest pinning block in Joomla v1.1 Bundle

Size: 6.4 KiB | Hits: 0
Added: June 11, 2012 | Last Updated: June 11, 2012
USD 20.00 / Download

Features:
Skip Item id(menu id) or menu item filter
Menu id or item id filter type – Include or Exclude
Skip Home page yes/no
Skip Ajax request yes/no
Skip popup yes/no
Skip in RSS yes/no
Admin Screenshot: