Freedom to Place Any Content With Flexible & Customizable Scrollpane
An innovative Joomla Extension that enables you to place a large section within your content which takes only a minimal space. Sometime you may need to place a large quote or few quotes from your customer within an article, but at the same time you dont want to take away so much attention from your original content. Or within a product page you want to show something else which are of secondary importance. This extension is idea for that.
View Live Demo JED Approved Version 2.1 & 2.2 Joomla 1.5 & 2.5
Awesome Features
Shortcode Based
Easy and Flexible to Use
SEO Friendly
Supports HTML Content
Styling
Styling to Design Match Your Site/Theme
Scrollbar Positioning Flexibility
Customizable Background Color
Customizable Knob/Handle Color
Supported Component
Com_content (Content Component)
Com_k2 (K2 Component)
Bespoke Solution for Any Other Component Support

Video Demo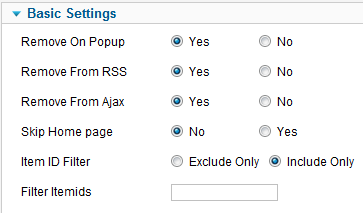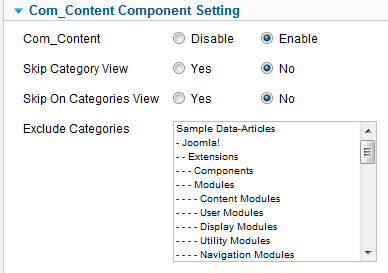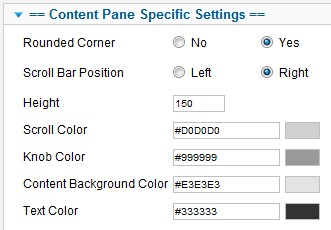 Setup is as Easy as 1-2-3
1. Select the Basic Settings
2. Select Component and Related Settings, Styles etc.
3. Put Shortcode in Content, Save and enjoy
How to Use Shortcode
Most Basic way to use the shortcode is (use it in Text Mode/ non-Visual mode of your editor):
{cbscrollpane}
Content is here
{/cbscrollpane}

Using Custom Width and Left Align

{cbscrollpane width="300", align="left"}
Content is here
More Content is here
{/cbscrollpane}
Available Options
Basic Settings
Remove On Popup Yes/No
Remove From RSS Yes/No
Remove From Ajax Yes/No
Skip Home page No/Yes
Item ID Filter Exclude/Include
Com_Content& K2 Component Setting
Component Disable/Enable
Skip Category View Yes/No
Skip On Categories View Yes/No
Exclude Categories
Skip K2 Latest View Yes/No
Skip K2 list view Yes/No
Skip K2 Tag View Yes/No
Skip K2 User View Yes/No
Content Pane Style Settings
Rounded Corner Yes/No
Scrollbar Positioning Left/Right
Control for Height
Custom Color Picker for Scroll, Knob, Content Background and Text

Buy & Download
Content Scrollpane for Joomla(Shortcode based) j15 v2.1

Size: 28.9 KiB | Hits: 7
Added: June 4, 2012 | Last Updated: June 19, 2012
USD 20.00 / Download

Content Scrollpane for Joomla(Shortcode based) v2.2 for j2.5

Size: 15.8 KiB | Hits: 50
Added: June 4, 2012 | Last Updated: December 7, 2012
USD 19.00 / Download

Version 2.1 & 2.2
Joomla 1.5 & 2.5
GPL2 License