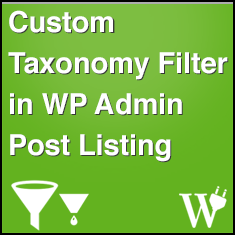 Custom Taxonomy Filter in WordPress Admin Panel Post Listing Plugin will solve or help to add custom taxonomy filter/dropdown for built-in or custom post type listing in Admin panel / dashboard.
Here is a screenshot that we are using custom post type "products" and custom taxonomy "product category" for that custom post type. The filter dropdown is created by this plugin. Please note that you have to use some other tool to create the custom post type and custom taxonomy.
WordPress Version Support:
Download
Custom Taxonomy filter in Wordpress Admin Post Listing

Size: 3.9 KiB | Hits: 6
Added: April 5, 2012 | Last Updated: June 4, 2012
USD 20.00 / Download

Features
Supports all post types including built-in and custom post types
Supports all taxonomy including custom and built-in taxonomy types
Enable/Disable for any post type
Enable/Disable any taxonomy
How to Install
Download the plugin
Install from WordPress plugin manager upload option
Alternative you can unzip the folder and copy the "customtaxfilterinadmin" folder in wordpress plugin directory
Now go to WordPress plugin listing page and activate the plugin "Custom Taxonomy filter in WordPress Admin Post Listing"
Now go from Setting->Custom Tax Filter and select/change setting & save
Check your post listing if every thing is ok.