Add Custom Taxonomy Filter for Built-in or Custom Post Type Listing in Admin
Custom Taxonomy Filter in WordPress Admin Panel Post Listing Plugin will solve or help to add custom taxonomy filter/dropdown for built-in or custom post type listing in Admin panel or dashboard.
Version 1.0 Wordpress compatible
Awesome Features
Supports all post types including built-in and custom post types
Supports all taxonomy including custom and built-in taxonomy types
Works for WordPress 3.0 and 3.0+
Options
Enable/Disable for any post type
Enable/Disable any taxonomy
Others
Custom Post Type
No Default Post Type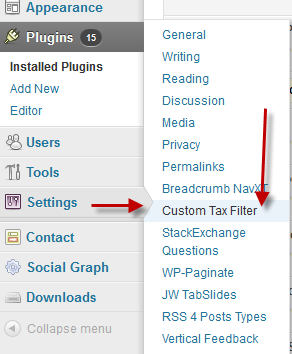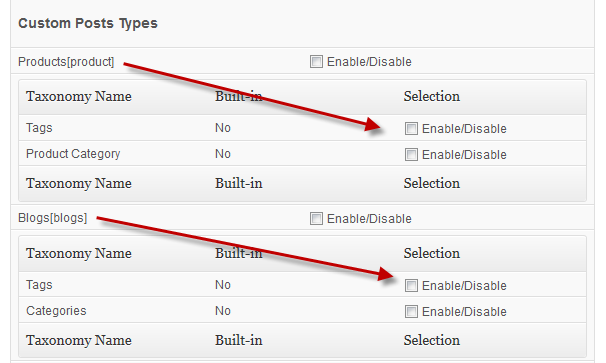 Setup is as Easy as 1-2-3
1. Install The Plugin in You Site
2. Select The Option
3. Save and enjoy
Custom Posts Options
Products Enable/Disable
Product Category Enable/Disable
Tags Enable/Disable
Blogs Enable/Disable

Buy & Download
Custom Taxonomy filter in Wordpress Admin Post Listing V1.2

Size: 5.2 KiB | Hits: 12
Added: April 5, 2012 | Last Updated: October 2, 2013
USD 20.00 / Download

Download link will be e-mailed automatically to your paypal id after payment is done. You may download it for a maximum of 5 times from the link and may use is for unrestricted domains.
Known Issues & FAQ
Q 1. Custom Taxnomy filter is not working for custom post type
Ans. We faced such issues and found most of the time custom post type and custom taxnomy is not added in proper wordpress hook. Another known issue and solution is:
1. For creating custom post type we recommend any developer and theme designer at first follow wordpress codex's tutorial about custom post type and then another details tutorial about how to create the custom post types with all possible parameters and hooks.
2. Please make sure 'query_var' param is set to 'true'
Here is an example:

function codex_custom_init() {
  $labels = array(
    'name'               => 'Books',
    'singular_name'      => 'Book',
    'add_new'            => 'Add New',
    'add_new_item'       => 'Add New Book',
    'edit_item'          => 'Edit Book',
    'new_item'           => 'New Book',
    'all_items'          => 'All Books',
    'view_item'          => 'View Book',
    'search_items'       => 'Search Books',
    'not_found'          => 'No books found',
    'not_found_in_trash' => 'No books found in Trash',
    'parent_item_colon'  => '',
    'menu_name'          => 'Books'
  );

  $args = array(
    'labels'             => $labels,
    'public'             => true,
    'publicly_queryable' => true,
    'show_ui'            => true,
    'show_in_menu'       => true,
    'query_var'          => true,
    'rewrite'            => array( 'slug' => 'book' ),
    'capability_type'    => 'post',
    'has_archive'        => true,
    'hierarchical'       => false,
    'menu_position'      => null,
    'supports'           => array( 'title', 'editor', 'author', 'thumbnail', 'excerpt', 'comments' )
  );

  register_post_type( 'book', $args );
}
add_action( 'init', 'codex_custom_init' );