Ever wondered how to embed a Flash format file (SWF) in a module position on your Joomla site? Our solution Flash SWF Embedder Module is exactly for that purpose. All it does is embed the SWF file within the module position of your choice.
Its very light and allows few simple customization such as controlling height, width of the container box, margin and border on/off and border size.
This is ideal to show banner, flash based photo gallery, promotion graphics or flash based advertisement.
Live Demo: Click here to see example of two Flash banners loaded via two instances of this module on J25 live site.
Joomla Version Support:

License: GPL2 (See the license)
JED
Please check this extension at JED(Joomla Extension Directory).
Features
*  It can embed a defined SWF (from URL) in module position
*  SWF can be added from External source
*  Height and Width can be controlled from module manager
*  User can set border properties like, border width and border color with color picker
*  User can control left and right margin to control the horizontal alignment
*  Compatible with all modern browser along with IE7 and IE8
Admin Screenshots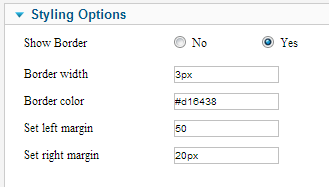 Usage
Just install the module, enable it and go to its admin setting.
Input the Flash file URL and select width, height, border etc.
Select which module position to show and which menu / page.
Save and enjoy your Flash in module.
Free Download:
Flash SWF Embedder Module v 1.3 for Joomla 15 25 bundle (11.9 KiB, 3,218 hits)
Flash SWF Embedder Module for v 1.3 for Joomla 3 (9.8 KiB, 1,128 hits)
Like us on Facebook:
Change Logs:
v 1.3 – 3 Dec 2012
* Added Clickable URL feature
*  Minor code refactoring
*  Joomla 3.0 compatible version released.
v 1.1 – initial release – 19 Oct 2012
Have any question  / suggestion?
We are an expert Joomla extension developer with many satisfied customers overseas. We would love to hear from you. Please contact us for any query or suggestions, or further customization request.