Display Your Instagram Photos in Module Position. Smart and Simple.
A smart module to display Instagram photos from your Instagrm profile, You Provide the RSS link and see the juicy large preview while mouse over the thumbnail of your photos from Instagram.
View Live Demo JED Approved Version 2.13 Joomla 2.5 & 3 compatible Download
Awesome Features
Display your Instagram photos in any Module Position
Custom Number of Photos as you Need
Large Thumbnail Photo Preview
Style-match with your Theme
Styling Options
Background Color of Display Box
Custom Background Color of Tooltip
Custom Border Color of Tooltip
Pixel Perfect Control Size of Pinbox
Others
Advanced Caching
Easy to Use
Light Weight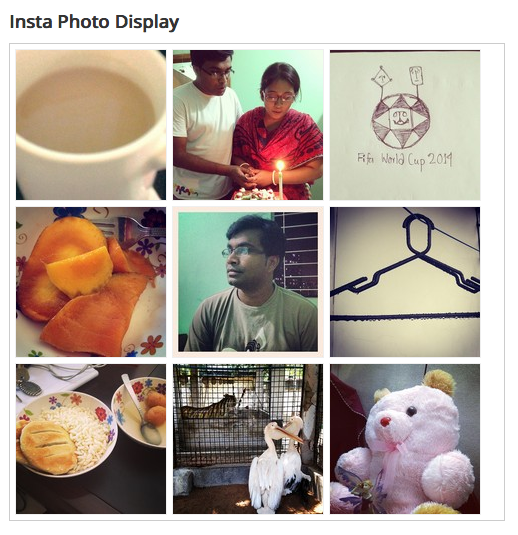 Check all screenshots and step by step setup from our Codeboxr's Facebook and Google Plus album.
Buy & Download
Type
Joomla 2.5
Joomla 3.x
J2.5 & J3.X Bundle


* RECOMMENDED

Module + Component + Auth Plugin Packed
Instagram Photo Display Module v2.8 for J2.5.x

$20.00 Add to cart

Instagram Photo Display Module v2.11 for Joomla J3.x

$20.00 Add to cart

$35.00 Add to cart
GPL2 License
Support Policy
Download link will be e-mailed automatically to your paypal id after payment is done. You may download it for a maximum of 12 times for one year(365 days) from the link and may use is for unrestricted domains but support will be given for one year(365) for one domain.
How to setup
Buy, Download and Install the Instagram Module, activate the "Codeboxr OAuth2 Helper System Plugin" and follow this video