Display Simple Tab and Slider for Joomla in Module Position
Joomla Native Simple Tab Slider is a light but effective module to make tab or slider using other modules. It's simple but powerful. It for those who love simplicity and elegance.
View Live Demo JED Approved Version 3.0 Joomla 1.5 & 2.5 compatible
Awesome Features
It's Simple, no Unnecessary Styles or Effects
Tabbed or Slider (Accordian) Interface
Full Control to Style-match with your Joomla Site
Flexible and Easy to Use
Style Options
Show tabs at position Top, Bottom, Right and Left
Alow close all slides (Slider Only)
Choose modules by module position
Other
Choose Modules by Module Id
Slider Specific Setting
Advanced Caching

Screenshot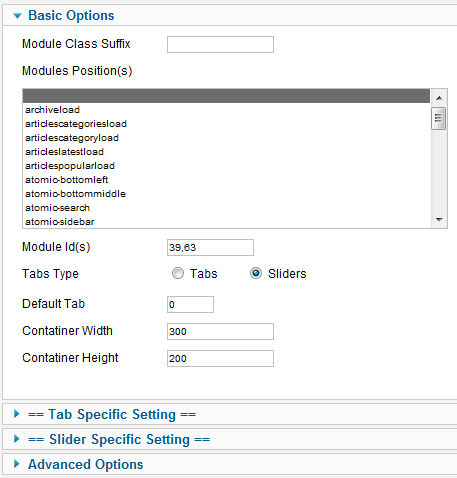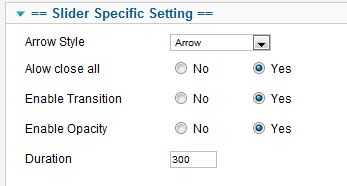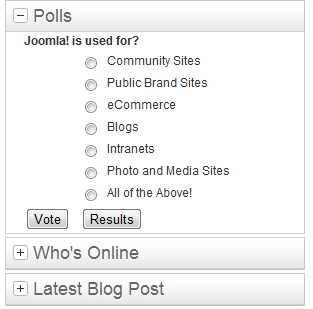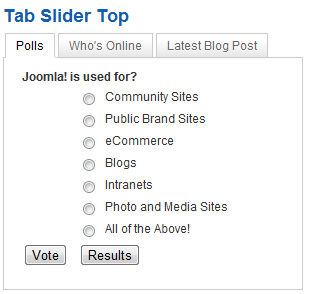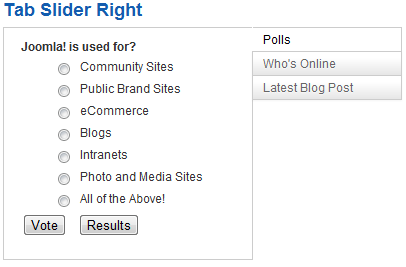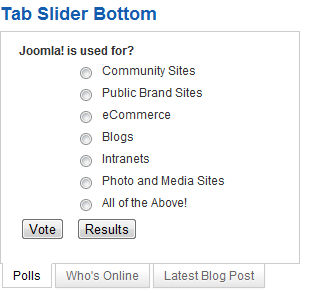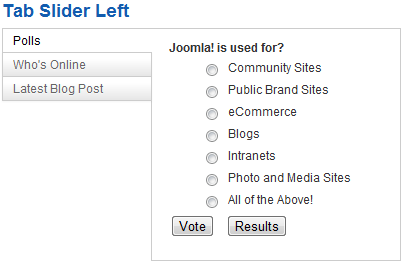 Setup is as Easy as 1-2-3
1. Install the module in Your Site
2. Select your desired resolution
3. Save and enjoy
Use desired module position of your theme.
Available Options
Basic Settings
Module Class Suffix
Module Position
Module ID's
Tabs Type
Default Tab
Contatiner Width & Height
Tab Specific Setting
Tab Position
Contatiner Width
Tab Specific Setting
Arrow Style
Alow Close all
Enable Transition
Enable Opacity
Duration
Download
Joomla Native Simple Tab and Slider V3.0 J1.5 (28.7 KiB, 79 hits)
Free Download Now
Joomla Native Simple Tab and Slider V3.0 J16 J17 J25

Size: 31.0 KiB | Hits: 13
Added: March 15, 2012 | Last Updated: April 8, 2012
USD 15.00 / Download

Version 3.0 Joomla 1.5 & 2.5 compatible GPL2 License
Note: Download link will be e-mailed automatically to your paypal id after payment is done. You may download it for a maximum of 5 times from the link and may use is for unrestricted domains.