Display Product Showcase for Joomshopping, Smart & Attractive
 Looking for a smart Joomla module that will show JoomShopping products nicely? Look nowhere. With our Product Showcase for JoomShopping for Joomla module you can show your Joomshopping Products nicely and with great customization options.
View Live Demo JED Approved Version 1.6, 1.8 Joomla 1.5, 2.5 & 3 compatible
Awesome Features
 Show Products as Thumbnails or Slideable Display (with animation)
Choose to Show Videos in Simple Thumbnail Mode or Slider Mode
 Option to Set how Many Products to Display
Apply Category Filters on Product Showing
Show Some Particular Products to Show by Entering Product IDs
Styling Options
Customize the Box Size, Box Background Color, Tooltip Background Color and Tooltip Border Color as Design Demands
Slideshow with Control and Direction Enable / Disable
Auto Slideshow On/Off
Horizontal Slideshow on Any Position
Advanced Option
A Number of Animation Style and Effects Available
Flexible Items to Show – How Many to Load, How Many to Show and How Many to Slide Each Time
Slideshow Speed Customizable With Mili Second
Customize the Title Font Size as Per Design Need

Screenshot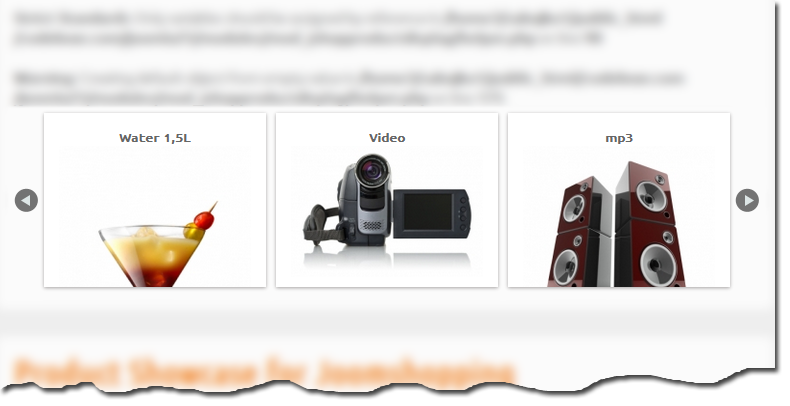 Video Demo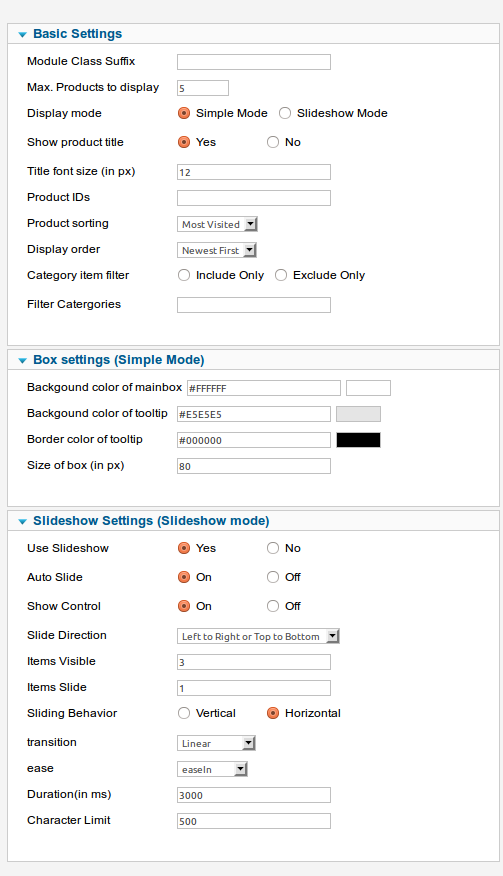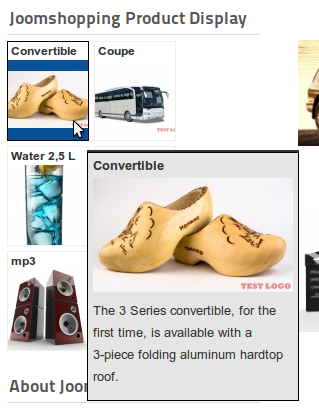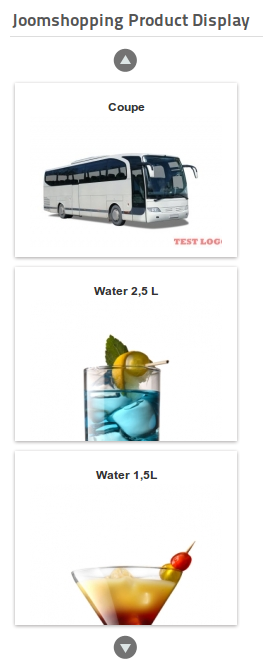 Setup is as Easy as 1-2-3
1.  Put The Module on Your site
2.  Select Your Style and Position
3. Save and Enjoy
Play with the available options related to styling and design
Available Options
Basic Configuration
 Module Class Suffix
Max. Product to Display
 Display Mode Simple/Slideshow
Show Product Title
 Product Sorting
 Display Order
 Category Item Filter
Slideshow Settings
Use Slideshow Yes/No
Auto Slide On/Off
Slide direction
Item Visible
Item Slide
Sliding Behavior
Transition
Box Settings
Background Color of Main Box
Background Color of Tooltip
Border Color of Tooltip
Size of Box (in px)


Buy & Download
Joomshopping Product Display v1.6 for Joomla 1.5, 1.6, 1.7 and 2.5

Size: 48.0 KiB | Hits: 9
Added: August 31, 2012 | Last Updated: January 4, 2013
USD 30.00 / Download

Joomshopping Product Display v1.8 for Joomla 3.x

Size: 28.4 KiB | Hits: 0
Added: April 15, 2013 | Last Updated: April 15, 2013
USD 30.00 / Download

Version 1.6, 1.8 Joomla 1.5, 2.5 & 3 compatible GPL2 License
Download link will be e-mailed automatically to your paypal id after payment is done. You may download it for a maximum of 5 times from the link and may use is for unrestricted domains.