Display Your Linkedin Updates in Jomsocial. Smart and Fast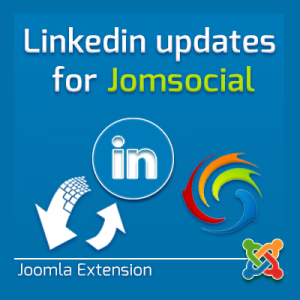 How to show Linkedin Updates within JomSocial, the most popular Community Component of Joomla? Our Linkedin Updates for JomSocial JomSocial Addon is geared to fulfill this need, using which you can show updates from Linkedin within your JomSocial profile and community wall.
View Live Demo JED Approved Version 1.1.5 Joomla 3 compatible Download Documentation
Awesome Features
Display Linkedin Updates on Your Joomla Site for Jomsocial.
Linkedin Connect for User for Status update to Linkedin.
Show Linkedin Updates as Widgets.
Has Two Widgets: user's share and status update in linkedin
Style Options
3 Style for Lists: Gray, Dark and Plain
3 Position control for Admin: Main, Sidebar top, Sidebar bottom
Rounded corner
Others
Core Application select-ability
Advanced Caching
Language Pack enabled
Setup is as Easy as 1-2-3
Install the Addons in your site.
Select Style and Position.
Save and Enjoy.
Play with the available options related to styling and design
Usage
Download and install the Plugin. This Addon installs as Joomla Community Plugin. Once installed, you have activate it first (find it by selecting community from plugin types in the plugin page).
For admin, Select whether this is core application and other relevant settings for style such as gray/dark, rounder corner etc. Save and that's it.
Buy & Download
CBX Linkedin Updates for Jomsocial
$15.00 Add to cart
Support Policy
Download link will be e-mailed automatically to your paypal id after payment is done. You may download it for a maximum of 12 times for one year(365 days) from the link and may use is for unrestricted domains but support will be given for one year(365) for one domain..