Give Your Visitors all Social Media Updates Without Leaving Your Joomla Site
An unique Joomla Component which show latest updates from all major social networks in Facebook like timeline fashion (and other layout and styles). Whichever is your social network of choice, now you can feature their updates as you like within your Joomla! A must have Component.
JED Approved Joomla 1.5 & 2.5 compatible
Awesome Features
Display all Social Updates within Joomla
Use Secure and Reliable Social Authentication
Stream from Multiple Social Networks Simultaneously
Supports Multiple Profile/ Account of Same Social Network
Works with any Joomla Templates
Pre-Built Layout & Styles
Grid View
Facebook Timeline
Tab based Timeline
Slider Container
Simple List
Each Layout comes with 3 built-in Style
Supported Social Networks
Facebook Page/ Fan Page
Twitter, Linkedin
Pinterest, Youtube, Instagram
Flickr, Tumblr, WordPress
Delcious, Myspace, FourSquare and more

Demo: See in Action


Video Demo

Setup is Straight Forward
* If version is 4.0 or later please unzip the download package first and then check there is a component named "com_cbsocialappsoauth", at first install this and then install the main component* From v4.0 we introduced an extra authentication component with the My Social Timeline Component/module.
* Download the component/module(this extension has both module and component version specially for j2.5) and install
* Create a menu to connect the component in front end/home page. All settings are saved in menu setting or for each menu the component can have different setting. Here all settings are through the menu setting from admin panel menu manager. For module the setting are available from module setting from module manager
* Choose social network, choose style and other features.
* Set your social network ids profile.
Available Options
5 Layout
Grid Layout
Facebook alike Vertical Layout
Tabbed Container
Slider Container
List View
Note: All layout have the following 3 styles.
3 Styles
Clean (Black and White)
Dark (Gradient using CSS3)
Gray (Gradient using CSS3)
Supported Social Networks
Facebook (Facebook Page / Fan Page)
Twitter (with media images support)
Linkedin (User profile)
Pinterest, Youtube
Flickr, WordPress, Google+
Instragram, Delicious, Blogspot
Tumblr, Reddit, Myspace
Custom Settings
Show All, Last Month, This Week and Recent (last 24 hours)
Sort Social Network according to your weight (customizable)
Multiple Profile/ Account of Same Social Network (use comma in menu setting for different profiles)
Maximum item per social network: Example Value: 5
Grab/crawl timeout for each social network (how long the component will check to grab activity of each social network)
Sort Criteria: Item Publish time or Custom Network Weight
Sort Direction: Ascending/ Descending
Feed Type: RSS and Atom
Show Date Section for each feed box
Show/Hide Related time (Example: 5 days ago, 10 mins ago)
Show Full date
Timeline Selection
Tab Slider Specific Options
Tab Position – Top, bottom, left or right
Slide speed, transition effect
Slide duration
Close all Yes/No
Use opacity yes/no
Other
Advanced Cache: To make this Component work smoothly caching is very important, otherwise each refresh it will try to load all items from various social network which will be resource extensive for the server and recommend to enable caching. Caching is handled in different way for J1.5 and J2.5
Safeurl Caching for joomla2.5, For unique url of the component the caching is different, caching setting works from global setting
Enable Caching from menu setting in Joomla 1.5

Screenshots – Admin Settings

Buy & Download
Pre-Requisite – Free Download
Codeboxr Social Oauthentication Component v1.0 for J1.5 (76.9 KiB, 140 hits)
Codeboxr Social Oauthentication Component v1.0 for J2.5 (75.4 KiB, 460 hits)
---
Component
My Social Timeline V4.0 for Joomla1.5

Size: 367.6 KiB | Hits: 12
Added: May 24, 2012 | Last Updated: November 18, 2012
USD 25.00 / Download

My Social Timeline Component v4.6 for Joomla 2.5

Size: 399.8 KiB | Hits: 101
Added: May 24, 2012 | Last Updated: May 9, 2013
USD 30.00 / Download

Module
My Social Timeline Module4.0 for Joomla2.5

Size: 252.6 KiB | Hits: 38
Added: September 12, 2012 | Last Updated: November 18, 2012
USD 25.00 / Download

Free JomSocial Plugin. Free!
My Social Timeline Jomsocial Menu 1.3 for Joomla 2.5 (11.1 KiB, 634 hits)
---
Bundle for Various Joomla Versions

My Social Timeline for Joomla Bundle v4.1 j15 and j25 packed

Size: 775.0 KiB | Hits: 21
Added: June 11, 2012 | Last Updated: December 4, 2012
USD 45.00 / Download

Version 4.0, 4.1 Joomla 1.5 & 2.5 compatible GPL2 License
TUTORIAL: How to set Social Network ID
Multiple username/id is support. Just use comma separation for multiple id. Example: for twitter if you have multiple account you can use codeboxr, manchumahara – where codeboxr and manchumahara is twitter username of two accounts.
Facebook: This extension only supports facebook page (and fan page), need to find page id (Please note that need page id not page username). To find page id for any facebook page (and fan page) you can go in two ways. If your page doesn't have any vanity url or username then your page url should have the id. If you already have the username for your page then need to find the id in tricky way. Please go to Facebook graph api explorer. At first it will some info for your profile. In the input box write your page url name and hit enter, it will show id and so many data. Or you can hit the url https://developers.facebook.com/tools/explorer?method=GET&path=username (change user name with your facebook page user name). See this screenshot. So the facebook page id will be something digit.
Twitter: For twitter just simply use your twitter username. https://twitter.com/#!/codeboxr . Here bold part is your twitter username. Please note that from Version 4.0 we added twitter connect option for twitter to avoid the api policy issue from twitter for their api1.1 version. So if you upgrade or buy the new version 4.0 or later please note that you need to click the "Twitter Connect" button from menu manager. It will take you to twitter and ask permission and if every thing goes well will back to menu setting page or module setting page, save the menu/module. Advance users can create application in twitter and set their own consumer key and consumer secret. New Twitter connect (from v4.0) is available from Basic setting of component's menu in menu manager. See screeshots.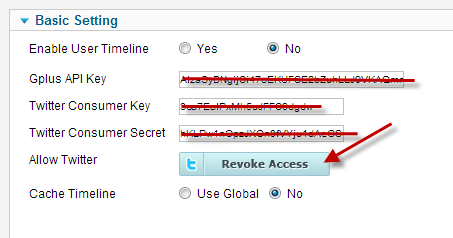 Youtube: Simply use your username . Example: http://www.youtube.com/user/mashable here the bold part is youtube username.
Pinterest: For pinterest simple use the pinterest username. Example: http://pinterest.com/mashable. Here bold part is the pinterest username.
Linkedin: It's actually your linkedin network update via RSS feed. You have to put the secret url. To find the secret RSS URL please. Just click here. You must enable your rss feed and copy the rss url from that link.
Flickr: For flickr need user id not username. To find your user id for any username please use this service.
WordPress, Blogspot and Tumblr: Simple use username. Example: username.wordpresscom, username.blogspot.com, username.tumblr.com
Delicious & Digg: For delicious use your username: example: http://www.delicious.com/mashable. the bold part is the delicious username. Same way for digg http://digg.com/cnet here the cnet is username.
Reddit & Last.fm: For reddit to find username use this example: http://www.reddit.com/user/mashable here bold part is username. http://www.last.fm/user/Dix-Din here the bold part is lastfm username.
Instagram: Please go here web.stagram.com and connect with instagram and then login, My Photos, then check the rss feed link is at right side. copy this rss feed link. Example: http://web.stagram.com/n/manchumahara/ where my instagram username is manchumahara
Foursquare: Please go here https://foursquare.com/feeds/ and then copy the RSS feed link
Google Plus: Example if your Google Plus profile or page URL is https://plus.google.com/104289895811692861108 then put the last digit as profile or page id that is 104289895811692861108
Timeline per User (New from v3.0 and only for j2.5)
Now it's possible user can set his/her personal timeline. For this at first admin need to enable this feature from the component option/setting and then user will get option to enable disable timeline for him/her and set his own social networks.
Jomsocial Integration (New from v3.0 and only for j2.5)
Now we are providing a free plugin for jomsocial to add a menu in jomsocial toolbar so that user can access his/her timeline easily. Though it needs that admin enable the timeline for user and user enable timeline for his/her.
Timeline as Module(New from v3.0 and only for j2.5)
We are happy to release the My Socialtimeline as a module. Some customers wanted this and they want to show the timeline in home page or other page with another extension. So besides components now timeline can be integrated as module but for module there will be no separate timeline per user. It means for timeline in module admin can set all necessary social network from module setting.