Make Your Site Open Graph Protocol Compatible in a Matter of Clicks
After activating this Component + Plugin your site is Open Graph ready. A pioneer Joomla Component that give full control over Joomla content for all kind of Open Graph Protocol (OGP) customization. An essential extension to make your website pages Social Media friendly.
I tried all Open Graph expansions, and with all was dissatisfied… I use the K2 component and for me it was important to edit every line Open Graph on each page K2, setting it unique parameters. This expansion allows to do it very simply, pressing of one button. ~ ★★★★★ Customer Review via Joomla Extension Directory
JED Approved Version 2.3 (J3), 2.6 (J2.5) Joomla 1.5, 2.5 & 3 compatible
Awesome Features
Makes Your Site Content 100% Open Graph compatible
 Most Flexible Open Graph Solution. Easy to Use and Customize
Supports all OG Tags
Enable/ Disable any Component for Admin or Front End Part Separately
Works with all Joomla Templates
Supports All OG Tags
Type and Description
Geo Tags such as Latitude, Longitude, Postal Code
Person Objects such as Email, Phone, Fax
Video URL, Size and Type etc.
Audio URL, Title and Artist etc.
Product Object (eg. ISBN)
Supported Components
Integrates seamlessly with the leading 9 Components
Com_Content
K2, Zoo, Tienda
FlexiContent, DJCatalog
 Virtuemart, Redshop
 QuickFaq

Video Demo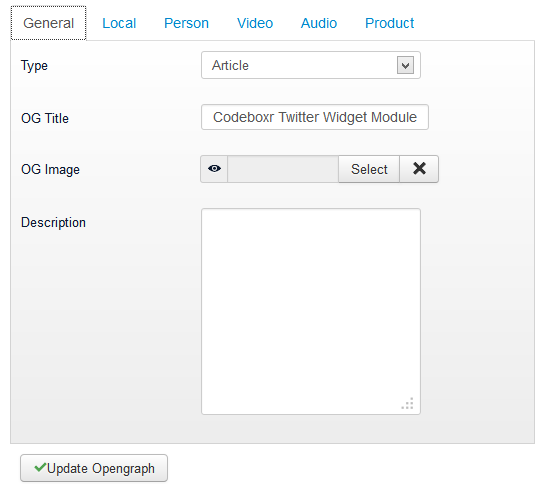 Screenshots for Joomla 2.5
Small og:image: All the images referenced by og:image should be at least 200px in both dimensions, with 1500×1500 preferred. (Maximum image size is 5MB.) Please check all the images with tag og:image in the given url and ensure that it meets the recommended specification.
og:image should be larger: Provided og:image is not big enough. Please use an image that's at least 200×200 and preferably 1500×1500. (Maximum image size is 5MB.) Image … will be used instead.
Note: Please make sure that your Article is Public (Not Private) to have Open Graph properly implemented.
Setup is as Easy as 1-2-3
This extension have two parts:
a) Component to store OG tag information and other actions
b) Plugin to add custom OG editor or input panel under the article editor, Ajax based action to save or update.
How to Use
1. Install the Component and the Plugin (Enable Mootools Upgrade System plugin in j1.5 and if you use JCE please use the latest version)
2. From Plugin Manager go to Plugin Settings and Give Inputs. Enable the components for which you want the OGP features to be on from 'Component Setting Backend' and 'Component Setting Frontend'.
3. Save Settings
Applying OG in Articles
Once you enable the component, go to Content>Article Manager and open the desired article. You will see a OGP button called (Open Graph) installed at the bottom of the article.

To provide default OGP tag for entire site, for J1.5 go to Components>Open Graph Protocol>Global Configuration. Here you may enter all the OGP tags that will be used for the globally. For J25, go to Components>Open Graph Protocols and click on Options button to enter global OGP configurations.
Once your article has OGP tags added, when you share the article on Social Media such as Facebook, Google Plus, LinkedIn you will see the OG tags such as title, image, description showing up in sharing.
Available Options
Supported Components
Com_Content (Article Manager)
K2 (Com_k2)
Flexi Content (Com_Flexicontent)
Zoo Component (Com_Zoo)
DJ Catalog2 (Com_Djcatalog2)
Virtualmart (Com_Virtuemart)
Tienda Shop (Com_tienda shop)
RedShop (Com_Redshop)
Quick FAQ (Com_Quickfaq)
Supported OG Tags
OG Object Type, Description
OG Object Image (Multiple Images)
OG Local Objects
- Latitude, Longitude
- Street Address
- Locality, Region, Country
- Postal Code
OG Person Objects
- Email Address, Phone, Fax Number
OG Video Objects
- Video URL
- Video Height, Width
- Video Type
OG Product Objects
- UPC, ISBN
Other
Enable or disable any component for admin or front end part separately
Admin configuration option for the default setting of open graph tags
If custom og tag missing it will try to find title tag from article.
You can edit any OG Tag from the OGP Component "Individual article manager". There is quick filter to sort via any specific component.
Known issue: If you Use G-Zip for your site Open Graph Protocol Will not work.

Buy & Download
Open Graph Protocol v2.0 for Joomla 1.5 (105.5 KiB, 54 hits)
Free Download Now
Open Graph Protocol v2.14 for Joomla 2.5.x (Unzip First)

Size: 111.9 KiB | Hits: 214
Added: July 1, 2012 | Last Updated: April 15, 2014
USD 25.00 / Download

Open Graph Protocol v2.12 for Joomla 3.x (Unzip First)

Size: 142.7 KiB | Hits: 69
Added: December 1, 2013 | Last Updated: February 24, 2014
USD 25.00 / Download

Open Graph Protocol v2.12 Bundle for Joomla 3.x, 2.5.x

Size: 253.0 KiB | Hits: 31
Added: July 1, 2012 | Last Updated: February 24, 2014
USD 39.00 / Download

Version 1.7 Joomla 2.5 compatible GPL2 License
How to remove the default Open graph tags for K2 (Com_k2) component and avoid duplicate OG tag issue
K2 has its own OG tag which has limitation. In that case we recommend removing OG part of K2. Follow the link below to see which part to comment out (disable) from K2.
Go here http://pastebin.com/iSKmKqbv or check this gist
Please note that for Joomla 1.6 or Joomla 1.7 this extension will give wrong output if caching is enabled. Also we recommend you to use the latest Joomla 2.5 series for improved security.
Download link will be e-mailed automatically to your paypal id after payment is done. You may download it for a maximum of 5 times from the link and may use is for unrestricted domains.