Show Related Items at Anywhere in the Content of a Page. Simple & Smart
Ever wondered how the great news websites suggest related articles, great e-commerce sites show other related products as their visitors browse any particular page and read a story? With this Plugin you can achieve just that with style.
View Live Demo JED Approved Version 1.8 Joomla 2.5 & 3 compatible
Awesome Features
Related articles fetched by title matching, Joomla native tag (for joomla 3.0), native tag of K2 and Zoo
 Previous or Next Item
  Random Post From Related Articles or Fully Random
 Ascending or Descending Related Articles Picked Up from Meta-tags
 Mobile Device Compatible. Great Flexibility and Option to Customize
Related Article Options
Related Articles Box Heading
 Show Directions Words
 For specific Categories Plugin Enable/Disable Options
 Exclude categories option during fetching related articles
 Skip Words option by title matching (like adverb etc.)
Custom Background Color
Use Gradient
Supported Components
Supports Com_Content
 Supports K2_Content
Supports Zoo_Content
Screenshot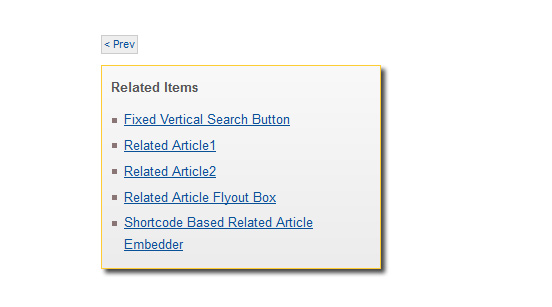 Video Demo

Setup is as Easy as 1-2-3
1.  Put the Plugin in Your Site
2.  Select Style and Position
3.  Save and Enjoy
Play with the available options related to styling and design
Available Options
Basic Configuration
 Skip Home page Yes/No
Item ID Filter Exclude/Include
 Filter Itemids
Disable If Offline Yes/No
 Remove On Popup Yes/No
Remove From RSS Yes/No
 Remove From Ajax Yes/No
In Mobile devices Hide/Show
Com_Content Component Setting
Com_Content Disable/Enable
Skip Category View Yes/No
Skip On Categories View Yes/No
Exclude Categories
Com_K2 Component Setting
 Com_k2 Disable/Enable
 Skip K2 Latest View Yes/No
 Skip K2 list view Yes/No
 Skip K2 Category View Yes/No
 Skip K2 User View Yes/No
Com_Content Component Setting
 Enable Com_Zoo Yes/No
 Exclude Zoo Categories
 Order Articles By


Buy & Download
Related Articles after content plugin v1.8 for j2.5.x & j3.x

Size: 27.5 KiB | Hits: 48
Added: October 6, 2012 | Last Updated: December 10, 2013
USD 19.00 / Download

Version 1.8 Joomla 2.5 & 3 compatible GPL2 License
Download link will be e-mailed automatically to your paypal id after payment is done. You may download it for a maximum of 5 times from the link and may use is for unrestricted domains.