Show Any Module (such as Login, Notice etc.) in a Compact Fashion
A cool system plugin to load any module on a sliding panel. Comes with tons of features so that you have great flexibility to take advantage and fulfil your site's requirements.
View Live Demo JED Approved Version 1.8 Joomla 1.5, 2.5 & 3 compatible
Awesome Features
Show Any Module Compactly and Make Easily Accessible to Visitors
Fully Responsive and Smart Device Compatible
Supports both MooTools and jQuery Library
 Simultaneously Use both Top and Bottom Panel
Full control to style-match with your Joomla site
Panel Styling
Show up to 3 Modules in Each Panel
Control for Panel Width and Height
Built-in 10 Transition Styles
Single Color or Gradient
Separate Panel Settings for Top and Bottom
Button Styling
Supports Text and Custom Image for Label
Control Button Width and Position (Left, Middle, Right)
Single Color and Gradient Styles
Separate Button for Top and Bottom

Video Demo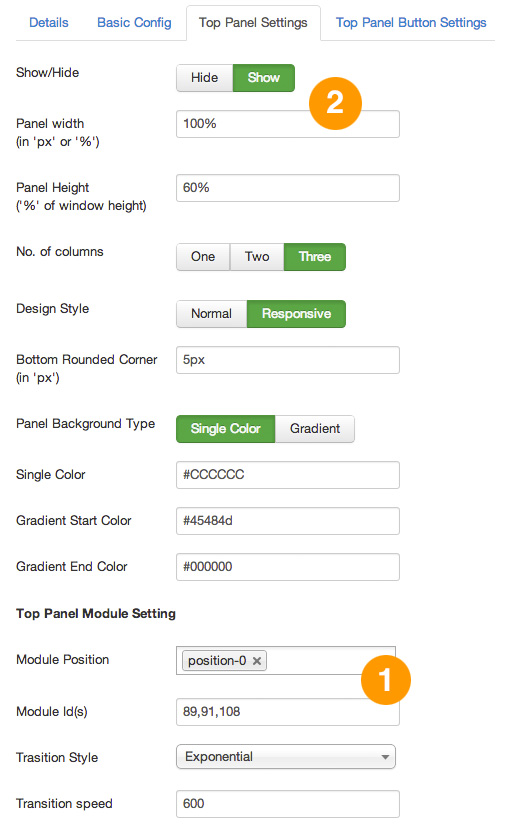 Setup is as Easy as 1-2-3
1. Provide the Module IDs that you wish to show on Slider
2. Enable Panel and Select the Desired Settings for Panel and Button
3. Save and enjoy
Play with tons of other options related to styling and transitions
Available Options
Panel Settings
Specify Width by Pixel or %
Specify Height by % of Window Height
1, 2 or 3 Column
Rounded Corner on/off
Single Color or Gradient Style
Button Settings
Customisable Button Label Text for Open and Close
Customisable Color for Label
Button Width and Rounded Corner
Customisable Button Position
Option for Button Background (Useful for different language)
Customisable Button Label Image
Transition Effects
Select from 10 Transition Styles:
Input for Transition Speed
Other
Load JS library (Yes/No). If you load any js lirbary from template or other extension you can set 'no' to avoid multiple load of js library.

Screenshots

Buy & Download
Responsive Top Bottom Panel Module Slider V1.8 for J2.5.x

Size: 61.0 KiB | Hits: 34
Added: January 23, 2013 | Last Updated: December 3, 2013
USD 19.00 / Download

Responsive Top Botom Panel Module Slider V1.8 for J3.x

Size: 60.6 KiB | Hits: 27
Added: February 24, 2013 | Last Updated: December 3, 2013
USD 19.00 / Download

Version 1.7
Joomla 1.6, 2.5 & 3 compatible
GPL2 License