Increase Traffic, Client Engagement and Spread Brand through Social Power
Making your site Social Share friendly has never been so important. Shows all favorite Social Vote Button in Flyout Box to improve your site's social integration. You won't find so many built-in Social Networks in other similar plugin!
View Live Demo JED Approved Version 1.2 Joomla 2.5 compatible Download GPLv2 or later
Awesome Features
Displays all Popular Social Network Icons in Flyout
Options to Display Flyout Box at Middle or Bottom Page
Mobile/ Smart Device Compatible
Freedom to Choose any Social Network of Choice
Easy to Use and Super Flexible
Supports 25+ Social Networks
Most Popular ones such as Facebook Like, Recommend, Linkedin, Google+, Google Share, Tweeter, Pinterest
Supports even Not so Popular ones such as Topsy, Dzone, Diggita, Upnews, Designbump
Top Bookmarking sites such as Delicious, Digg, Stumble, Redit
We will Add New Ones as they Come or on Request
Flexible Control and Styling
Control for Buttons
Control for Flyout Box
Show Count
Option for Normal or Compact Button
Styling Options to Design Match Your Site
Filter by Item ID
Front End: Normal vs Compact Mode Examples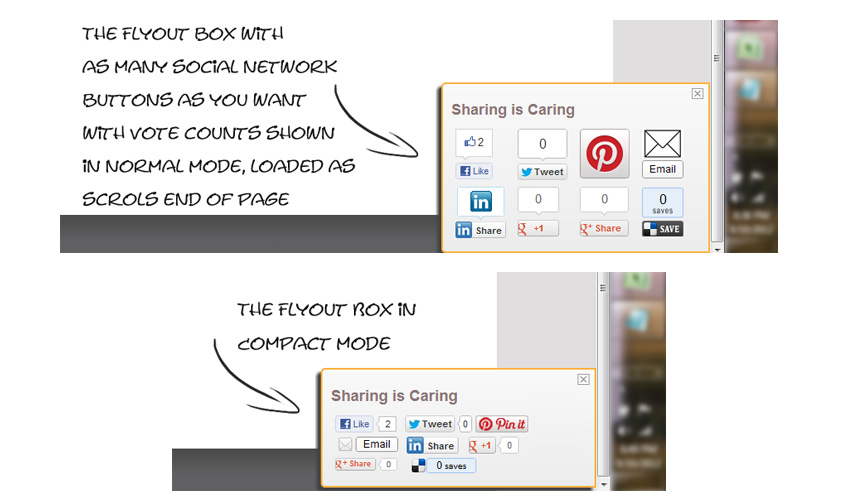 Video Demo

Easy to Setup
1. Choose FlyBox Settings
2. Turn on the Social Networks you want
3. Save and enjoy
Play with tons of other options related to styling and transitions
Available Options
Basic Options
Skip Home Page Yes/No
Item ID Exclude/Include
Skip Item Ids
Remove on Popup Yes/No
Disable on Offline Yes/No
Remove From Ajax Yes/No
In Mobile Device Hide/Show
Button Control
Button Style Normal/Compact
Show Count For Home page/Current page
Support Custom Image for Button
Encode link No/Yes
Encode Title No/Yes
FlyOut Box Styling & Design Match
Flyoutbox background color option using color picker
Flyoutbox border color option using color picker
Flyoutbox gradient color option using color picker
Flyout When Scroll Full window/Half window/Scroll end
Flyout style Fade in/Fade out and Slide in/Slide out
Setting Round Corner Radius of Flyoutbox
Supported Social Networks
Facebook Like, Recommend, Twitter, Tweetmeme, Pinterest, Topsy, Linkedin, Google +, Google Share, Digg, Stumble, Delicious, DZon, Redit, Emails, Sharethis, EarnerClub, BizSugar, Diggita, WuzzRank, Upnews, Designbump, Designgizer

Note: Download link will be e-mailed automatically to your paypal id after payment is done. You may download it for a maximum of 5 times from the link and may use is for unrestricted domains.