Have an Independent Like Button with Counter to Measure Popularity of Content
Standalone Like System is an excellent 3-in-one (Component, Plugin and Module) bundle extension that is very simple to implement and easy to use. This will allow you to place a custom Like or Vote button to receive vote, complements, like from both guest and logged in visitors. Saves you coding time without any tweaking of template and gives you freedom from third party social network.
View Live Demo JED Approved Version 2.3 Joomla 2.5 & 3 compatible Download
Awesome Features
A Standalone, fully Customizable Like System for Joomla
Bundle contains a Component to keep counts, Content Plug-in to render the Like button and a Module to show Most Liked Articles
 Comes with Preset Buttons with Option for Custom HTML or Image Button
 Full control to style-match with your Joomla site
Styling
Turn On/Off Detail Count
HTML Button View has 2 modes: Normal and Compact
 7 Choosable Colors: Light Gray, Blue, Sky, Green, Red, Orange and Dark
 6 Type of Prebuilt Image Buttons such as Smile, Thumb in Circle, Heart etc plus free to Use any Custom Image as Button.
Flexible
Supports for Com_Content, K2, Virtuemart and GPSTools (j3.x only)
 Button Display for guest : No buttons or Button with log-in message
 Control for Who Can Give Like (Guest or only Logged in Users)
 Option for jQuery loading

Screenshot

Video Demo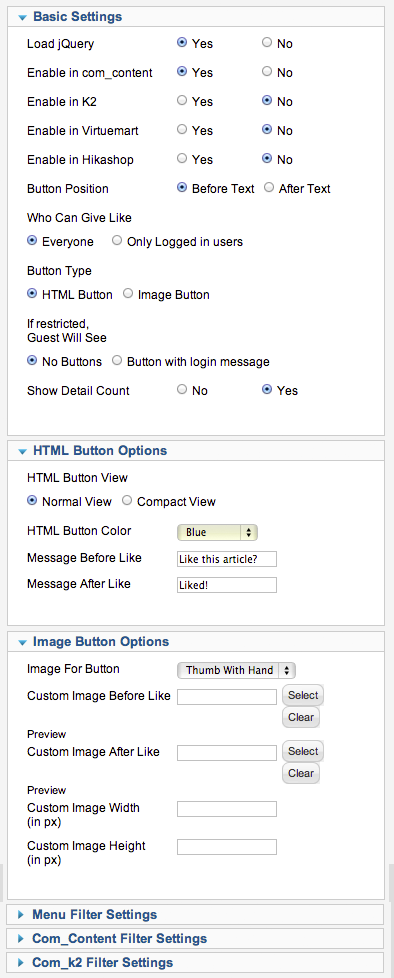 Setup is as Easy as 1-2-3
1. Unzip the Bundle and install the Plugin, Module and Component
2. Select your preferred Button Style
3. Save and Enjoy
Play with the available options related to visibility, styling and filtering
Available Options
Basic Options
 jQuery Loading [Yes/No]
 Option to enable/disable for Com_Content, K2 and Virtuemart
Button Position [Before Text/After]
 Who can Give Like? [Everyone/Only Logged in Users]
Button Type [HTML/Image]
If Restricted, Guests will see [No Buttons/Button with Login Message]
Show Detail Count [No/Yes]
HTML Button Options
Button View [Normal/Compact]
HTML Button Color: Light Gray, Blue, Sky Blue, Green, Red, Orange, Dark
Custom Message Input for Before Liking
Custom Message Input for After Like
Image Button Options
Selectable Image Button: Custom, Thumb Square, Thumb Circle, Thumb with Hand, Heart Red, Heart Cyan, Simle
Input for Custom Image for Before Liking
Input for Custom Image after Liking
Custom Message Input for After Like
Input for Custom Image Width and Height
Other
Menu Filter Settings
Com_Content Filtering
Com_K2 Filtering
Buy & Download
Version 2.3 Joomla 2.5 & 3 compatible GPL2 License
Download link will be e-mailed automatically to your paypal id after payment is done. You may download it for a maximum of 5 times from the link and may use is for unrestricted domains.