A Currency Converter Module for Joomla that Give Results Immediately
We have improved our Currency Converter and Rate Display Module for Joomla.
This smart, compact and useful extension helps you to convert 94 currencies with live exchange rate inside any module position. We use Google Finance data, so its reliable and up to dated. Whats very useful is that when you convert any currency it display upto 10 currencies simultaneously in Module area so that you know at a glance the exchange rates.
Five Star Review on Joomla Extension Directory
This extension is perfect. I tried several other conversion modules and none worked. After entering the conversion parameters, they just span and span. This gives results immediately. – Comment by livvvving
Among the improvements from last version to latest 1.5 version is that we have added Country Flag for easy recognition and there is now bidirectional conversion viewing enabled. This means after you convert from one currency to another, without changing first and second currency, you can see conversion rate from both one to two and two to one.
Check out the screen shot below and clicking on it you can go to our DEMO site to check the Currency Converter in action.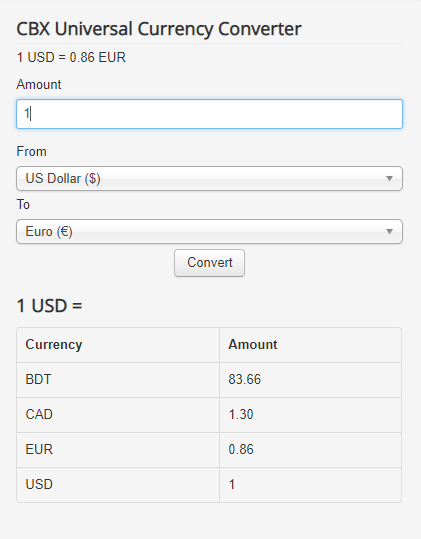 View details about the Product and Download from here.