Documentation for WordPress Plugin "Instagram Photo Display for WordPress"
Note: If you are using no api method you don't need to create instagram api any more.
Download and Installations:
Download & Install Core Plugin:
Install Pro Addons:
We assumed after purchased you downloaded the pro addon zip file
This zip package you need to install manually, wordpress code has very good tutorial about this.
Instagram App Creation:
In both Joomla and WordPress both version we added no api key method which can grab 12 images, using api 20-25 images. If you are ok with 12 images then don't use api method and no need to create app. Just go to module or post setting and set no api method. In latest release we added no api as default.
As we have instagram extension for both joomla and wordpress we created a common tutorial for this part. The only different is for joomla extension the redirect url needs a forward slash but for wordpress you don't need it. After you created the instagram app please collect the Client id and client secret. We will need that to configure instagram for wordpress.
Configure WordPress Instagram plugin:
After installing and activating the core plugin there will be a menu in left side in wordpress admin panel called CBX Insta Photos. Click the menu and Create new post.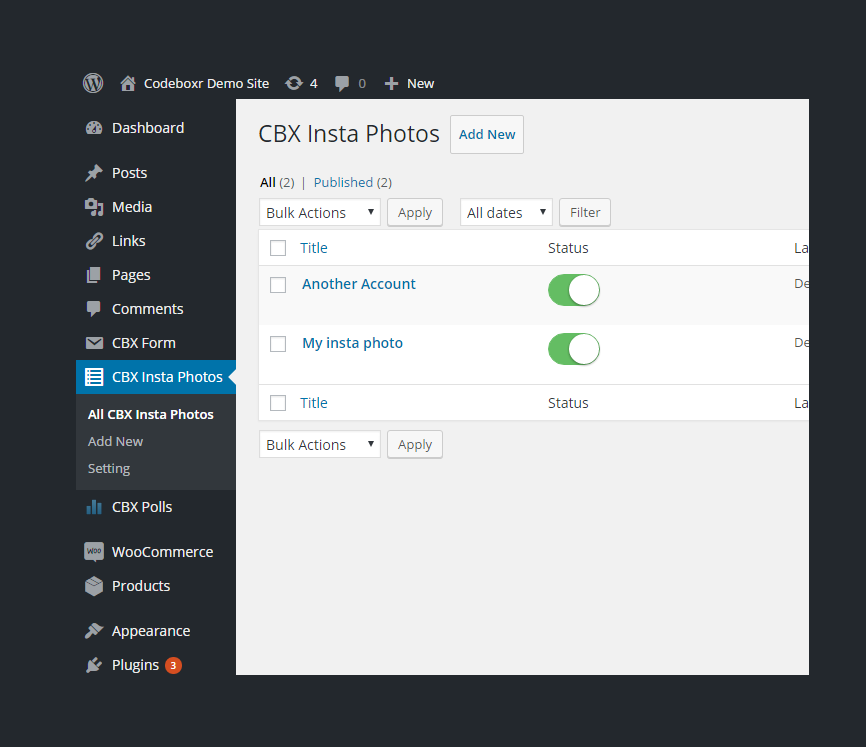 Next step is to put the client id and client secret and username for the instagram account. Please note that, you can not grab other user's account's photos, this developer account and username should be from same account. Configure others params and save. Then click Instagram connect and it will take you to instagram for permission and redirect back to you to edit screen again after giving permission. Now save once again and you are done configuring.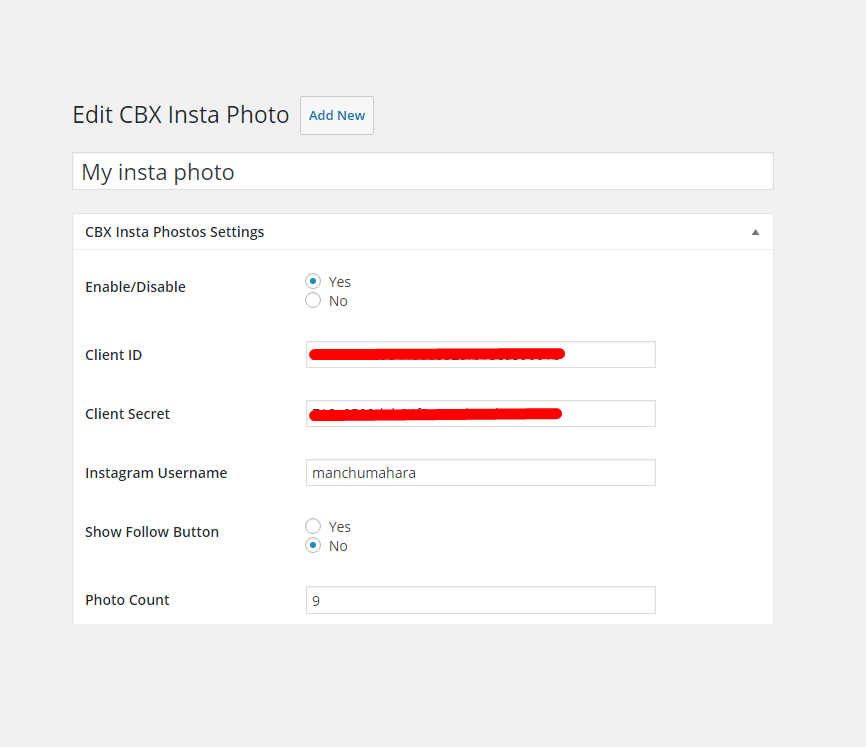 Using the Plugin: shortcode and Widget:
Shortcode is very straight forward like bellow, rest params or setting is pulled from the Insta Post setting as configured from the edit screen.
[cbxinstaphotos id="post id here"]
There is widget version that you can access from Appearance => Widgets => Insta Photos
If pro addon is enabled then there is another widget available which helps to select multiple account "Insta Photos Multi"
Individual widgets has it's own setting.
Details Shortcode Usages Guide
Shortcodes for single account
[cbxinstaphotos id="insta post id"]
| Param Name | Default value | Possible value(s) | Comment |
| --- | --- | --- | --- |
| id | none | any post id of post type "cbxinstaphotos" | if no id provided no output |
| layout | default | 'default' in core, in pro addon 'defaultmodal', 'hovercraft', 'defaultvenobox', 'owlcarousel' | new layout can be added via extending the plugin, layout can be override by copy any layout from core or addon plugin to theme. create folder 'cbxinstaphotos' inside your active theme and copy paste any layout. change the layout for any need |
| count | none | if no count value is given then default value is get from post setting | |
| follow | none | 0,1 | if no value is given then default value is get from post setting |
| show_com | none | 0,1 | Show comment count or not if no value is given then default value is get from post setting |
| show_like | none | 0,1 | Show like count or not, if no value is given then default value is get from post setting |
Shortcodes for multiple account (pro addon)
[cbxinstaphotosmulti id="insta post id with comma"]
| Param Name | Default value | Possible value(s) | Comment |
| --- | --- | --- | --- |
| id | none | any post id of post type "cbxinstaphotos" | if no id provided no output, use multiple id with comma with no space after comma |
| layout | default | 'default' in core, in pro addon 'defaultmodal', 'hovercraft', 'defaultvenobox', 'owlcarousel' | new layout can be added via extending the plugin, layout can be override by copy any layout from core or addon plugin to theme. create folder 'cbxinstaphotos' inside your active theme and copy paste any layout. change the layout for any need |
| count | 12 | any numeric number | |
| percount | 5 | any numeric number | Per count is used for how many to grab for each account, sorted by latest from each and finall for all. |
| follow | 1 | 0,1 | if no value is given then cont value is get from post setting |
| show_com | none | 0,1 | Show comment count or not if no value is given then default value is get from post setting |
| show_like | none | 0,1 | Show like count or not, if no value is given then default value is get from post setting |