Update: 18-102014
After doing some searching we found facebook will never approve read_stream (reading any user or page stream) permission for public usages for webs apps. But any app owner (who created this app) will not need this permission, means the page owner can create app and can show stream for that page or profile well. No worry. Read about this in facebook support forum. Again, there another known bug that doesn't show any sometimes for page or profile feed. Technically, when we share any thing in facebook , if it's a link or photo or video link then facebook shows the attachment with the link. The link preview we see in faceboo. If we pull that attachment for page or profile feed with other data, then error is returned and we don't get any data. Until facebook fix this we added a workaround mode which will work without attachment (means attachment will not shown for facebook but regular data will be shown, we know this is not your full expectation or you not happy totally about this). Now we added a new option near the facebook connect and you will get the option to enable workaruond mode.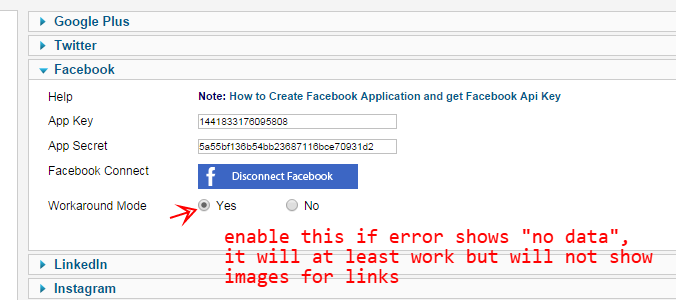 == end update Update: 18-102014
Those who works with facebook graph api should understand that to send and get any thing from facebook developer needs to create an app in facebook developer portal. Please check here how you can create one and find the client id and client secret for your app. Again, every app needs some permissions or scope which it asks from user. You know while we try to login using facebook (Connect with facebook or Facebook connect) it asks for few permission. See an example of such login window which ask for permission. If you are a tech savvy you can start to read from here and skip this blog post.
So the above screen shows the login asks for permission "public profile, email address, likes"
Example: Public profile means the app will be able to grab the following resource from a facebook profile or page
id
name
first_name
last_name
link
gender
locale
age_range
But few complex app needs more permission. Example to get any user's profile stream/feed or any page's feed the app need permission "read_stream" which facebook doesn't allow directly but the app needs approval from facebook.
see what facebook says . Go here and read the search for section "read_stream"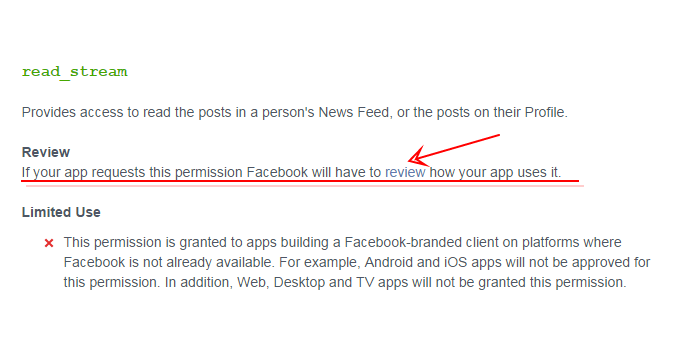 Why are writing this blog post, because we have a joomla extension (also few other extensions use such technique) named "My Social Timeline" which has feature to parse/grab feed from facebook profile or page which needs read_stream permission for it's facebook app. Please read this article how you can submit for review about the "read_stream" permission and also this one for more details.