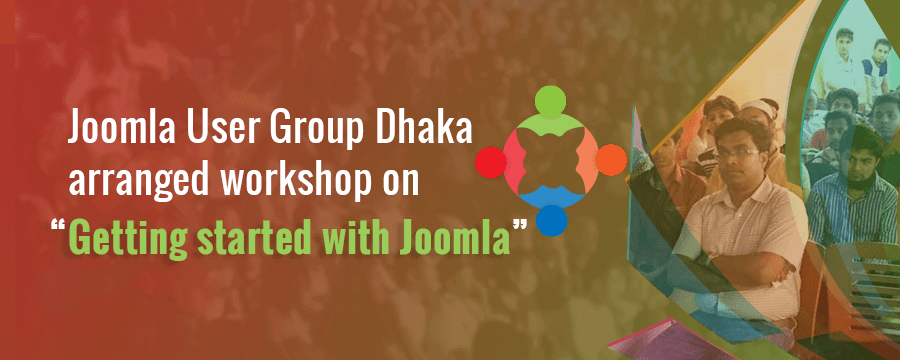 Yesterday Joomla user group Dhaka arranged workshop on "Getting started with Joomla". We got huge response but due to capacity and type of event we gave access to near 60 person. Most were from university and students who were eager to learn about joomla. There were three sessions
1. Introduction to Joomla CMS
Session taken by Asif Islam

Photo: Asif taking session
2. How Joomla Works
Session taken by Abu Huraira Bin Aman
Photo: Shams taking session
3. Building a Joomla website
Session taken by Shabab Mustafa
Photo: Shabab taking session
Some photos from the event
The crowd was happy to get some handsome training on joomla and it will boost the new joomla users to do more with joomla.
Besides the regular session, Tareq Hasan, Founder & CEO of WeDevs shared his experience for working with open sources. Lincoln Islam, founder of Apprex talked about his experience of attending the recent Php Conference Asia 2016. Kawshar Ahmed, Founder and CEO, Joomshaper shared his experience about attending different Joomla Days and World conference. Then the workshop was freely held at Joomshaper's office.
Live video we shared for others who couldn't join the event
Joomla workshop by Joomla User Group Dhaka

Posted by Abu Huraira Bin Aman on Saturday, August 27, 2016
This is not all but there were more. A special video message for Bangladesh #Joomla Community from Open Source Matters president Sarah Watz.
At last we took photos and had some snacks. Me, Sabuj Kundu, Founder & CEO of Codeboxr anchored the event. The event was sponsored by Joomla User Group Dhaka Community. We will host such event regularly in upcoming days.