Documentation for My Social Timeline Module and Component
Quick Navigation
Installing, Check Authentication Helper Component and Plugin
After download you will get the zip file as package which actually contains module/component+authentication helper component+authentication helper system plugin. Please note that authentication helper system plugin name is "System – CBX OAuth2 Helper" and you need to manually enable this. This plugin is needed only for instagram, so if you don't use insatagram you can keep this disabled. Now, come back to installation, after download you will find zip named pkg_modmysocialtimeline_vx.x_j30.zip for module and pkg_commysocialtimeline_vx.x_j30.zip for component, install via the default joomla default extension installer. Next step is to configure.
Create Social Network Api keys
This is a pre step to configure the module setting for menu setting if you want to use facebook, twitter and google plus. Facebook, Twitter and Google plus needs their native social connect and for this need to create app in there relevant developer portal and collect app api keys (public and private api keys, in some sites technically it's called consumer key and consumer secret)
So to help you create the app we have some ready made tutorials
Configure Module & Component
Go to module manager and find the module "My Socialtimeline" click for edit, for component from the top menu "Components" -> My Social Timeline. Here for rest we will explain for the module view, thing is almost same for component if you try to create menu for the component. For component there are two views, one is admin social timeline which is configured everything from the menu setting and another is user timeline view for which admin can configure the social network api keys for that menu and user fill their social network ids from frontend to create their own social timeline.
How to find or set social network username & id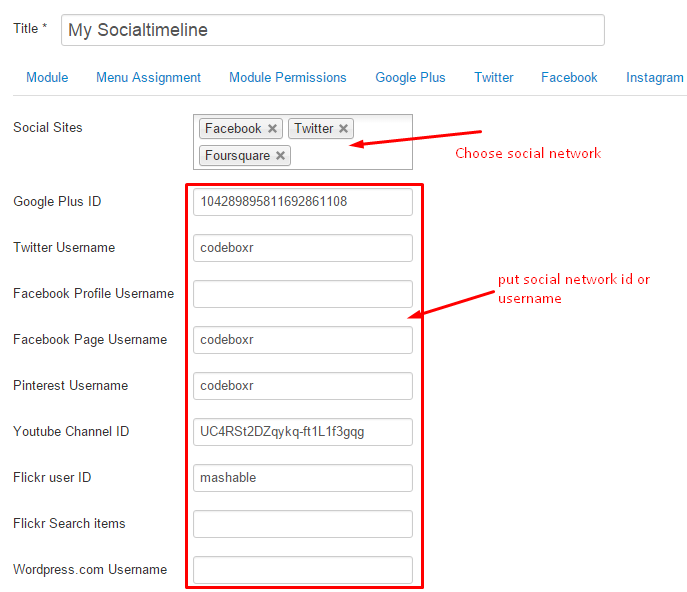 Twitter: For twitter use your username or twitter handle without @, example, if your twitter profile url is http://twitter.com/codeboxr then your twitter username name is codeboxr
Google plus: See the below screenshot, go to http://plus.google.com and try to find the profile url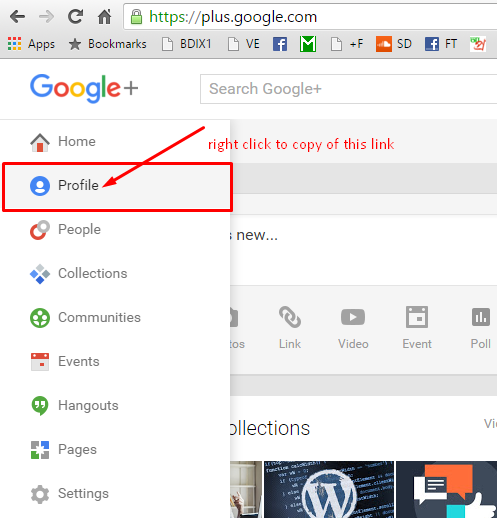 An example of profile url https://plus.google.com/103760026403050862414 but if you hit that url it could take you to nice url like https://plus.google.com/+sabujkundu but we need the numberic id that is 103760026403050862414 . Another easy way is if you hover mouse on any user like this below screenshot you will see the numeric id based url in the status bar or you can right click on the profile link and copy the url.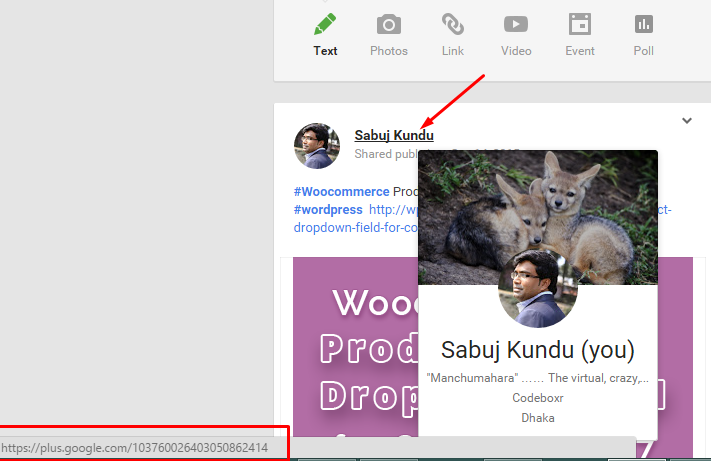 Facebook: For facebook use your profile or page username example, if your facebook profile or page url is http://facebook.com/codeboxr then your facebook username is codeboxr , if you page doesn't had nice url like http://facebook.com/codeboxr but you see any numeric id while browsing the page or profile then copy the numeric id
Youtube: For youtube you have to use your channel id. To find channel id go to channel account https://www.youtube.com/account_advanced and find the channel id . Please note that, in youtube you may logged in as your personal account but switch as your channel then if you hit https://www.youtube.com/account_advanced it will take you to your channel advance profile. Our codeboxr youtube channel https://www.youtube.com/user/codeboxrtv/ which id found as YouTube Channel ID: UC4RSt2DZqykq-ft1L1f3gqg
Pinterest: For pinterest simple use the pinterest username. Example: http://pinterest.com/mashable. Here bold part is the pinterest username.
Flickr: For flickr need user id not username. To find your user id for any username please use this service.
WordPress, Blogspot and Tumblr: Simple use username. Example: username.wordpress.com, username.blogspot.com, username.tumblr.com
Reddit & Last.fm: For reddit to find username use this example: http://www.reddit.com/user/mashable here bold part is username. http://www.last.fm/user/Dix-Din here the bold part is lastfm username.
Instagram: For instagram your instagram id is your username, example https://instagram.com/manchumahara/ where manchumahara is your username
To configure instagram app key and secret please follow this guide.
Foursquare: Please go here https://foursquare.com/feeds/ and then copy the RSS feed link
Com_content: There is no social network id but you just need to configure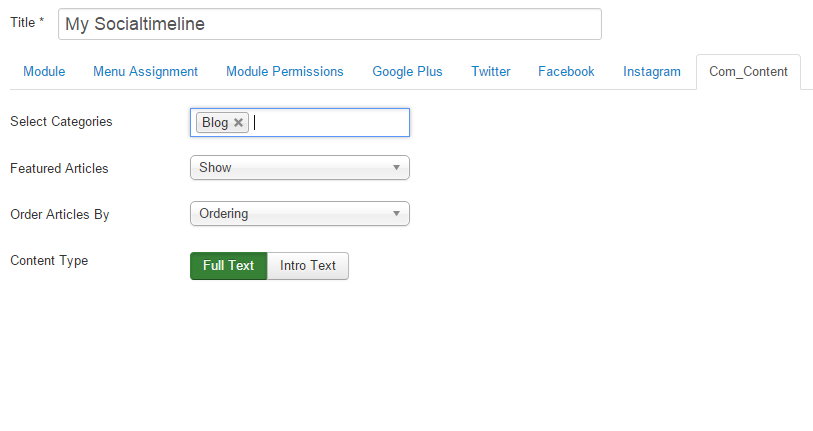 Com_k2: There is no social network id but you just need to configure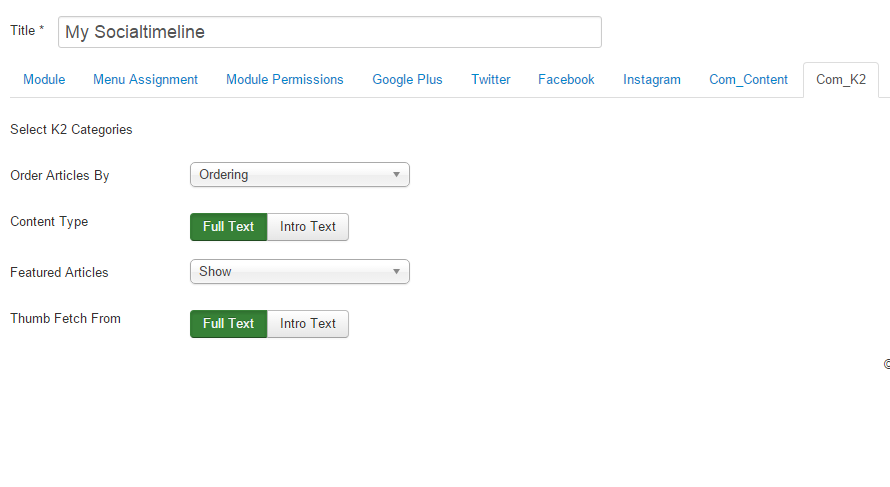 Ordering Social Network
Social network having larger weight value comes first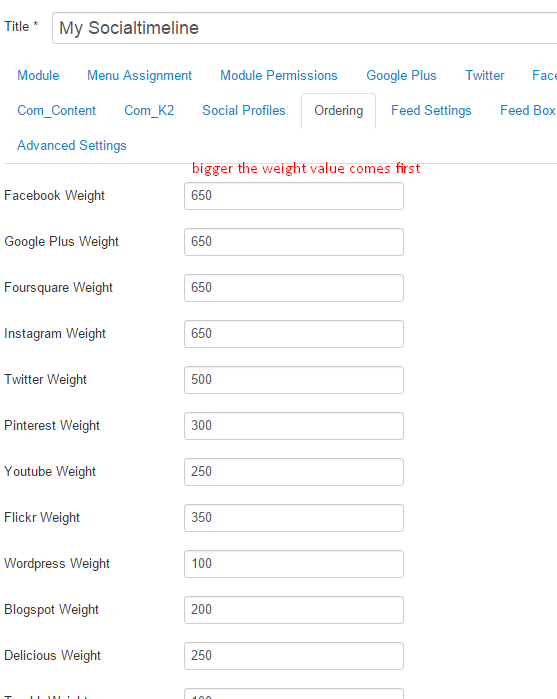 Feed Setting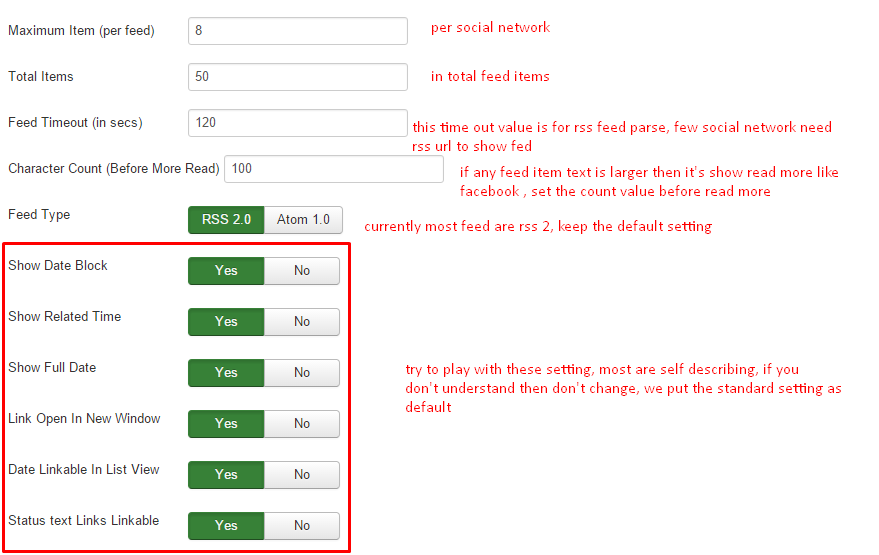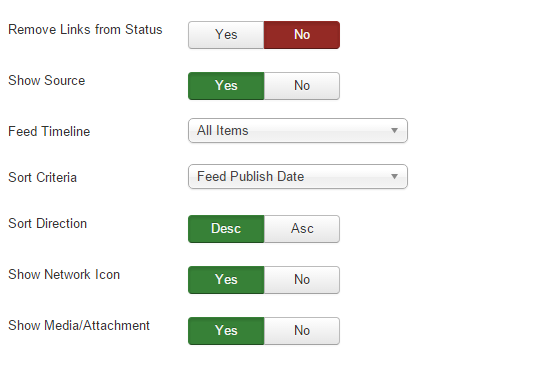 Feed Item Setting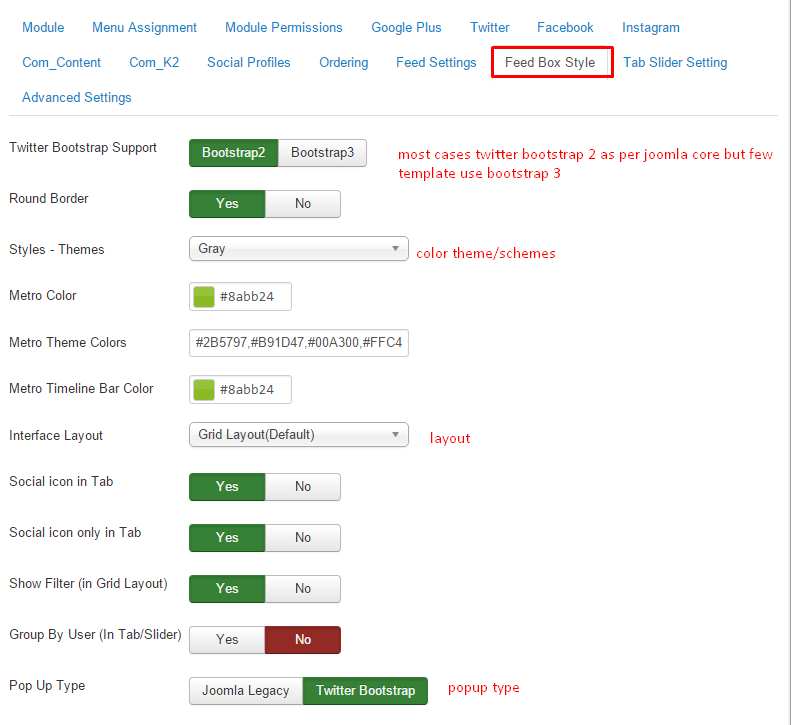 Please note that our screenshots are taken for module version but most cases thing is same for module and component, the only difference is for module you go to module setting, for component you go to menu setting (at first you must create menu for social timeline)
Still have any query or you think this documentation is not clear then please contact us ?
New Change:
Why facebook timeline not working
Thanks