My Very First Impression of Installing Joomla4 Alpha1
What is Joomla ?
Joomla! is a free and open-source content management system for publishing web content. It is built on a model–view–controller web application framework that can be used independently of the CMS.
Before installing Joomla, set up the required environment for it. Create local server using XAMPP or AMPPS.
In this short tutorial, I am using AMPPS. You may use XAMPP or any other software. But, I do recommend to use XAMPP or AMPPS. Hope, you know how to install AMPPS/XAMPP. If you face any problem regarding with installation of AMPPS/XAMPP please search online for the solutions.
Once you have AMPPS installed. Follow these steps to install Joomla! on a Local Server.
Download Joomla 4 alpha from here. You may download compressed .zip or .tar.gz file, as appropriate for your operating system.
Extract the files to AMPPS > WWW > joomla (Create a folder named this on AMPPS> WWW) or Copy paste the extracted files to the destination folder(AMPPS > WWW > joomla)
Now open your browser and browse //localhost/phpmyadmin. Create a database named Joomla or whatever you want. Here, I have created a database named joomla_4 (regarding with folder name, you must follow this)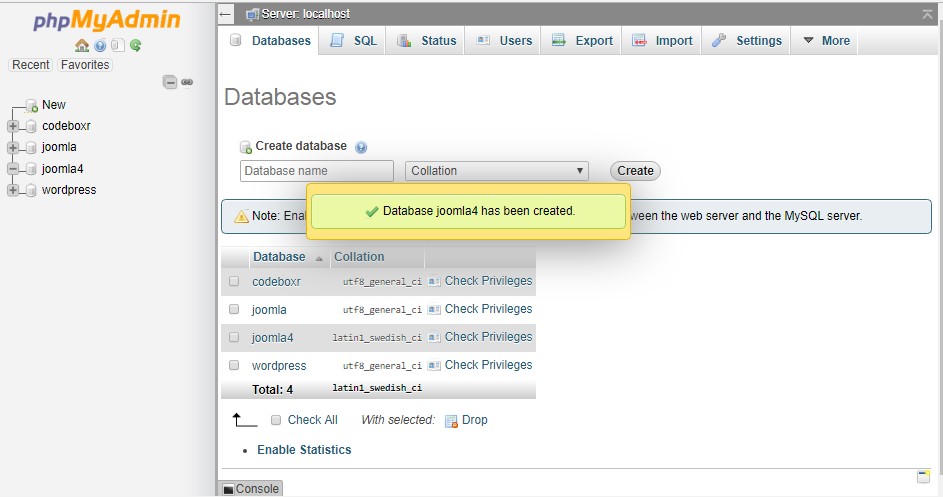 Browse //localhost/joomla_4 – as your folder/database (Must be same) name.
Select a language (English preferd)
Set the name of your joomla site. Here's i named it "Codeboxr Joomla 4 Test"
Now set Login Data
Set Database connection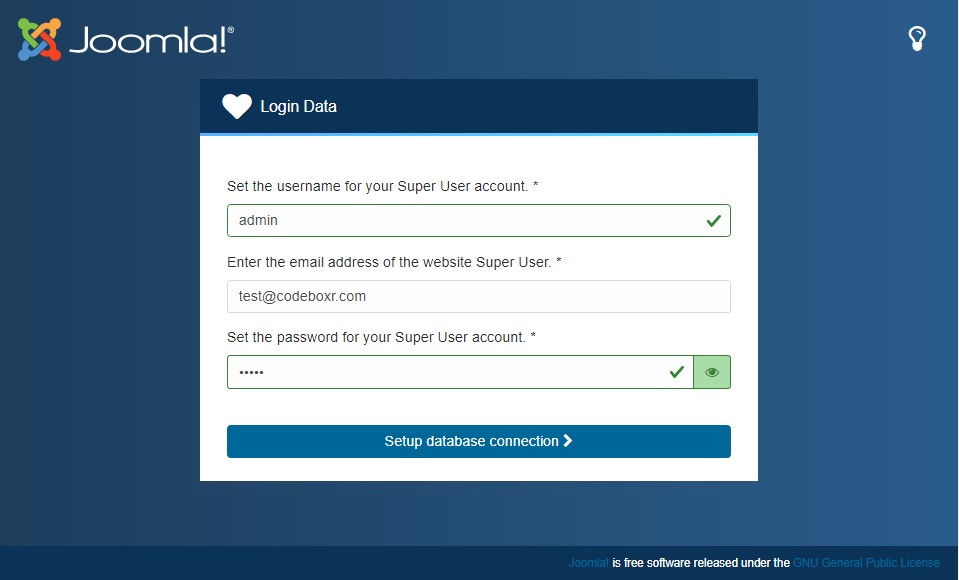 Now Configure Database:
Select Database type : Mysqli
Specify the Host Name: localhost
Set username: root
Set password: mysql
Set the data base name: as you created (Here's joomla_4)
Specify a table prefix: j4_ (anything you preferd)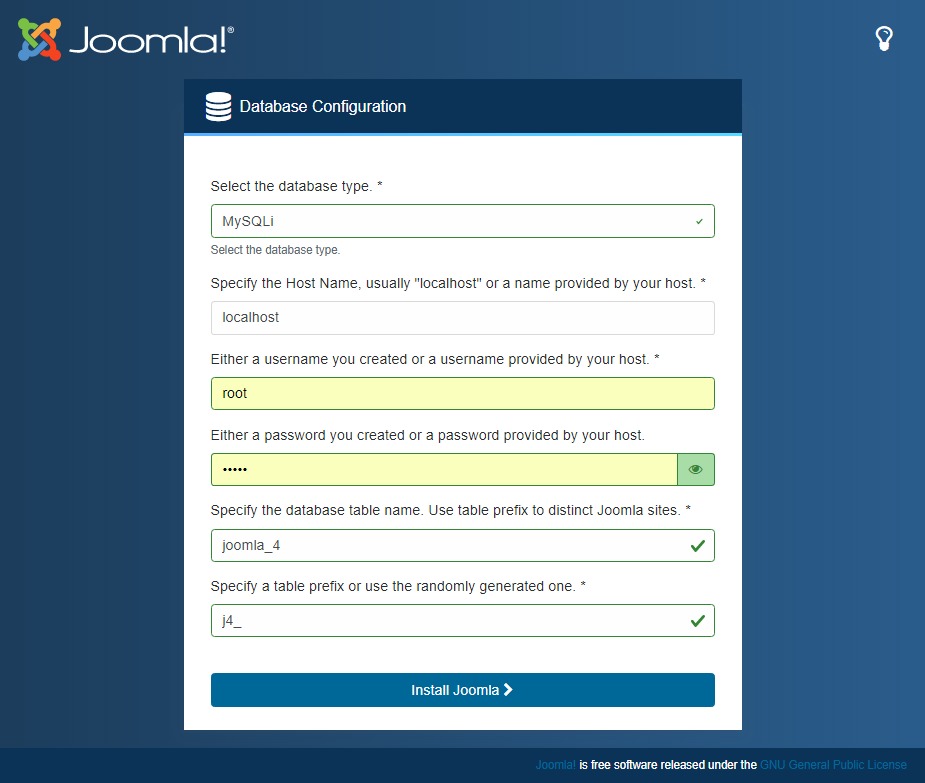 Now click on Install Joomla
You will see the Congratulations Page. That means you have installed Joomla perfectly on your local.
When the installation is complete, give Joomla a test drive. localhost/joomla_4 (as your databasename)
So guys, Isn't it too easy? Now create any types of website using Joomla. Watch this tutorial to setup Joomla using AMPPS.
Video Demo:
[youtube https://www.youtube.com/watch?v=KnqGoYQra5U]
My very first impression about joomla 4 alpha :
After trying Joomla 4 alpha for the first time, I think it is proving to be really promising. The development team is doing something great. I have noticed some notable changes in Joomla 4 alpha. It is in development phase and we may hope something good about Joomla.
Design:
Joomla 4 comes out with Material Design Language and conceptual design trends keeping the same color choices. They have changed the position of the control panel from header to sidebar. And the sidebar color is Dark blue as well as the header color. On the previous version except for header & sidebar, the entire page design was bright. At the Joomla 4, the core color of the design is light grey. The backend dashboard of Joomla 4 is lightweight and clean. I like it, nothing more to say about this.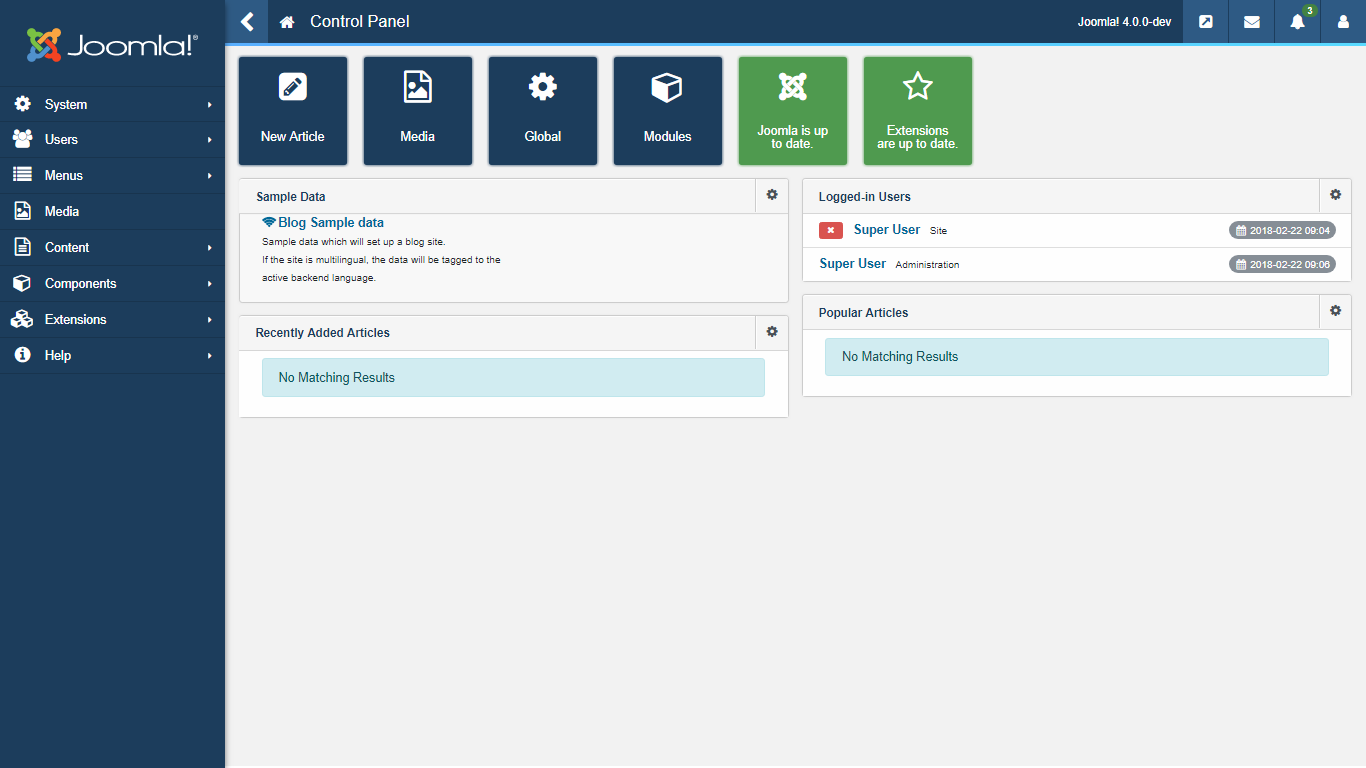 Dashboard:
As I said, Joomla 4.0 makes dashboard look much better. The feature that eye cathed is it's showing Logged-in Users on the front page of Backend Admin dashboard. It's really awesome & much needed.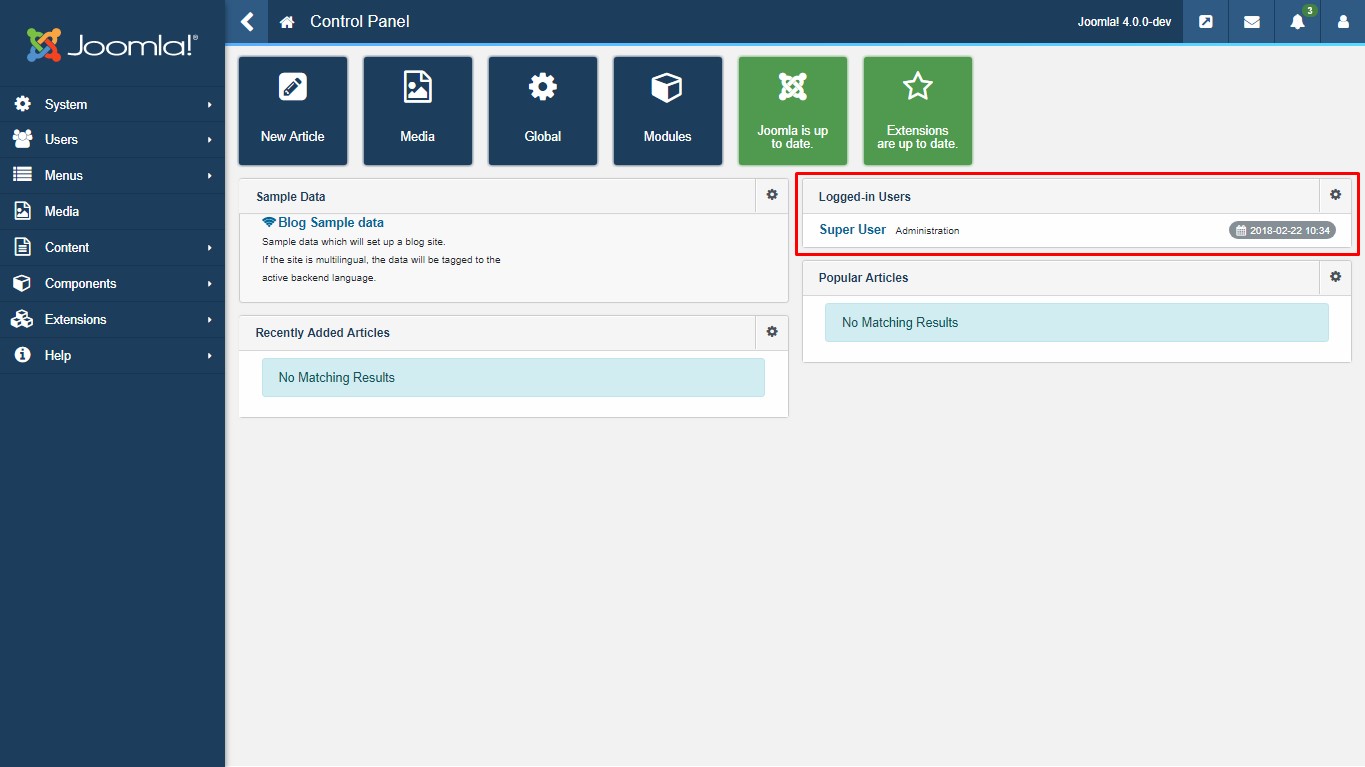 New Menu Layout:
This new menu layout gives me much better user experience. Every menu comes out with submenu and it feels me easier to use.Going anywhere at backend the left sidebar never disappear. I am satisfied with this change & always wanted this.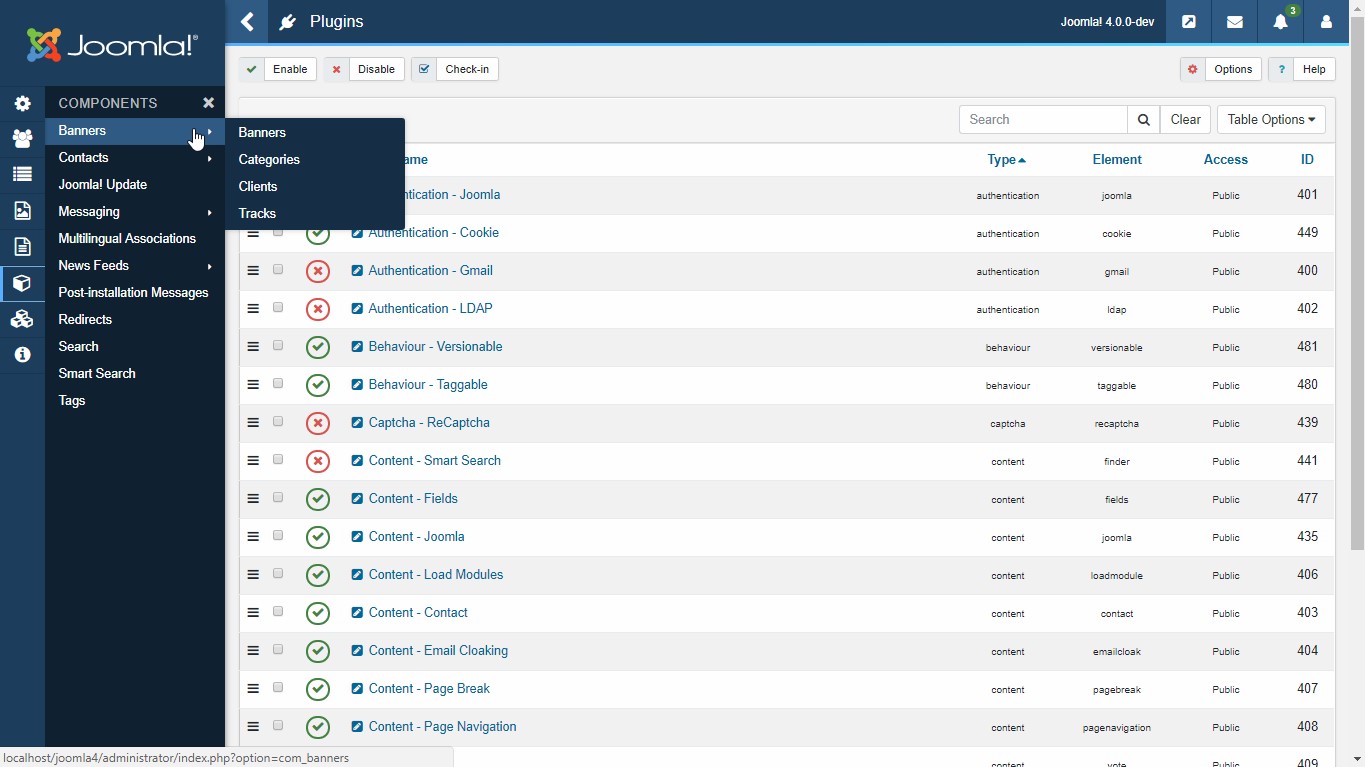 New Notification Panel:
joomla 4 introduces a new notification panel & i like it.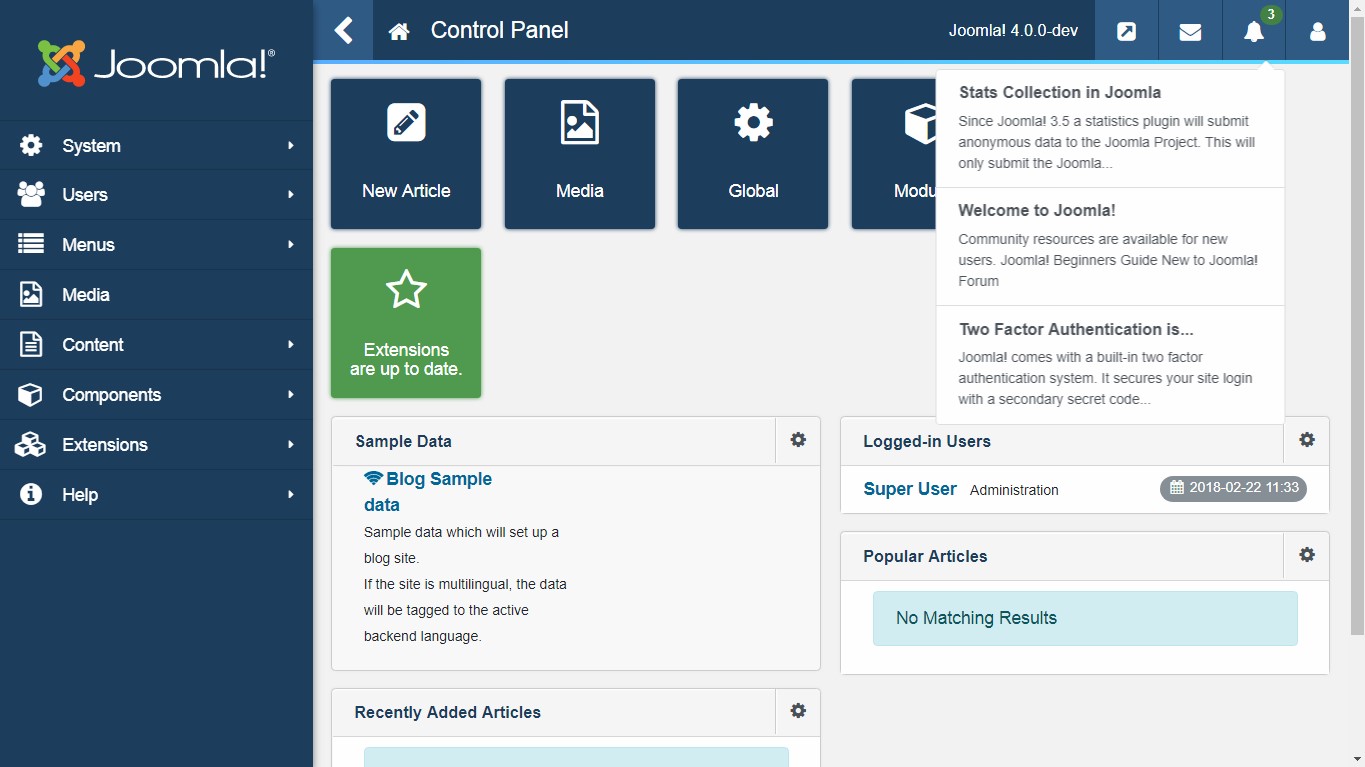 Article Management:
Just because the header option goes out to the left sidebar and at the time of article writing the sidebar disappears it feels much more space. And as usual, the design has changed it feels much minimal.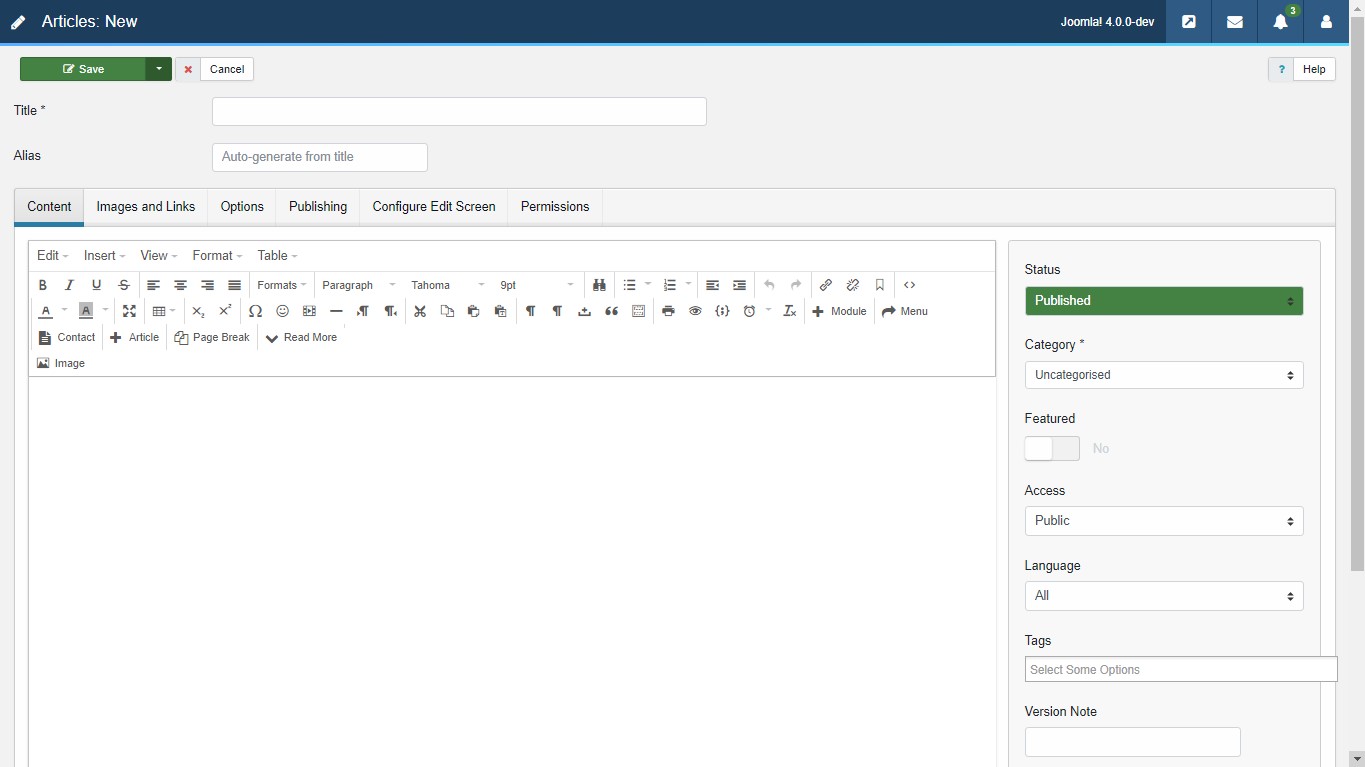 Component & Extensions Control:
Component & Extensions control became easier. It shows the current version and can update easily.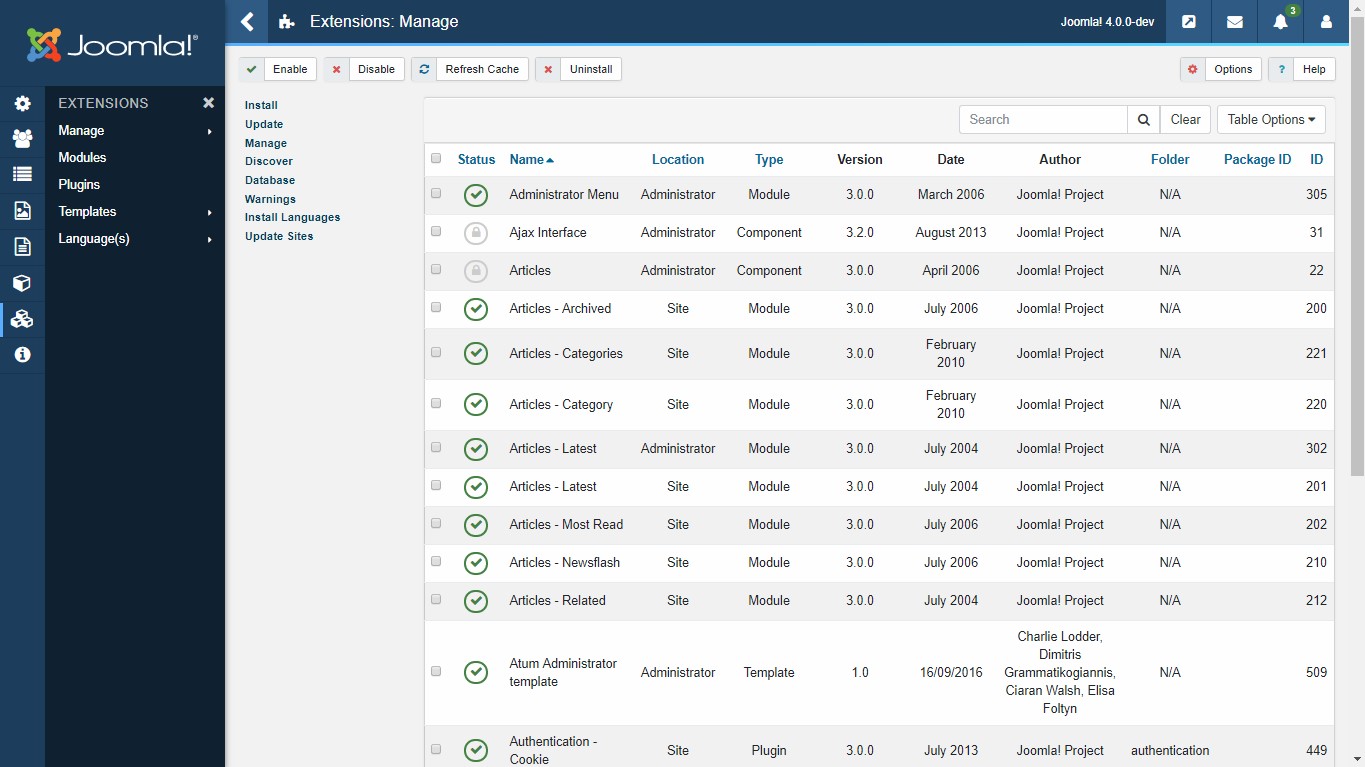 Private Messages:
Here comes the most exciting feature of Joomla 4 alpha. You will find the private message button at the right top of the header. It shows real-time notifications. It has some awesome feature like Lock inbox, forwarding messages to a mail & scheduling delete time of messages.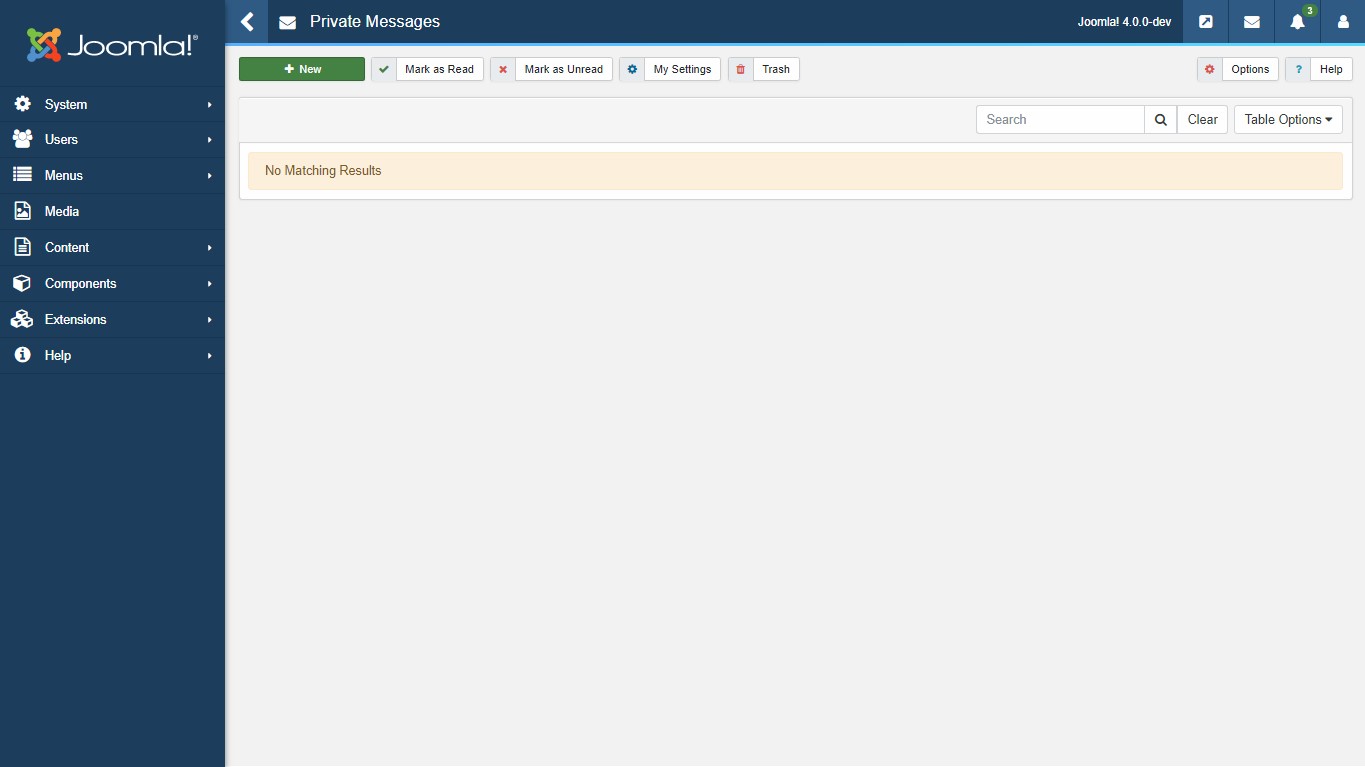 New Global Configuration:
joomla 4 introduces a user friendly Global Configuration page & i like this.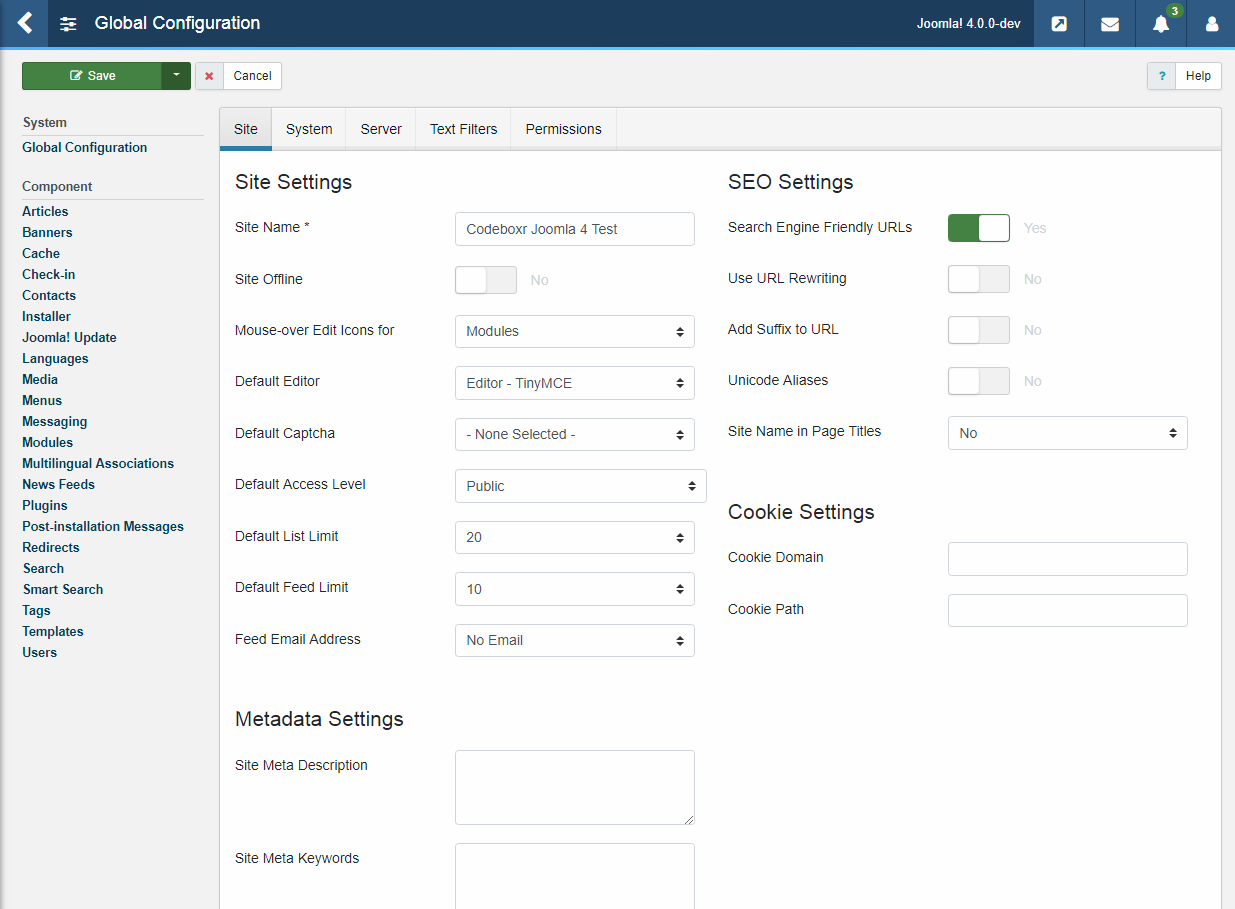 New Frontend:
Here comes the front end look. Aurora: the Joomla 4 frontend template looks awesome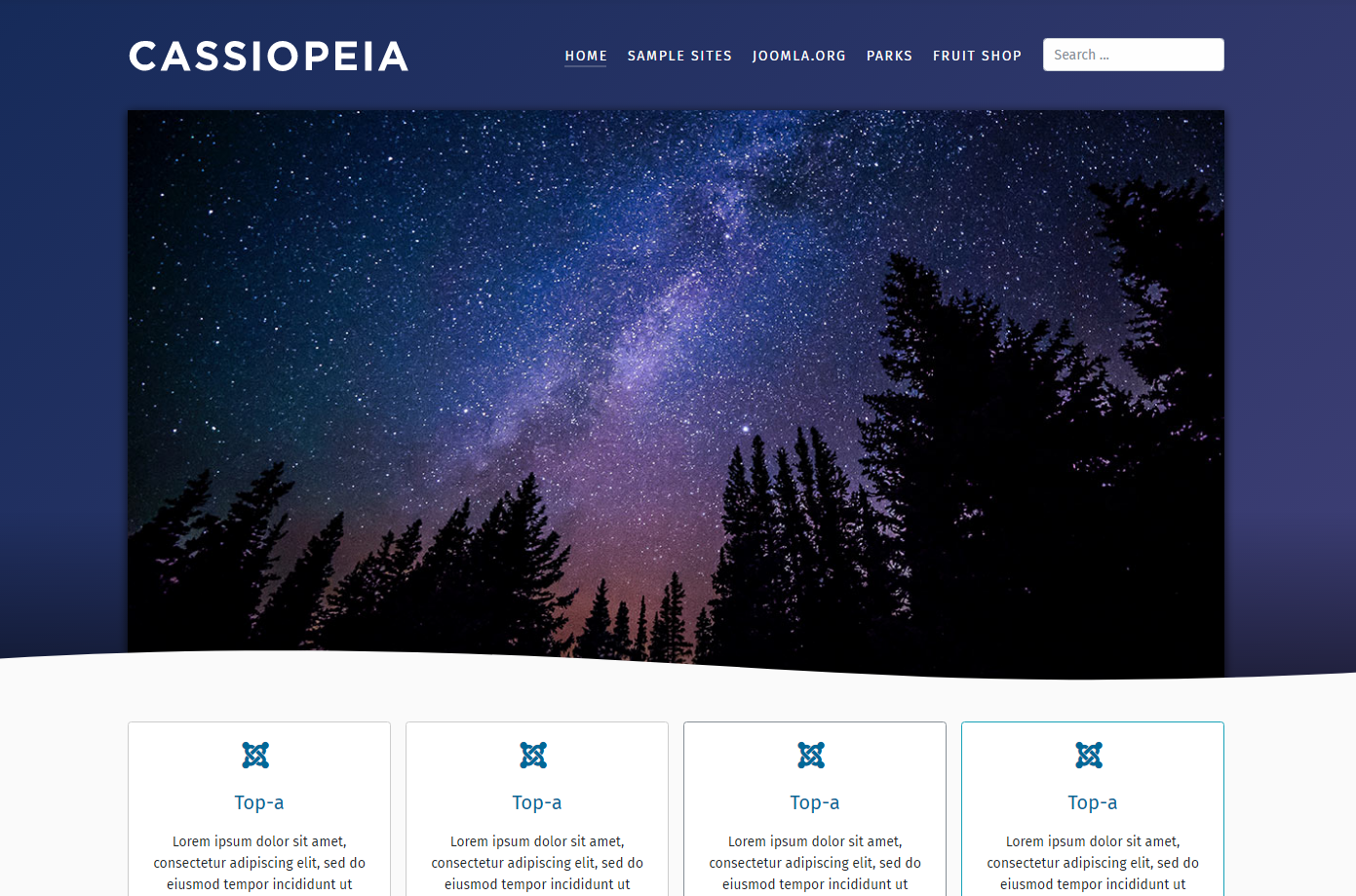 This is almost the very first impression of me after using Joomla 4. The team is s continuously introducing exciting developments. I am very much excited about the new Joomla update. Let's hope for a stable and matured release.