This article will help to migration old CBX Multi Criteria Rating & Review Plugin Data Migration to new CBX Multi Criteria Rating & Review.
Why We Created a Fresh New Plugin
We created the CBX Multi Criteria Rating & Review near 2012/2013 and it's too much hardcoded, we gave lots of hours to improve this but we are stuck to improve this as we want. So we thought to abandon this plugin and create a fresh new one with all latest thinking and features. We want our customer to migrate to new plugin without losing data, that is why we have put this migration option in the new plugin.
Migration Steps:
New rating plugin doesn't support more than 5 stars for any criteria, it will scale to 5 star is more or less than 5 stars.
New rating plugin doesn't support guest vote and will create user from the guest user's email found from user review logs. If email matched with any existing user then will link.
New rating plugin doesn't mach 100% with old plugin's structure and will adjust as need while migration and ignore what doesn't match. After migration please check the setting for forms
Migration only replicate data from old rating plugin's form and user rating logs table. No setting is copied from old plugin, please check setting as seen in new plugin and set as need. Average log data is created automatically from the log data and form data.
Keep the old rating plugin enabled(with it's addons if you have) while this migration(not mandatory)
After the migration is done, please check
When you are confirm that you don't need the old rating plugin, please deactivate and delete. You may want to delete the tables and meta keys creating by the old plugin before deactivation or delete. Old plugin setting have a option to do that. Go to old plugin's tool menu and check the option "Delete All options and tables related with this plugin on uninstall/delete". See screenshot below.
When you are ready to start the migration go to new plugin setting "Pages & Tools" and check at bottom of the setting fields "Old Plugin Migration"
If the old plugin doesn't exists but it's database tables still exists still the migration will work.
Old plugin setting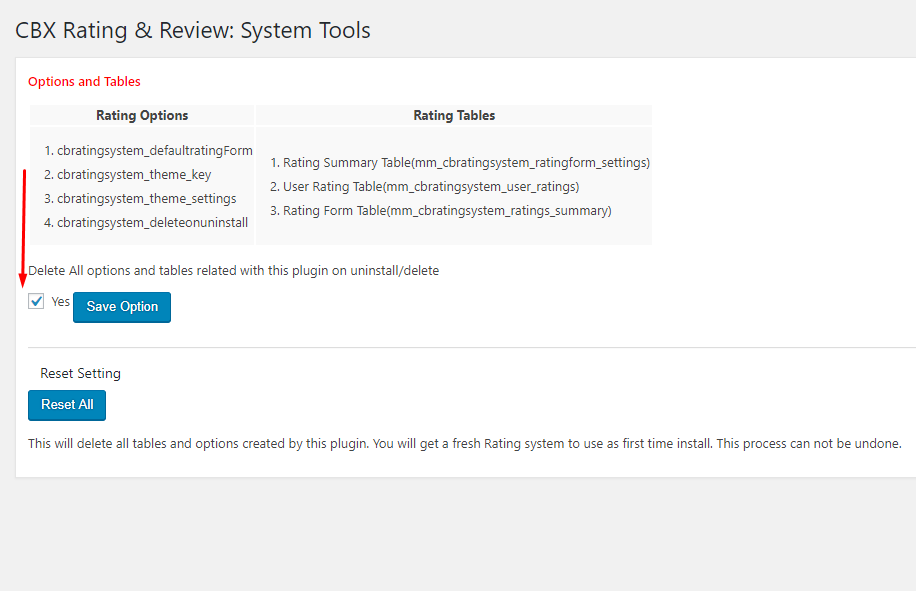 New plugin setting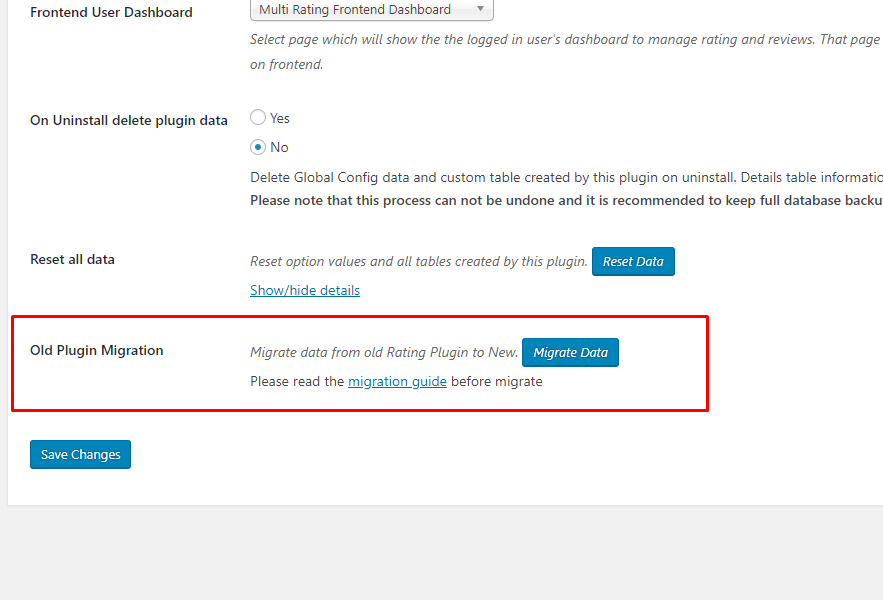 Note
We have a separate plugin for Single criteria Rating with near same features, please try out that if need.
This article is in progress. We are updating as we have information to reduce difficulties, this page is created for a permalink placeholder