CBX Latest Tweets for WordPress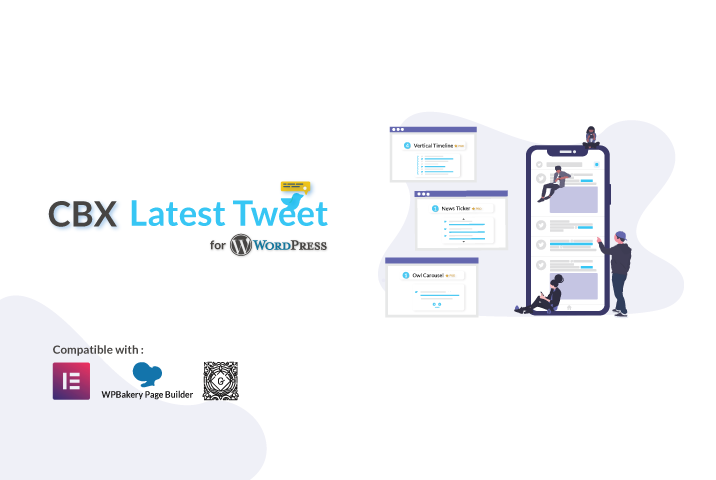 CBX Latest Tweets plugin shows latest tweets from one or multiple twitter account. Shortcode, widget or custom function is available for use with extendable setting.
Download Try It Free Version 1.0.2 GPLv2 or later
Awesome Features
Support one or multiple twitter account
Easy to configure Twitter Api configuration
Caching enable/disable for quick display
Multiple usages: Widget, Shortcode and Custom function
Global config for tweet display setting
Easy setting panel for delete cache, reset whole setting, delete complete plugin's data
Clean code, documented code, wordpress standard code
Includes css in frontend only where needed, doesn't include style sheet in all pages
Template override system
Hooks and Filter included anywhere possible
Clear documentation and video guides
Gutenberg Block Support (New in v1.0.2)
Elementor Widget (New in v1.0.2)
Layout System as template (New in v1.0.2)
General Usages
Install the plugin and activate
Please go to Dashboard left menu Setting -> CBX Latest Tweets
Go to twitter
developer website and create app to collect api keys(4 keys)
After you create a twitter app, Go to the app setting, click "Keys and Access Tokens" tab and check there are 4 keys 1.Consumer Key (API Key), 2.Consumer Secret (API Secret) 3.Access Token 4.Access Token Secret (Last two keys are in same page but in middle of the page and in section titled "Your Access Token")
Now copy those 4 keys and paste in "Twitter API Config" in plugin setting tab and save once
Check the plugin setting tab "Default Tweets Config" for default tweet display configuration that will be used in shortcode or widget if not configured or put specific or by default.
The plugin's setting tab "Tools" has some useful feature like clear transient tweet cache, reset plugin setting or make it fresh or save option to delete all plugin's option on delete of this plugin so that the wordpress database is clean if this plugin is not used. We are friendly for your site.
Shortcodes Usages
Tweet Display shortcode
[ cbxlatesttweets username="codeboxr" ]
Param Name
Default Value
Possible Value
Comment
username
any twitter handle without @, example if your twitter account url is https://twitter.com/codeboxr then username will be
codeboxr
use comma for multiple account, don't use space after comma. This param is required
limit
10
Any numeric number between 1 -20
In single request twitter api gives 20 tweets, we didn't handle multiple request to avoid api hit limit error. Practically 20 tweets is enough to display latest tweets from any twitter account.
layout
basic
we have included 'basic','grid', 'vertical_timeline_01', 'vertical_timeline_02', 'vertical_timeline_03', 'vertical_timeline_04'
scope
shortcode
any single word, we add this with the wrapper html class for unique style possiblity
if you don't know ignore this, this is not required
include_rts
0
0 or 1
This param confirms if retweet should include or not. 0 means exclude, 1 means include
exclude_replies
1
0 or 1
This param confirms if tweet replies should include or not. 1 means exclude, 0 means include
time_format
1
0 or 1
This param control the time/date display format. 1 = Relative (Example: 5 mins ago), 0 = Regular (Example: dd-mm-yyyy)
date_time_format
Based on your wordpress global setting date time format
Y-m-d g:i a
To learn more about php date time format please
read this guide or ignore this parameter to handle by the plugin for good.
Widget Usages
Go to dashboard widget area, check there is a widget called "CBX Latest Tweets", drag and drop this to any widget area
Configure the widget as need and check in frontend where the widget area is available to check.
Direct Function call
CBX Latest Tweet plugin is developer friendly and bunch of static method in
WORDPRESS_PLUGINS_FOLDER/cbxlatesttweets/includes/class-cbxlatesttweets-helper.php file To display latest tweets using direct function call try this code snippet https://gist.github.com/manchumahara/43259426a68cb4e0369b1b6a653c8352
Template System and How to override Tweet Display Template
This plugin comes with template/layout system in basic level(we will extend in advance later in later releases) and helps to override the tweet display template file in theme. Can be hook using plugin too. The main tweet display template file is located inside
WORDPRESS_PLUGINS_FOLDER/cbxlatesttweets/templates/basic.php. To override the template file copy the basic.php file. Now create a folder inside your current theme named
cbxlatesttweets and paste the templte file basic.php inside that newly created folder. Now change the
basic.php as need. Hope this feature is useful.
Free Download
CBX Latest Tweets Version 1.0.2 for WordPress free community edition
FreeFree Download
GPL2 License
Support Policy
Support is very straight forward: One year support for one domain. You can use for any number of websites as you want, but one purchase = one year one domain support.