Displaying Office Hours is Now Easy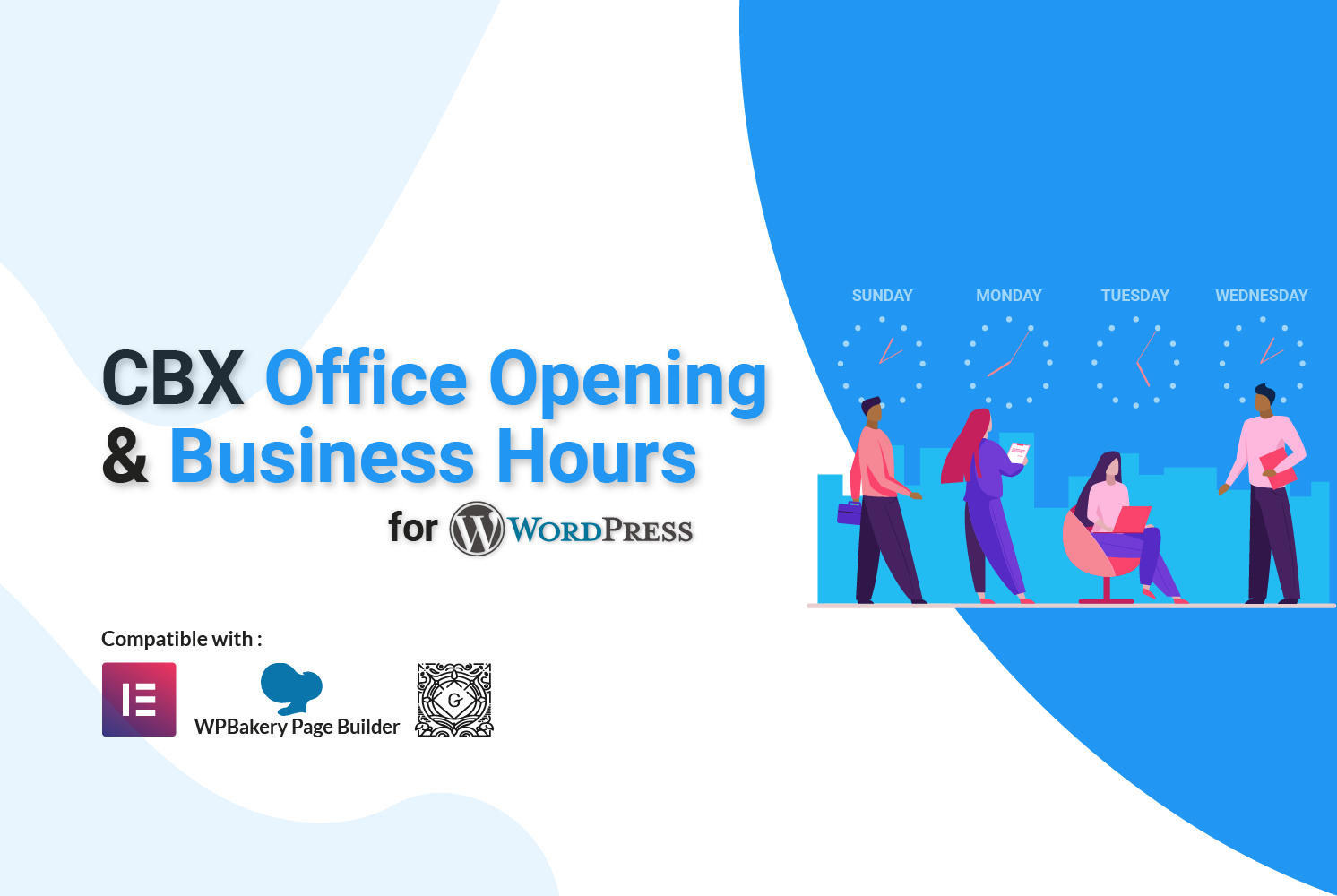 CBX Office Opening & Business Hours plugin for WordPress helps to display office opening hours or business hours. There is easy configuration at plugin setting page with exception days, in frontend it can be displayed using shortcode, widget etc. There is elementor widget support also.
Demo Download Get Free Version Version 1.0.4
Awesome Features
Seven week days start and end time
Day exceptions. Any special day start and end time, multiple exception day possible
Quick reset all days, single day reset
Quick copy single day value to all seven days for easy setup
Elementor widget
Gutenberg Block
Other Options
Compact display – yes/no (show same start and end days together)
Time format – 24 hours or 12 format
Day name format – Short day name or long day name
Opening days/day – seven days, today or custom day
Start of week configurable
Pro Feature
Comes as Pro Addon
Custom Store Manager (Listing, add/edit, delete)
Per store based week schedule, exception, setting etc
Custom Shortcode for pro addon for store [cbxbusinesshourspro store_id="id" show_store_title="1/0″]
Elementor widget Support
Gutenberg Block
Shortcodes
Free/Core Plugin
[cbxbusinesshours compact="0" time_format="12" day_format="long" today="" ]
| Param Name | Default Value | Possible Value | Comment |
| --- | --- | --- | --- |
| compact | 0 | 0 or 1 | 1 = compact, 0 = 7 days separate |
| time_format | 24 | 24 or 12 | 24 hour or 12 hour time format |
| day_format | long | 'long' or 'short' | Long day name format or short day name format |
| today | | 'today' or any specific future date in y-m-d format | if today is empty then it shows 7 days, if value 'today' then shows today's single day business hours, if any specific future valid date is used then same as today but for that date. |
| start_of_week | 0 or as set in wordpress global setting as "Week Starts On" | 0 – 6 any digit | 0 = sunday, 1 = monday and … |
Pro adddon: Store Specific Business Hours Shortcode
[cbxbusinesshourspro store_id="store id here" show_store_title="1/0"]
store_id = Need to be a valid store id, there is no other params, all information is get from store setting dynamic.