EventZ – Conference & Event Html Template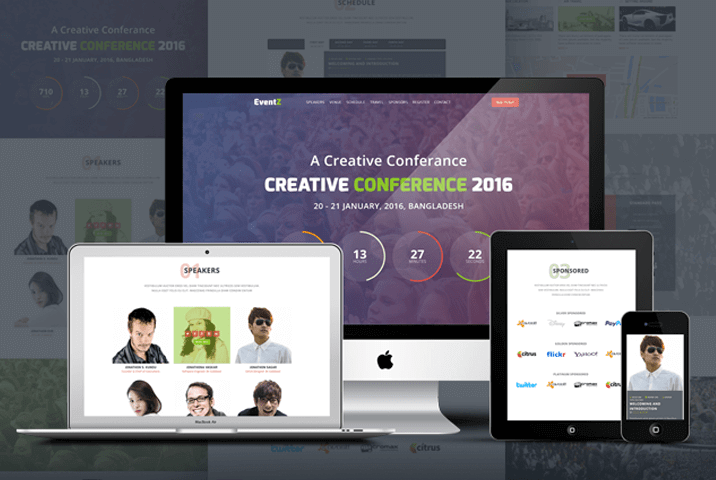 EventZ is a clean, modern and minimalistic responsive theme. It's especially designed for Conference, Meeting, Exhibition, Congresses, Event, Conference Website, Event Management and more.This is built with modern technologies like HTML5, CSS3, jQuery, Bootstrap3.x, Font Awesome 4.x, LESS, Modernizer, CSS3 Animation, CSS Flipping Animation, Event Countdown, Flexible Count, and more. EventZ have many sections: Header, Speakers, Venue, Schedule, Travel Info, Memoris, Register/Pricing, Testimonials, Sponsored, Get in Touch. It also comes with ready made CSS3 Anitmation, Google Map, Working Contact Form, Paralax and more.
Demo Version 1.1 Download Documentation
Responsive View
Responsive design that fits with any device automatically. Tested with all major desktop and mobile browsers. In some cases we used element query for styling. Special care is taken for different screen size and smart device resolution.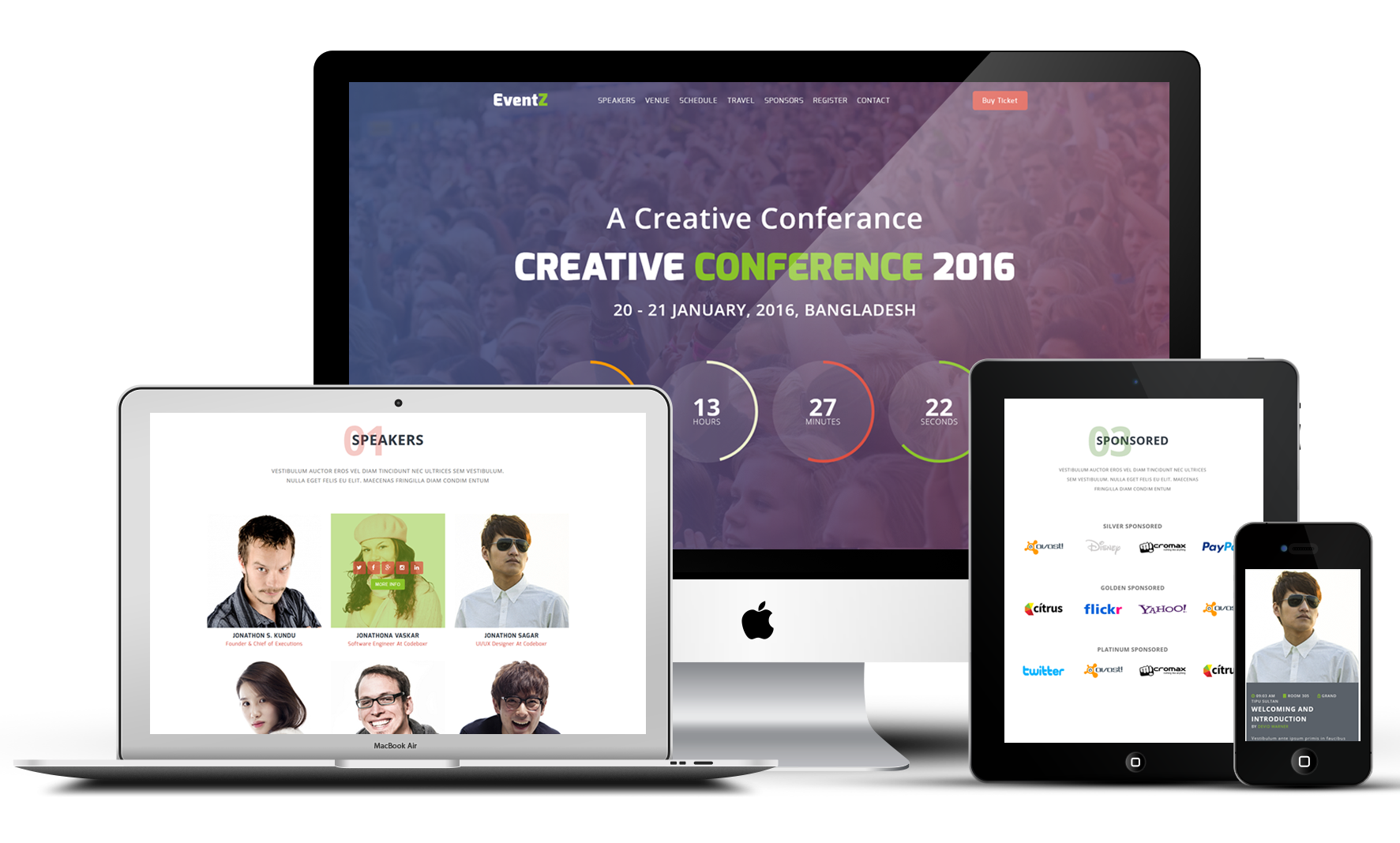 Some Key Feature
Less Support
Grunt Available
Gulp Available
HTML5
Css3
Bootstrap 3
A-Z Responsive
Google Map
Working Contact Form
Paralax Effect
Social Links
Speakers Section
Schedule Section
Sponsored Section
Travel Info Section
Register Section
Memoris Section
Testimonials Section
Contact Us Page
Single Speaker Page
Mailchimp Subscription
CSS3 Animation
Home Page full View
Less based design which helps to create unlimited color schemes. Select your own colors to match your brand.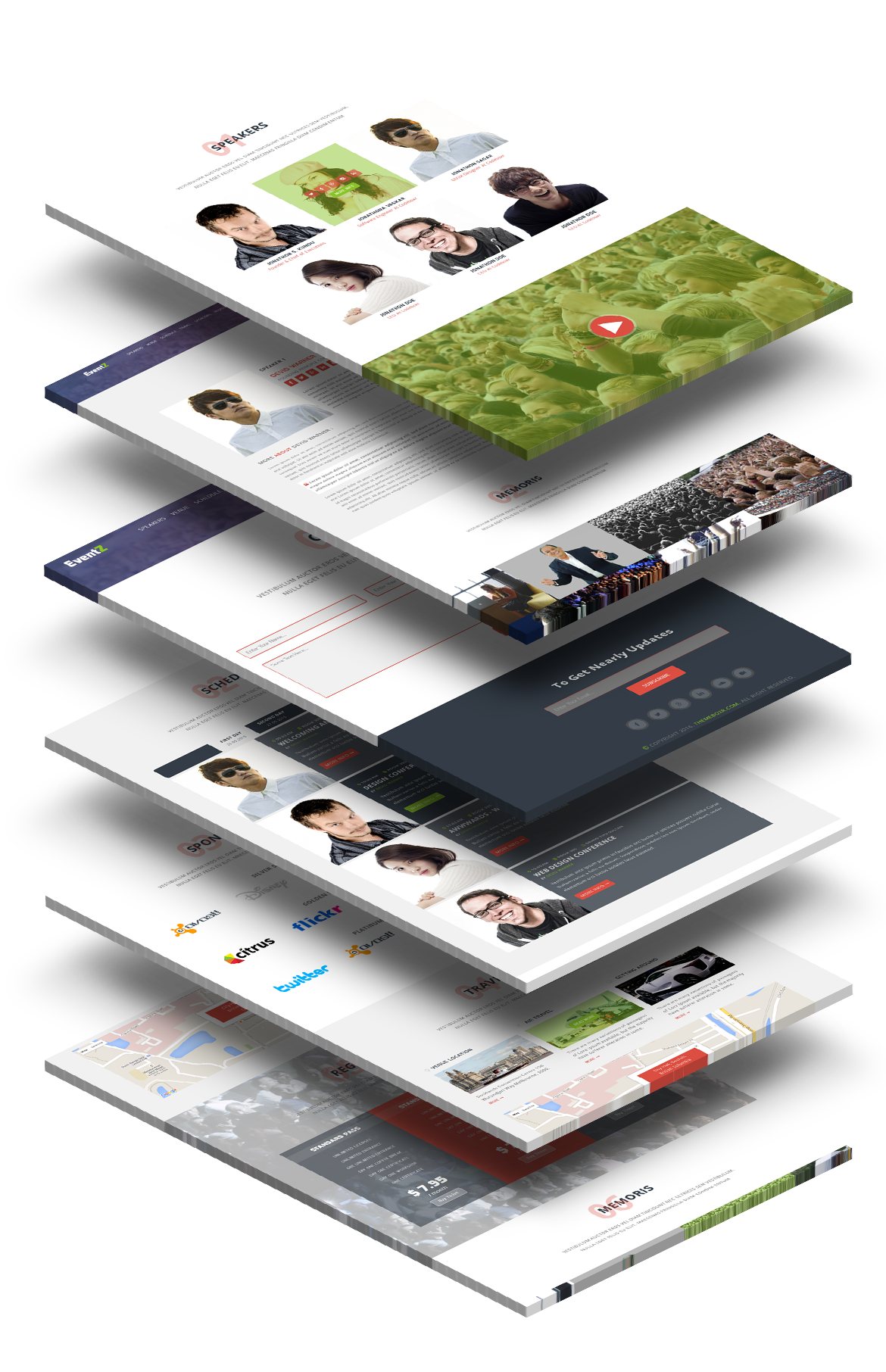 Thanks to
HTML5 Boiler Plate
Matthieu Aussaguel For WOW
Twitter Bootstrap3
Font Awesome 4.x
jQuery debouncedresize.js
Geo API in Google Map