LaunchZ One Page Coming Soon Multi Purpose Html Theme
LaunchZ is a clean, modern and minimalistic multi purpose A-Z responsive theme. Cooked with html5, css3, font awesome, twitter bootstrap, jquery and more.
Ready made intro anitmation, Flexible Count, Portfolio, Teams, Product Slider, Latest News , Google Map, Working Contact Form, Paralax, included with the package.
Demo Download Documentation Version 1.0.0
Responsive Layout
Responsive design that fits with any device automatically. Tested with all major desktop and mobile browsers. In some cases we used element query for styling. Special care is taken for different screen size and smart device resolution.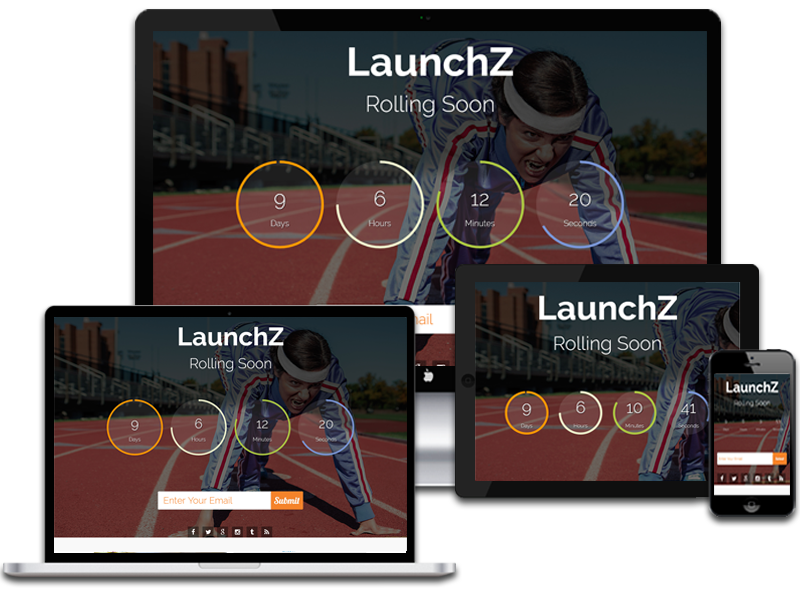 CSS3 Animations
Pure CSS3 intro animation is packed to showcase any special product, feature etc as you need. Lots of css3 animation is used site wide to make the theme more interactive.
Unlimited Color Schemes
Less based design which helps to create unlimited color schemes. Select your own colors to match your brand.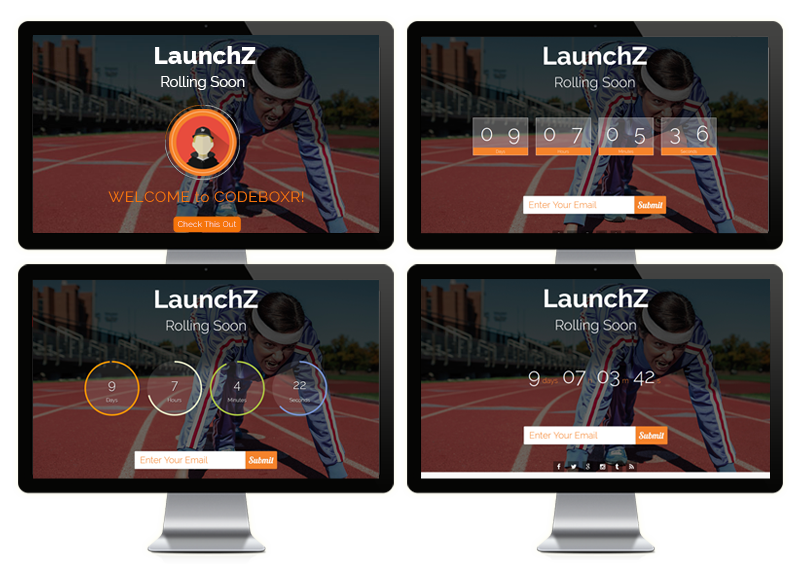 Four Different Header Layout
One CSS Intro Animation & Three Countdown Layout
Default: Light Countdown
Circular Countdown
KK Countdown
Responsive Google Map
Responsive Google Map helping you integrate Google Map. It is lightweight, easy-to-use jQuery plugin for fluid width Google maps

Some Key Feature & Section
One Page
A-Z Responsive
About Us
Portfolio
Google Map
Meet the Press
Latest News
CSS3
Event Countdown with Three Diferent Layout
Intro CSS3 Animation
Mailchimp Subscription
Get in Touch
Contact Us Form
HTML5
Testimonial
Social Links
Ask for Demo
Two Layer Footer
Paralax Effect
Price Comparison
Free Version
Premium Version
Responsive Layout

Team Member with Flip Card

Responsive Dynamic Step Slider

Responsive Google Map

Color Switcher

HTML5 Form Validation

Javascript Form Validation

PHP Form Validation

Unlimited Color Schemes

Less Supports

Three Layout

Mailchimp Subscription

Form Data Save in CSV

Remove Theme Copyright

Buy & Download

$0.00Add to cart

One site

$12.00Add to cart


Two sites

$20.00Add to cart


Five sites

$25.00Add to cart
Thanks to
HTML5 Boiler Plate
Matthieu Aussaguel For WOW
jQuery Countdown plugin
Twitter Bootstrap3
Font Awesome 4.x
jQuery Hover Direction Plugin
jQuery debouncedresize.js
Geo API in Google Map