Display Tweet Inside Your Joomla Site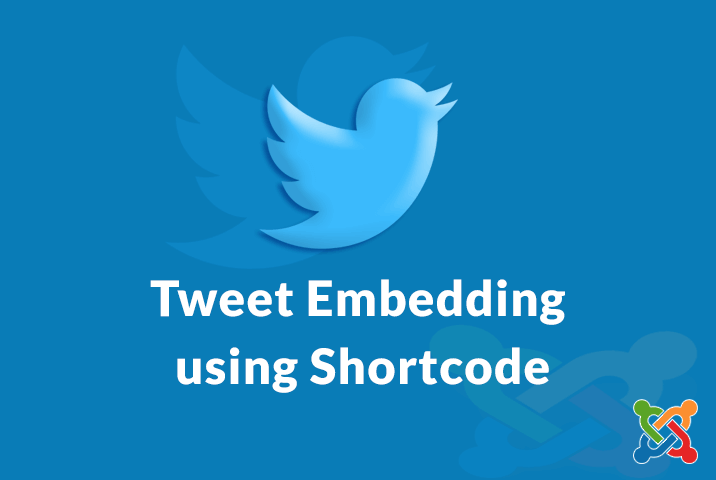 Twitter has a nice option to embed a single tweet in web site using shortcode or adding direct html codes. We just made this very easy for Joomla! Users using our own shortcode method with lots of option.
Demo JED Listing Download GPLv2 or later
Awesome Features
Display Your Tweet Inside Joomla Site
Embedding using Shortcode
Flexible and Easy
Works with any Joomla Template
Styling Options
Tweetbox width (Works when align is none)
Tweetbox align
Add Twitter javascript – Yes/No
Asynchronous Loading of Twitter Javascript
Supported Components
Joomla Default Content(com_content)
K2 CCK(com_k2)
Basic Configuration
1. Skip Home page Yes/No
2. Remove On Popup Yes/No
3. Remove From RSS Yes/No
5. Remove From Ajax Yes/No
6. Item ID Filter Exclude/Include
7. Filter Item ids
8. In Mobile devices Hide/Show
9. Enable Force Caching Yes/No
10. Embed Technology
11. Consumer Key & Secret(Click here to create twitter app)
13. Allow Twitter
Tweet Embed Settings
1. Add Twitter JS Sdk
2. Align
3. Width
Setup is as Easy as 1-2-3
1. Install the plugin in Your Site
2. Config Plugin Settings
3. Save and enjoy

Play with tons of other options related to styling, layouts and theme
Support is very straight forward: One year support for one domain. You can use for any number of websites as you want, but one purchase = one year one domain support.
Note: In case you need to know how to create twitter app please follow this guide
TUTORIAL: Usages
Short Tag: cbtweet
In any article no editor mode/html (use toggle editor button) use the shortcode "cbtweet" like below:

                {cbtweet url="tweet link is here" /}
                {cbtweet url="https://twitter.com/joomboxr/statuses/196466521898352641" /}
            
Using align: align= left, right, center

                {cbtweet url="https://twitter.com/joomboxr/statuses/196466521898352641" align="left" /}
            
Using width:

                {cbtweet url="https://twitter.com/joomboxr/statuses/196466521898352641" width="450" /}
            
Note: Width parameter doesn't work while align is used. For left or right align width is 350 and middle align 500. Maximum align is allowed 550 and minimum is 350. We suggest no need to use align or width, just keep it simple 1. shortcode 2. url ..bingo !
How to find the tweet link:
Go to Twitter and click on any tweet, this will show some extra link at bottom of that box. Click details or copy the link of details which is the link of tweet. Or go to the details link, click embed button and go to tab "link". OR you can modify the shortcode given in Twitter from this format
[tweet https://twitter.com/joomboxr/status/196220728629145601]
to this format
{cbtweet url="https://twitter.com/joomboxr/status/196220728629145601"}
Why buy this plugin:
Certainly you can embed tweet collecting from twitter, the html embed code but why you will buy this plugin? At joomboxr we made some tricks so that twitter javascript is not loaded again and again and you site is not blocked while loading twitter javascript. Suppose you have the tweet embed code in 3 posts then the twitter default html embed code will load twitter javascript 3 times but our plugin will load once and this is not last thing, but if twitter javascript is added by any of our other plugins like social share and vote button it will not add again. Yes we added the twitter script integration asynchronously so that your site is not blocked while loading, which the default twitter html embed code can cause such problem…