Display Your Twitter Update inside Joomla Site for Jomsocial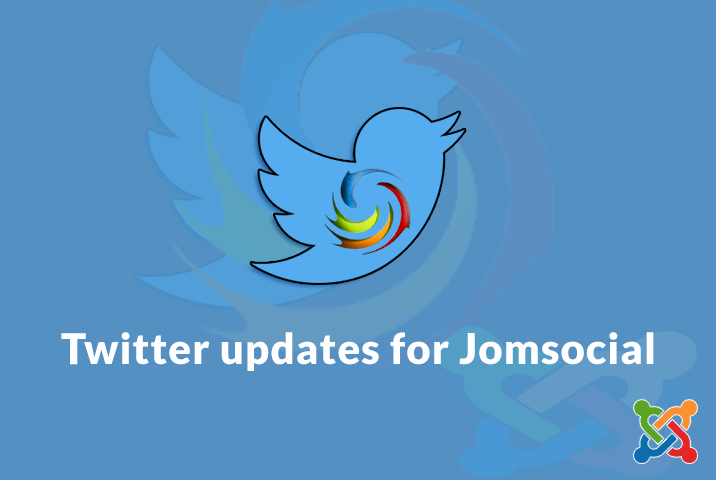 Twitter Updates for Jomsocial (extended) as named "CBTwitter" is an extension version of Jomsocial twitter update plugin (plugin type:community). We developed this plugin with the help of core twitter update plugin for Jomsocial
Demo Download JED Listing Documentation Version 2.0.6
Awesome Features
Twitter update plugin for Jomsocial.
Update Jomsocial status update to twitter.
Twitter Recent Update Listing.
Number of Twitter Updates
Position- Main Content Area, Sidebar Top, Sidebar Bottom
Available Options
Position
Core Application
Consumer Key
Consumer Secret
Update List Style
Round Corner
Others
Completely redesigned
English Language Pack
Enable Caching
Core Application Yes/No
Setup is as Easy as 1-2-3
Install the package, it will install an auth component and jomsocial plugin(community type). Check the plugin setting
To make the plugin work please create twitter app and put api key and secret and save the plugin. To create twitter app please follow this instruction. Please note that, to allow your user to post jomsocial status in twitter you must select your twitter app permission "Read and Write" which normally doesn't need for just showing the tweets. See this screenshot
If you enable this plugin for user , use will get this plugin as app from your profile, add to profile, Connect with twitter, it will bring the tweets and show in their profile.
Play with the available options related to styling and design.
Settings inside Jomsocial.
Update Twitter.
Allow Access.
Show Friends Update Yes/No.
Show Twitter Status Yes/No
Update Count
Support Policy
Support is very straight forward: One year support for one domain. You can use for any number of websites as you want, but one purchase = one year one domain support.