Timeline for Brands and How Red Bull uses it so successfully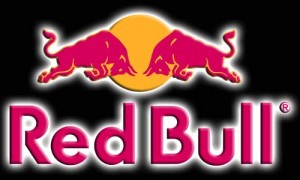 I was searching for something on "Social Media Branding Primer" and came across a blog post by Don Aguirre, Brand Manager from Archrival | Dachis Group. In his post titled, Timeline for Brands: A Primer, he mentions about Red Bull' successful engagement and campaign on Facebook Timeline. Here is a highlight:
"A few months back, Facebook asked an exclusive set of partners to start using Timeline prior to the public launch so they could get a sneak peek at the new features. Invitations went out to brands and agencies based on their social reach and influence. Since Red Bull has nearly 27 million fans and one of the most engaged and active communities, they were a no-brainer."
Don goes on to share what they learned from Red Bull's and other campaign that they manage:
Timeline places a heavy emphasis on the art of storytelling by utilizing a unique set of tools and features to provide fans with a deeper and more compelling brand narrative. Scroll through Red Bull's Timeline and you will see their story come to life through articles, milestones, and a rich portfolio of images that acts as a kind of scrapbook that documents their journey from humble start-up to one of the most successful brands of all-time.
Timeline allows for an upgraded story hierarchy, whereby brands can "pin" certain posts or content and designate them as a feature news item. This designation keeps the story at the top of the page for up to 7 days and ensures maximum exposure.
The cover photo acts as a brand's social media billboard. Again, Red Bull is a textbook example of how a brand should use this – with just one image a user gets an immediate narrative and is able to understand the Red Bull story visually. Red Bull's cover photo has an attitude, a style, and an unmistakable identity that can be conveyed without verbal props or cues. This is an easy way for a brand to differentiate itself and grab the attention of casual consumers.
Timeline has upgraded the app navigation, moving it from the sidebar where it was too easily overlooked and placing it just beneath the cover photo. So now, not only is it one of the first things users see but brands can use custom images to make their games and apps more prominent, which will encourage a higher rate of participation.
Timeline has always been intended to help people tell a better story about themselves and their life. Brands, coincidentally, are no different. Every brand has its own unique narrative that's worthy of being told but up until now, the process of conveying that story has been easy for a few and quite difficult for many.
Now, Timeline has essentially leveled the field by allowing organizations to refine their image and reveal a more human and approachable side to itself."
Then I came across this lovely slide on SlideShare on case study of Red Bull on Social Media. This case study highlights the work done by Windchimes for Red Bull in promoting their event Red Bull Bedroom Jam. This was the only medium used by the brand to build consumer connect and engagement with them. The campaign was a huge success with Red Bull India ranking third in terms of user participation!
Also check out, Case Study By Windchimes Communications' on the Social Media Marketing of the Red Bull Speed Link Event held in Mumbai in November 2009.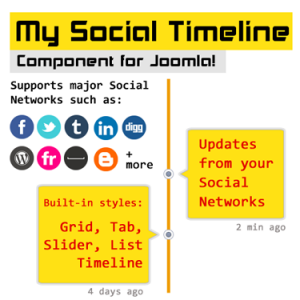 Having said that, we @ Codeboxr have an excellent product by the name, My Social Timeline which you can implement right away in your Joomla site (and if you need solution for WordPress based site, please do let us know, we can custom build for you).
This is a Joomla Component which show latest updates such as posts, tweets, blogs, pins, photos, videos, bookmarks and diggs from all major social networks in Facebook like timeline fashion. Other than Facebook style Timeline layout, it also has Grid, Tab, Slider and List view.
The popular Social Networks that the present version support are: Facebook, Twiter, Linkedin, Pinterest, Youtube, Blogspot, WordPress, Delicious, Myspace, Tumblr, Digg, Reddit, Last.fm etc. So whichever is your social network of choice for your brand, personal use or company, now you can feature their updates as you like within your Joomla! site.
It has 5 Interface layout such as: Timeline, List View, Grid, Tab, Slider and 3 built-in style theme themes such as: Clean, Gray and Dark to suit your Joomla site's template.
After installation find it as Menu Item*. To get it going, just input your Social Media usernames / page ID and enjoy the magic. Don't forget to play with our extensive admin options to suit your need.
Check out it's excellent features and use it. Make your engagement in Social media far more tangible and let your visitors get a chance to see how active your brand's Social Network's are.