WHATS NEW CHANGE IN JOOMLA 3.3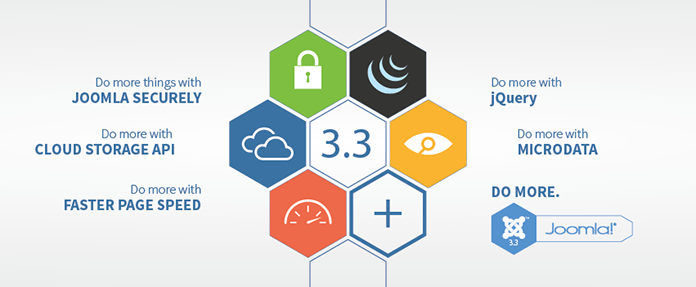 The Joomla! Project is pleased to announce the availability of the Joomla! 3.3 Release Candidate. Community members are asked to download and install the package in order to provide quality assurance for the forthcoming 3.3 release, which is scheduled for release on or around April 30th, 2014.
A big thank you goes out to everyone that contributed to the 3.3 release! Joomla! 3.3 will be our most stable release ever. Right now we're at about 395 commits since 3.2.3's release with 44 different people contributing to those commits (not including testers and other non-coding activities). Best of all is that the new features are awesome!
What is this release for?
This is a release candidate that should only be used on test sites.
Extension developers are encouraged to work with this release in order to prepare extensions for the General Availability release of Joomla! 3.3, though there shouldn't be any backward compatibility issues. Users are encouraged to test the package for issues and to report issues in the Joomla! CMS Issue Tracker. Please do not upgrade any of your production sites to the release candidate and do not start a new site on this release as it is ONLY intended for testing.
Which bugs have been fixed in Joomla! 3.3?
Thanks to the hard work of JBS and other volunteers, there have been over 110 tracker items closed since the 3.2.3 release, which includes the new features. See http://developer.joomla.org/version-3-3-0-release-notes.html for details of the tracker items fixed. For known issues with the 3.3 beta series, see the Version 3.3 Beta FAQ on the documentation site.
Joomla 3.3 – What's new?
Updated server requirements and better security
The next Joomla release is mainly focused on raising the bar on security; this is why the minimum requirement regarding the PHP version is being raised to 5.3.10. First up, this release includes a really important security fix, and then goes on to enhance the cryptography that keeps your users' passwords safe and sound. Bear in mind that the latest PHP release is 5.5.8 and PHP 5.2 reached End of Life in January, 2011 so that was three years ago – if you hosting is still using this version it is great time to ask for an upgrade, or, failing that, to change company; hosting companies have a responsibility to provide (at least the option of) functional, updated software under the hood so if your provider isn't up to the task you would be much safer in the long run if you got out now!
Some of the already-confirmed Joomla! 3.3 features related to security are BCrypt password hashing, Two-Factor Authentication and an improved Remember Me area, if you're the nostalgic type.
New Security in Joomla 3.3
With the release of Joomla 3.3 we will see a new system requirement for the installation and upgrade or pre-existing website in the Joomla 3.x series.
To be able to update to 3.3 your server must meet the minimum requirements of PHP 5.3.10 to allow for the required higher level of password encryption that is being integrated into Joomla.
This means there are a few checks that you have to perform before doing the update! Since the release of Joomla 3.2.2, there has been the introduction of a new system checker before you can update your Joomla website. So if you update from Joomla 3.2.2 to Joomla 3.3, the installation process of the upgrade will warn you and stop you from upgrading your Joomla website.
If you're on a lower version of Joomla, this won't happen, or if you're upgrading your website through third party services or server level scripts, these may not check settings either so it is best to check your PHP server settings yourself.
It is easy to check, just login to your administrator area and go to SYSTEM -> SYSTEM INFORMATION and the PHP version should show on the first screen that appears. If your server isn't updated, then you might want to change servers, ask your host to upgrade the PHP version or just not update your website just yet. (but you will have to to gain security updates and new features)
You can see more conversation about this topic on the Joomla Google Community.
MooTools to jQuery JavaScript migration
MooTools has been the native Joomla! JavaScript library since it's very first CMS release, but now it's time for a change in this area and all back-end and front-end scripts (almost 25 script elements) will be making the jump to jQuery. This change will help to reduce the size of Joomla! websites by loading just jQuery, which is used by many extensions. This change avoids duplicated JS libraries and will resolve many problems that are thrown up by conflict between MooTools and jQuery scripts.
Cloud Storage API
Cloud Storage APIs will allow Joomla! to interact with Amazon S3 and other cloud storage offerings like Dropbox, Google or Rackspace.
Microdata
JMicrodata is a new Joomla! 3.2 library which allows developers to implement schema.org microdata semantics. Basically, this new microdata feature is a way of adding contextual information to your website and its contents, which should be rather nice for SEO; Search engines can index this additional data and then provide better results for your visitors and better understand the information you provide them with.
Read More Here