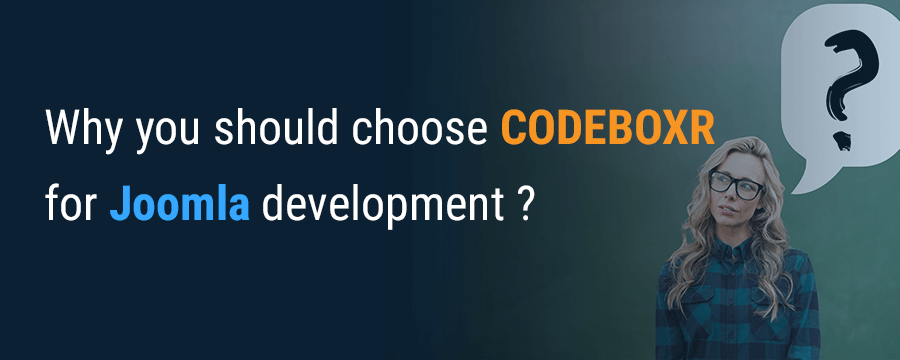 Joomla is an open source platform on which Web sites and applications can be created. It is a content management system (CMS) which connects your site to a MySQLi, MySQL, or PostgreSQL database in order to make content management and delivery easier on both the site manager and visitor. Joomla platform has become one of the most popular website building platform since 2005. Joomla is reportedly the 2nd most popular website management or blogging system in use on the Web , supporting more than 2 million + websites.
If you are planning to get a modern website & do manage it without knowing a single line of code then CMS like Joomla can be the best choice.
Codeboxr is a leading Joomla Development Company since 2011 offering Custom Joomla Development services at Competitive price & in promising time.
I think our Joomla Extensions gallery is enough to introduce us.
Why to choose Joomla ?
Easy Set Up:Setting up is very easy.
Extensive Content Management features: There are hundreds of options and dozens of interface screens to help you create, organize, sort and display content in any number of ways.
Standardized Interface And Functionality: Its provides a stable foundation for customizations and integrations.
User Management and ACL features: After setting up joomla you can customize the control level also.
Advanced Template Control: You can use different template for different pages as well as do how much customization you want to do.
Huge Extension Gallery: It has huge extension gallery that allows you to extend performances & features without knowing how to programm.
Easy to update: Very easy to update your site at any time.
International Language Support:It supports almost all languages.
Safe & Secure: Joomla is developed with security in mind, so it is considered quite safe and secure to run any website.
Services We Provide Regarding Joomla:
Joomla! Module Development
Joomla! Module Customization
Joomla! Plugin Development
Joomla! Plugin Customization
Joomla! Component Development
Joomla! Component Customization
Joomla! Theme Customization
Migration To Joomla From Another CMS Like WordPress
Why To Choose Us ?
Being one of the leading Joomla development Company, we encompass the team of proficient developers for delivering intuitive and interactive Joomla services.
Here are the major points to consider us:
Quality: We never compromise with the quality.
Implement Clean Coding: We always write clean code can be easily read, modified, tested at any time. Websites built with clean code can perform very well on all parameters and fetch more business opportunities for its owner.
Responsive:We ensure 100% responsive websites .Though, we rarely develop Joomla theme but when we do we do the best of it.
Constant Sitemap: Offering the constant sitemap on all the platforms so the website appears same from all the platforms . It prevent any kind of ambiguity among the users. We always keep that issue on our mind & make sure that website is working fine through all modern web-browsers.
Cost Efficient: We do value your money. What we cost is worth the service we deliver.
Obligation:We fell obliged to land project on time that genuinely mirrors client's desire. And for that , we invest time with clients & get pieces of information.
Support with care: Always(within office time) available to help and assist you. Support by Real Developer. We give support via email, skype if need.
Secured Transaction: Secured payment through PayPal.
We charge project basis or $20/hour as flat rate.
FREE ESTIMATE: Interested ? Tell us about your project…