We are working for details documentation. In the mean time you can check Some tutorial links below:
[Fresh New Documentation in progress]
This article presents details documentation for CBX Accounting for WordPress.
Download and Installations:
Download & Install Core Plugin:
To download the free core plugin of CBX Accounting for WordPress please go to wordpress
plugin dir
Plugin from WordPress plugin directory can be installed in different ways, wordpress codex has very good tutorial about this, so we are skipping this part. Or wpbeginner has a step by step guide.
Install any Pro or Free Addons:
Please check the addon section from the product page
After purchase any pro or free addon you will get zip package.
This zip package you need to install manually, wordpress code has very good tutorial about this.
Activate and Configuration:
After installing the plugin, please activate from plugin listing page or installation screen. If the plugin is activated there will be a menu in left panel admin menu called "CBX Accounting"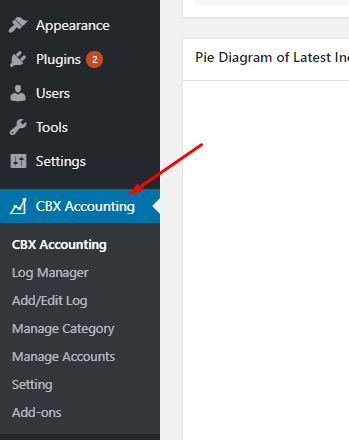 Excel Export: Helper Plugin
For excel export, cbxphpspreadsheet helper plugin is needed.
Go go the url and find the latest release in the releases list, download the latest release zip file and install from wordpress admin.