Web Design

Codeboxr has in-house skilled team to offer different areas of your web design including: web graphic design, interface design, authoring: including industry standard coding and implementation of necessary tools and search engine optimization. We are not an average Web Design company. That's why we give emphasis on quality of code, factors instrumental for efficient site loading and validation.
A cleanly coded site goes a long way in not only giving every visitor a very good web experience but also when the site become complex and large, it ensures that your site does not get sluggish.We also place importance on UX (user experience) design. UX has become a very important area since a user must understand intuitively how the website works. This require user friendly design, navigation, labeling, presentation etc. so that the interaction with the site is organic. We work closely with the client to receive as much as useful feedback to come up with the best visual design that works with the target audience. Our sense of aesthetics or overall design is developed such that it do not come in conflict with the content, making it easier for the user to navigate and find relevant information or products etc. We're a social company. A great deal of our development energy is focused on Social Media. That's why when we design and develop, we provide suggestion and room for Social Media integration.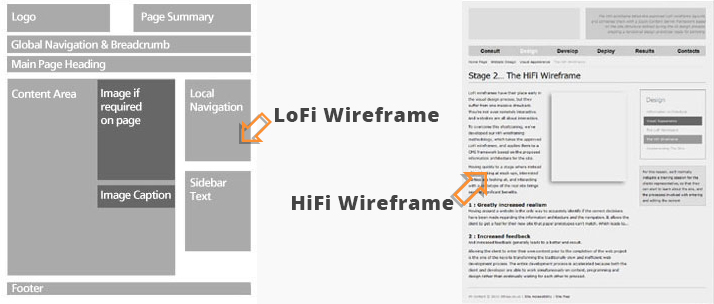 During Design Phase we begin with Low-Fidelity (LoFi) Wireframe which demonstrate general layout of various pages of the site. LoFi Wireframe is basically a layout grid that indicates where the various elements are going to appear on the page. A LoFi Wireframe allows stakeholders to focus exclusively on the suggested layout – without the distractions of colour, type, or other design elements. Once LoFi Wireframe is chosen in consideration with various layout option for
homepage, inside page, blog. ecommerce section etc. then High-Fidelity (HiFi) Wireframe is produced. This takes the approved LoFi wireframes, and applies them to a CMS framework based on the proposed information architecture for the site. This greatly increase realism and help client give better feedback, suggest changes.
Web Development

We are Content Management System (CMS) expert and have proven track record of developing tools for industry standard CMSs. You can rely on our expertise to develop and design website you need. Since we work with inner workings of CMS, we know exactly how to arrive at the most appropriate website for you. The technologies that we use: PHP, Java, Javascript, jQuery, MooTools, Codeigniter, Ajax, Jason, mySQL, CSS, HTML, XML, Feedburner, Open Graph and more. Tools we use: NetBeans, Dreamweaver, Snagit, Photoshop, Illustrator, Google Analytics, Google Keyword Analyzer and more. Our workflow for web design generally follows the model shown on the infographic on right.
You let us know your general requirement
We give you a thumb-rule budget range and approximate development time
If you agree on the draft budget range, we work together to produce:

more fine-tune technical requirements
exact budget and c. deliverable schedule

We start the project and keep you posted during development phase
We finish, handover and ensure that you have a pleasant experience using the website
If necessary we train you so that you / your team can manage your site independently.
Deployment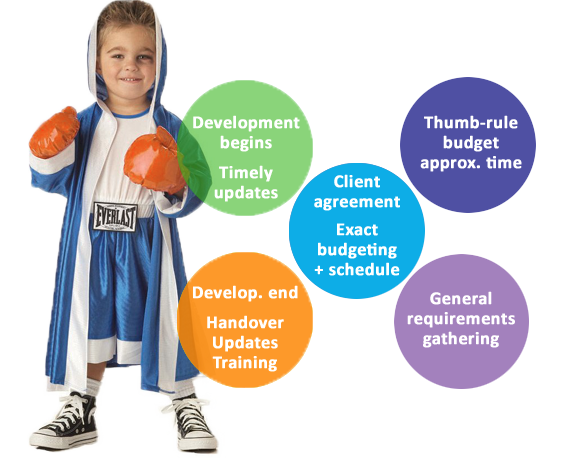 Once a site's development phase is almost over, the next stage is to deploy it. Deployment begins from making your site live in the server but doesn't finish there. We also help you get desired domain name and server with the right tools and configuration. Our deployment team remains available to you for any further update such as upgrading CMS, security scans, incorporating important changes. Maintaining competitive SEO position is also very important and this may require that a competent SEO specialist look at your site's ranking time to time with various keywords, look at Google Analystics, suggest changes / content. If you have Google Adwords, we also provide support for regular monitoring, data mining of Adwords intelligence.
Web Application

As websites are growing more and more powerful, lots of functionality requirement are moving from desktop to the web directly. From product tracking tool for a logistic company to human resource management of a company, all now can be managed via web page applications which can operate seamlessly from any remote location or multiple users connected on the web simultaneously. At Codeboxr we also develop custom Web Application. Please contact us for your need.
FREE ESTIMATE: Tell us about your project…