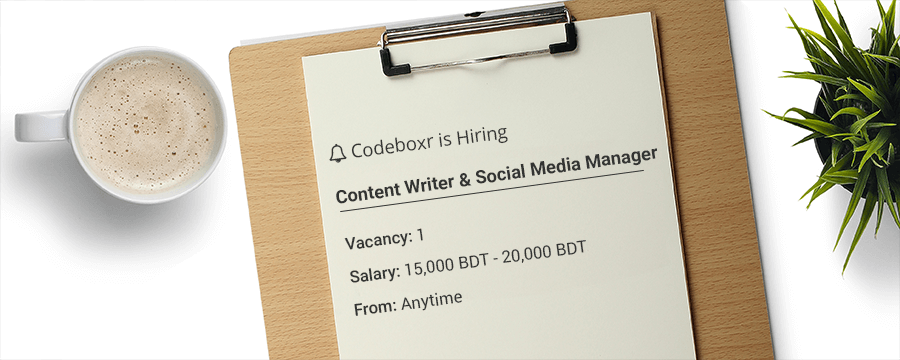 Note: Please read before you apply, in most cases, we get email with wrong subject
Job Title: Digital Marketer & Content Writer-2017
Company Name: Codeboxr
Website: https://codeboxr.com
Vacancy: 1
Salary: 15,000 BDT – 20,000 BDT
From: Any time
Note: If you visit our website you will get everything to know about us
Expertise & minimal terms to apply:
1 years experience working in IT related company or Online Marketplace
Fluent in English and Bengali (both reading and writing)
Excellent communication skill and can work in team
Knows SEO, SEM, PPC, Adsense, adwords, keyword analysis, insite/off site seo or other online marketing related standards
Knows Google schema/seo tags, open graph, twitter card, pinterest seo tags
you have experience writing technical articles or blogs
you know how to write user guide for any digital products
you can create video tutorial for any digital product
you know basic uses of wordpress and joomla (just as a user, we are not expecting web developer)
You like to come office in time
a good human inside you who likes to think using logic and science
you like math or you like to learn new technology
You are professional
You like to help your team mates
You regularly study new things
You support no other country but Bangladesh in cricket
you must follow office policies and dedicated for office works, promote your office and help to grow.
Self-learner (there are lots of youtube tutorial, online tutorial to learn, if you are self learner then you will never ask for spoon feeding )
If you have good terms in local market and can generate project lead from local market then it will be a plus
Salary: 15,000 BDT – 20,000 BDT
Office time: Winter: 10am-7pm, summer: 9am-6pm(current)
Weekend: Sat, Sun(Regular), Currently Fri, Sat which will be changed anytime.
Location: Apartment 6H, Dilara Tower,77 Bir Uttam CR Dutta Road(Near eastern plaza), Dhaka 1205, Bangladesh
Free lunch, tea, coffee
Bonus: Two festival bonus, half of salary(based on your first month salary of January or the first month you join) in each festival. You need to pass at least 6 months to be eligible for the bonus.
Increment: based on your performance
Please send your resume to info@codeboxr.com with exact subject(please don't add extra word to email subject as we filter email using subject)
"Digital Marketer & Content Writer-2017"
without quote, wrong email subject means the email will not be read. For any query please send with the same subject or ask here in reply if it's possible to ask in public.
You can write anything in your resume that helps us to understand you well.
Who should not apply:
you started to learn seo
you started to learn about marketing
you don't know any thing about html or at least writing blog post using basic html tag
you have no experience or you didn't finish your study
you don't need money but you want to learn
** any kind of other terms and other policies will be disclosed before employment as written and you will need to sign agreement at least for 2 years.
PS. For any typo please excuse us