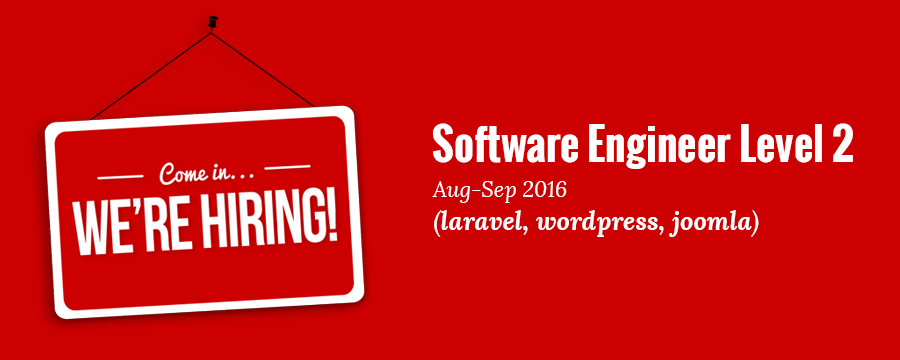 We confirmed a guy, please don't send any more application for this job post.
Note: Please read before you apply, in most cases we get email with wrong subject
Software Engineer Level 2, Aug-Sep 2016(#laravel, #wordpress #joomla)
Company Name: Codeboxr
Website: https://codeboxr.com
Vacancy: 2
Salary: 30,000 BDT – 35,000 BDT(or We can talk)
From: 1st Oct 2016
About us: If you visit our website you will get every thing to know about us. In short, we have near 25+ wordpress plugin in wordpress dir, 50+ Joomla extension in Joomla extension dir. We worked brand like BDNews24, USAID as we as international brand GDP Global.
Expertise, Requirements and Job Responsibility:
2 years experience working in one or more companies
Expert in php frameworks like Laravel , YII2 or symfony
Expert in developing complex wordpress plugin or joomla extension (at least expert in one cms)
You know how to write basic css code
You know how to write basic html
You know how to use jquery, modify jquery plugin, if you can make jquery plugin then it's a plus
If you have expertise in any moden js library like angular js, react js then it's a plus
You can not do freelance or do any other professional work that conflicts with our business
You may need to work on any kind of web based projects based on php or wordpress or joomla or any thing new. If you are fast learner then it should not be problem, you will be given time for grab and development
ready to work on any ongoing or new projects just after join
You like to come office in time :)
You know git
You know how to design relational database.
If you know big data or nosql database like mongodb then it's a plus
a good human inside you who likes to think using logic and science
you like math, you like to learn new technology
You are professional
You like to help your team mates
You regularly study new things
You support no other country but Bangladesh in cricket
You know task automation- example: gulp, grunt
You can work following project requirement
If you know mobile apps development then it's a plus
Office time: Winter: 10am-7pm, summer: 9am-6pm(current)
Weekend: Regular Sat, Sun (at this moment fri-sat and office can change it any time)
Location: Apartment 6H, Dilara Tower Tower, 77 Bir Uttam CR Dutta Road, Dhaka 1205, Bangladesh (Near Hatir pole Eastern plaza)
Other benefits: Free lunch, tea
Bonus: Two festival bonus, half of salary(based on your first month salary of january or the first month you join) in each festival. Special bonus for finishing any project in time and properly(Project bonus). Salary is given within 5th-10th work days of any month
Increment: Two times a year based on your performance (Total 5k BDT maximum per year). The more you show your performance, help company to grow company will take care you more.
Please send your resume to info@codeboxr.com with exact subject(please don't add extra word to email subject as we filter email using subject)
Email Subject: Software Engineer Level 2, Aug-Sep 2016(#laravel, #wordpress #joomla
without quote, wrong email subject means email will not be read. For any query please send with same subject or ask here in reply if it's possible to ask in public.
You can write any thing in your resume that help us to understand you well. We suggest to put your github repos or such code repo if any, links for wordpress plugins , links for joomla extensions if any
Who should not apply:
you started to learn php
you started to learn wordpress or joomla
you don't know any thing about css
you don't know any thing about js
you don't need money but you want to learn
you just started your career
PS. For any typo please excuse us