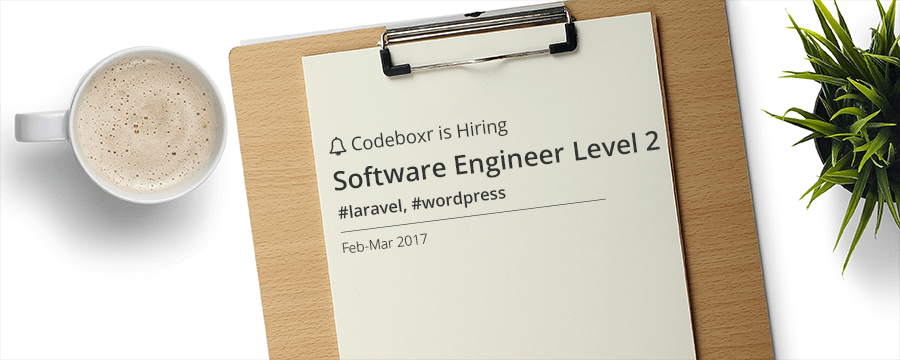 Update: Please note that we already hired for this post
Note: ** Please read before you apply, in most cases we get email with wrong subject **
Job Title: Software Engineer Level 2, Feb-Mar 2017(#laravel, #wordpress)
Company Name: Codeboxr
Address: Apartment 6H(Lift-5), Dilara Tower, 77 Bir Uttam C.R. Dutta Road, Dhaka 1205, Bangladesh(Near Eastern Plaza)
Website: https://codeboxr.com
Vacancy: 1
Salary: 30,000 BDT
From: Feb, 2017 or next (we need experience certificate from your last job )
About Codeboxr: If you visit our website you will get every thing to know about us(we recommend you study our web site before you apply)
Expertise, Requirements and Job Responsibility:
2 years experience (not more than 2 compannies or at least you don't have early switching tendency)
Expert in php frameworks like Laravel , YII2 or symfony
Expert in developing complex wordpress plugin
You know how to write basic css code
You know how to write basic html
You know how to use jquery, modify jquery plugin, if you can make jquery plugin then it's a plus
If you have expertise in any modern js library like angular js, react js then it's a plus
You can not do freelance or do any other professional work that conflicts with our business
You may need to work on any kind of web based projects based on php or wordpress or or any thing new. If you are fast learner then it should not be problem, you will be given time to grab new tech
ready to work on any ongoing or new projects just after join
You like to come office in time :)
You know git
You know how to design relational database.
If you know big data or nosql database like mongodb then it's a plus
a good human inside you who likes to think using logic and science
you like math, you like to learn new technology
You are professional
You like to help your team mates
You regularly study new things
You support no other country but Bangladesh in cricket
You know task automation- example: gulp, grunt
You can work following project requirement
You like to admit your mistake and learn from mistake
Don't lie a single line in your resume
Office time: 9am-6pm(Office can change at it's own decision )
Weekend: Regular Sat, Sun (at this moment fri-sat and office can change it any time)
Location: Apartment 6H, Dilara Tower Tower, 77 Bir Uttam CR Dutta Road, Dhaka 1205, Bangladesh (Near Hatir pole Eastern plaza)
Other benefits: Lunch(complimentary), Tea/Coffee
Bonus: Two festival bonus, half of salary(based on your first month salary of january or the first month you join) in each festival. Special bonus for finishing any project in time and properly(Project bonus). Salary is given within 5th-10th work days of any month
Increment: Two times a year based on your performance (Total 5k BDT maximum per year). The more you show your performance, help company to grow, company will take care you more. We want long term relation and dedicated team mate who is professional as well as passionate.
Please send your resume to info@codeboxr.com with exact subject(please don't add extra word to email subject as we filter email using subject). Use email subject as below:

Software Engineer Level 2, Feb-Mar 2017(#laravel, #wordpress)
without quote, wrong email subject means email will not be read. For any query please send with same subject.
You can write any thing in your resume that help us to understand you well. We suggest, you put your github repos or such code repo if any, links for wordpress plugins . Please write briefly in email about yourself, skill, education and experience. Send your updated resume in pdf format, put only important things,
Who should not apply:
you started to learn php
you started to learn wordpress or laravel
you don't know any thing about css
you don't know any thing about js
you don't need money but you want to learn
you just started your career
you want us to help you to start your career
you come office late and blame traffic jam
you have so called ego and without admit your own mistake you blame the system
you can not work as team
you need sick leave every month
you don't understand what is called deadline for technical project
you can not work under pressure
you have quick job switch tendency
you want fancy office (we don't have fancy office at this moment but the environment is super friendly)