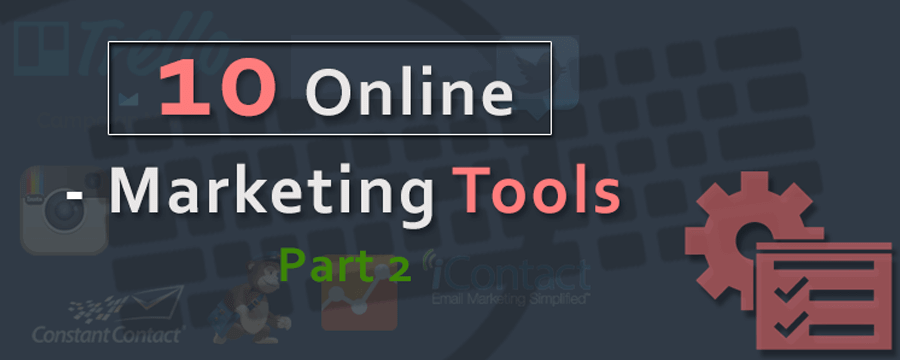 Marketing is a daunting task for small business owners. All the more so as, with increasing numbers of people getting online, the web has become an essential part of the marketing mix for companies regardless of their size or budget. Finding a good marketing shortcut feels especially great, considering all that we marketers have to do in a day.
That's why I went hunting for the top free marketing tools in a variety of marketing categories. These tools – all quick hits you can get started with easily – focus on everything from research and writing to benchmarking and analyzing. Now i'm presenting some marketing tools which may help to marketer.
1. Aweber: Price – 30 day free trial
[ Start Download : All Time – 1,72,949 & Active Installation : 10,000+ ]


AWeber gives you the flexibility to manage contacts and customize your own email templates, but not a lot of third-party integration. If you want email marketing without a lot of fuss, AWeber deserves a look.If businesses want to grow, they cannot ignore marketing. Thankfully, there are plenty of email marketing tools available to help even the smallest of small businesses get started. AWeber is just such a choice, offering an easy-to-use platform with no hidden surprises.
AWeber's templates simplify the process for creating visually attractive email marketing campaigns and the reporting dashboard tracks the most important basic statistics. It can't import contacts Gmail or other third-party address books, nor does it offer Google Analytics integration. For better third-party contacts integration and tracking, you should consider MailChimp and Campaigner, our two Editors' Choices for email marketing tools. For this review, I signed up for AWeber's basic plan. Visit Aweber http://www.aweber.com/
2. GetResponse: Price – 30 day free trial
[ Start Download : All Time – 52,985 & Active Installation : 8,000+ ]

GetResponse makes all your newsletters look great on all devices, automatically. Computers, smartphones, tablets… you will WOW your audience every time. Best part is, you don't need to do anything. Responsive email design works its magic behind the scenes to get you 42% more results and more sales.With one click, you can import contacts directly into your email campaigns from your hard drive and from several different services and mail clients, including Gmail, Magento, Salesforce and Highrise.
Grow your subscriber list by hundreds or thousands – automatically – in just a few seconds.Custom fields let you collect detailed information about your Subscribers and let you personalize your emails using this information. Custom fields apply globally, so any changes will be visible in all campaigns.To create a new field, name it and choose whether you prefer to let the subscribeable with any information they want or let them choose from availalues. Visit GetResponse https://secure.getresponse.com/
3. Benchmark Email: Price – Only $9.95 /mo
[ Start Download : All Time – 35,982 & Active Installation : 1,000+ ]

Benchmark Email offers the tools you need to create marketing campaigns and assess how your customers are receiving them.Benchmark Email is a fitting name for this email marketing service because it sets a benchmark for the type of performance you'd expect to help you improve your email marketing campaigns. With Benchmark Email, you can create newsletters, surveys, event information and coupons quickly. Whether you're skilled at web design or have talents in other fields, you can create documents, send them when you want to and see how your customers respond to them.
This email marketing service also helps you keep track of bounced messages, contacts who have unsubscribed from your mailing lists and more. You can also create and send surveys or emails with videos in them to your subscribers.Benchmark Email provides everything that you need to target your audience with a professional email campaign. Through its comprehensive service offering, you can monitor the results of your emails with excellent reporting capabilities. Visit Benchmark Email http://www.benchmarkemail.com/
4. Visual Website Optimizer: Price – Only $49 / month
[ Start Download : All Time – 10,032 & Active Installation : 2,000+ ]


Visual Website Optimizer is a market leading testing and optimization tool that allows marketers, product managers and analysts to create A/B tests and geo-behavioral targeting campaigns without having any sort of technical or HTML knowledge.
Visual Website Optimizer is an easy to use A/B testing tool that allows marketing professionals to create different versions of their websites and landing pages using a point-and-click editor (no HTML knowledge needed!) and then see which version produces maximum conversion rate or sales.
Visual Website Optimizer is also a flexible multivariate testing software and Thousands of enterprises and small businesses are using Visual Website Optimizer for landing page optimization, increasing website sales and improving conversion rates. Visit VisWebsite Optimizer https://vwo.com/
5. Verticalresponse: Price – Free Only Up to 1,000 email
[ Start Download : All Time – 26,608 & Active Installation : 2,000+ ]

VerticalResponse is an easy, fast, and affordable way to send monthly newsletters, special offers, invitations, and social posts that deliver your message, help grow your business, and keep you top of mind.Turn website visitors into email subscribers by adding a signup form to your website or sharing a link to your form on social media. Make a great first impression with a welcome email that's automatically sent to people who sign up.
Cliché Noe needs visibility for the exciting events they host every month at their specialty gift store. They use email marketing to create and send invitations to trunk shows and events like book signings, or their ever-popular "Prosecco and Chocolate" nights. Because all VerticalResponse email templates are responsive, they look great no matter where they are read, whether it's on a PC, tablet or phone. These invitations can be created, sent and tracked in minutes and attract flocks of customers both old and new. Visit Verticalresponse http://www.verticalresponse.com/
6. Mad Mimi: Price – Only $10 – 30 days
[ Start Download : All Time – 20,121 & Active Installation : 3,000+ ]


Mad Mimi is the easiest way to create, send, share and track email newsletters online. Mad Mimi is for people who want email marketing to be simple. Every day, over 40 million emails are sent, shared and tracked using our delightful and powerful service.Mad Mimi is an email marketing service to keep your eye on. It frequently updates the look of its interface, integrating add-ons that no longer require an additional fee. Its brand of bulk email marketing provides design features that make it easy for you to create fashionable and professional emails.
This service has a learning curve, though, as it isn't quite as accessible or simple as its competitors.Mad Mimi provides detailed reporting features. You can see how many people open your email, click on embedded links, share it on social networks and more. You can even see who clicks on which links. This email marketing service works with Google Analytics and provides detailed click tracking and statistics. It provides forward-to-a-friend reports and the option to export reports to Excel. You can also see real-time responses to social networking activity related to your email campaigns. Visit Mad Mimi https://madmimi.com/
7. Autosend: Price- Only $ 199 / Month
[ Start Download : All Time – 1,07,923 & Active Installation : 10,000+ ]

If you want to personally reach out to each person that joins your website, you can with Autosend. Autosend helps you automatically send personalized, targeted email and text messages to every customer based on what they do on your website. So anytime a customer joins, makes a purchase or even looks at a particular FAQ question on your website, you can proactively send a personal message to them.
Autosend is a simple all-in-one tool that helps you automate your user messaging with WYSIWYG email creation, A/B testing, analytics and more. Perfect for user onboarding, customer service, email marketing, and more. Made for marketers, startups, and non-technical users.Visit Autosend http://autosend.io/
8. Marketing Graders: Price – Free Trail
[ Start Download : All Time – 1,965 & Active Installation : 200+ ]
Marketing graders are handy tools to have around, evaluating and grading your website to help you improve your marketing performance. Today we're looking at 10 awesome marketing graders that will help you get a sense of how far you've come down the marketing road, and where you should focus your gaze next to improve your marketing campaigns across the board.
Making it easy for customers to give you their information through forms on your website and understanding the tools you are using to nurture those leads are the beginning of an optimized middle of the funnel. Visit Marketing Graders https://marketing.grader.com/
9. SumoMe: Price – Free Trail
[ Start Download : All Time – 1,87,099 & Active Installation : 50,000+ ]


SumoMe is a powerful tool that will give your site, and business, a major boost. SumoMe has a number of features that include a scroll box for email signups, contact forms, heat maps to see where your visitors are coming from, and a tool that auto-optimizes your share buttons.
We're currently using SumoMe's products to power our sharing on desktop, tablet and mobile web. Their products allow us to make on-the-fly changes for design, layout and functionality without changing any code. Noah and his team are also lightning fast at responding to changes in the marketplace, allowing us to stay ahead of the latest user trends in social sharing. Visit SumoMe https://sumome.com/
10. Sprout Social: Price – Free 30-Day Trial
[ Start Download : All Time – 14,203 & Active Installation : 700+ ]
for social media management & scheduling – We love this program! It brings all your social media messages to one convenient feed for easier monitoring. You can track mentions, view audience demographics, view conversation histories, plan content calendars, track engagement patterns, and network with other social media marketing team members. After the free trial, plans start at $59/month, per user.Sprout Social is a social media management tool created to help businesses manage their social media efforts more effectively and efficiently.
Sprout Social integrates with multiple social networks where consumers are engaging with businesses and brands. When used with your Sprout Social account, it offers team or individual engagement and publishing tools with in-depth analytics, brand monitoring, competitive insights and social CRM features. Sprout Social is known for its intuitive, easy to use web and mobile platform. Visit Sprout Social http://sproutsocial.com/
What's your favorite? Let us know in the comments section below!