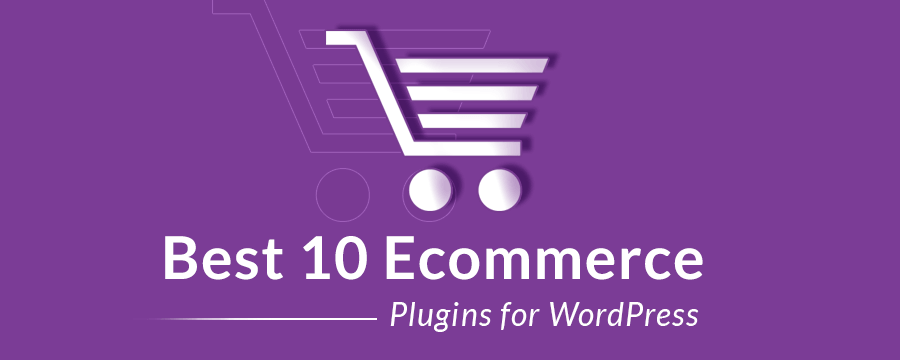 WordPress is an extremely versatile platform, with a diverse range of capabilities. One of the most popular uses of WordPress is running an eCommerce website. Thanks to some very brilliant plugins it's possible to set up a online shop at a relatively low cost while still achieving professional design and functionality. WordPress has become a hotbed not only for all sort of websites and blogs, but for e-Commerce also. The eCommerce industry has blown up over the past few years. Each year, more and more buyers choose to buy online instead of going to a brick and mortar store.
WordPress has started its journey as a blogging platform, but now it's being used as a robust solution for building eCommerce sites. The powerful plug-in architecture of WordPress makes it possible for anyone to transform an ordinary site into a fully-fledged digital shop. So in case you'd rather build it with good old WordPress instead of using dedicated shopping cart software. WordPress is probably the best CMS for running an eCommerce related website, as its system of themes and plugins allows you to customize and manage your online store as you wish. There are hundreds of eCommerce plugins and tools to help you out, and we decided to make a list of the best ones:
1. WooCommerce :
[ All Time : 94,55,305 & Active Installs : 1+ million ]

WooCommerce is a free eCommerce plugin that allows you to sell anything, beautifully. Built to integrate seamlessly with WordPress, WooCommerce is the world's favorite e Commerce solution that gives both store owners and developers complete control. With endless flexibility and access to hundreds of free and premium WordPress extensions, WooCommerce now powers 30% of all online stores — more than any other platform.
The Woocommerce plugin comes from the developers of the famous Woothemes. This Woocommerce plugin promises to provide powerful e-commerce facilities as well as elegance. It provides a whole lot of features including a dashboard widget so that you can easily check the progress of your online businesses. It is highly customizable and comes with multiple payment options including Paypal, Cheque, Cash on delivery and many more options. Also you can add multiple extensions to the plugin from a wide range of Woocommerce extensions. Visit : https://wordpress.org/plugins/woocommerce/
2. WP eCommerce :
[ All Time : 31,38,998 & Active Installs : 70,000+ ]

WP e-Commerce is a free WordPress Shopping Cart Plugin that has been downloaded over 2.5 Million times. It is a 100% customizable ecommerce plugin that includes a lot of powerful eCommerce features like: Different Payment Gateways (Paypal, Authorize.net, Google Wallet, Manual Payment, etc.), Marketing options (discounts, free shipping, social media buttons,..), multi-language support, shipping, orders management, catalog management and more.
WP e-Commerce is another simple to use yet powerful WordPress eCommerce plugin that has been around for last several years.Many consider it the best option, and it has a strong community of developers ready to help you. You get the basic functions you'd want from a shopping cart without too much extra. You can download WP ECommerce for free, but all features need to be purchased. It's got a lot more features than eShop and yes, you can print invoices, but NO they're not customizable. Visit : https://wordpress.org/plugins/wp-e-commerce/
3. Cart66 Lite :
[ All Time : 175,264 & Active Installs : 4,000+ ]

Cart66 lite is an ecommerce plugin for your WordPress blog. Unlike other e-commerce plugins, it is quite light yet powerful. You can easily sell digital as well as physical products with it. With multiple shipping and currency options, it can also help you can give your business an international edge. You can easily place ads in any page and also use affiliate marketing for more profit.
Regarding it as "the easiest to use WordPress eCommerce shopping cart plugin", the developers of Cart66 intended to make an online retail attainable for every single merchant. Simple and comprehensible, this plug & play solution offers a robust functionality, effective orders management, advanced promotion tools. I can't stress how basic Cart66 is enough. If you go with this plugin, I hope you're good with your hands – because you're going to be doing a lot of manual labor (ie. manually sending emails with order status, copying and pasting packing slip info, copying and pasting addresses onto shipping labels, and more). Visit :https://wordpress.org/plugins/cart66-lite/
4. Jigoshop :
[ All Time : 474,874 & Active Installs : 10,000+ ]

Jigoshop is a WordPress eCommerce plugin intended to help you easily set up and run your eCommerce website. It is build upon core WordPress functionality and is packed with a wide range of great features like: advanced reporting, a multitude of product types, manage stock, widgets and shortcodes, additional extensions, etc. Technical support and help is a priority for Jigoshop creators, that's why a Community Forum and a premium technical support is available on their website.
Jigoshop is easy to step up and use WordPress eCommerce plugin that guarantees excellent customizability and performance. Being a professional solution, it offers multiple product type options allowing to sell virtually anything – from traditional goods to digital, affiliate, variable and grouped products. Visit : https://wordpress.org/plugins/jigoshop/
5. eShop :
[ All Time : 618,094 & Active Installs : 10,000+ ]

eShop is an accessible shopping cart plugin for WordPress that was built by some passionate folks, that started out as Open Source software supporters. Their development work turned into a successful plugin (downloaded a half of Million times). eShop is packed with various eCommerce features like: product listings, sales data, various shipping options, automatic emails, stock control, discount options, statistics, etc. A dedicated website is available for support, including: documentation, forums, wikis, videos and more.
I found eShop to be one of the easiest to use WordPress ecommerce plugins. The admin area is nice, and they make it simple to add products, and check very basic stats. Again – like all WordPress ecommerce solutions, there is always a downside, and with eShop you're extremely limited when it comes to payment gateways. With eShop you can only use PayPal, Payson, or their own payment system (they take a cut), and if you choose to use eShop as a payment method, you won't be able to print an invoice for the customer, which… is kind of ridiculous. Visit : https://wordpress.org/plugins/eshop/
6. iThemes Exchange :
[ All Time : 87,102 & Active Installs : 3,000+ ]

iThemes Exchange is a simple, intuitive and extremely extendable WordPress eCommerce plugin developed by iThemes. Having a user-friendly interface, it makes product creation process relatively easier. Unlike other plugins that create their own database tables for customers, Exchange takes advantage of built-in WordPress user system for adding customer information to its own page. So that you could easily manage customers by viewing available downloads and products purchased, editing transactions and adding notes to customer information.
Getting started with Exchange is as easy as one, two, and three: install, activate, select your favorite payment processor, add products and start selling. To make purchase experience easiest than ever, Exchange uses Stripe as built-in payment gateway. It also supports PayPal Standard out of the box as a core add-on. There are several Exchange Themes available to fulfill your specific needs. Finally, you can unlock Exchange's full potential by trying the Pro pack that has much advanced features. Visit : https://wordpress.org/plugins/ithemes-exchange/
7. Shopp :
[ All Time : 38,725 & Active Installs : 8,000+ ]

Shopp is a high-performance and professional e-commerce plugin for WordPress. It adds a secure shopping cart to your WordPress website in a matter of minutes. It is a clever catchphrase of next hero of our list – Shopp, WP plugin that allows to start an e-store faster than you end up reading this article. One of its distinctive features is the fact that Shopp is exceptionally secure, which compensates the overall vulnerability of WordPress. Also, it possesses a high level of flexibility, a range of responsive design templates and convenient catalog management.
This plugin is bursting at the seams with features. You can download the plugin free at WordPress.org or purchase the starter package at just $75. They also have a "Go Pro" version that comes with developer access amongst other features. According to shopp plugin. net, Shopp is a simply usable, fully flexible, e-commerce framework. Visit: https://wordpress.org/plugins/shopp/
8. Quick Shop :
[ All Time : 117,169 & Active Installs : 1,000+ ]

Quick Shop supports any WordPress that has the Sidebar Widgets installed, really. It adds a SideBar widget that shows the user what they currently have in the cart and allows them to remove the items, not to mention a TinyMCE button to easily allow you to add products to your posts/pages.
What's more, the Quick Shop plugin is compatible with WordPress themes with sidebars since the plugin adds a sidebar widget to show your customer what they have in their cart. The plugin is fully customizable using custom CSS, compatible with WordPress, WordPress Multisite and has shopping cart and checkout pages amongst other features. Visit : https://wordpress.org/plugins/quick-shop/
9. MarketPress :
[ All Time : 160,347 & Active Installs : 7,000+ ]

MarketPress sets the standard for WordPress eCommerce solutions, providing an elegant shopping experience that supports all major payment gateways and allows you to easily manage distribution and shopping costs with custom shipping options. Why spend thousands of dollars on cowboy-coded extensions and add-ons? There's no need to purchase extra add-ons or special licenses when MarketPress brings together the power of dozens of different plugins in one solid standalone product.
MarketPress, prudently written by experienced WordPress developers at WPMU DEV, is a well designed, easily customizable and feature-rich eCommerce plug-in. The main motive behind the development of this fabulous plug-in is delivering users a simple, beautiful and enjoyable shopping cart experience without any add-on or extension. Thus, MarketPress is a WPMU DEV's effort of putting together the powers of different plug-ins into one single standalone eCommerce solution. Visit : https://wordpress.org/plugins/wordpress-ecommerce/
10. Easy Digital Download :
[ All Time : 738,776 & Active Installs : 40,000+ ]

Easy Digital Downloads is a complete ecommerce solution for selling digital products in a light, performant, and easy to use plugin. Rather that attempting to provide every feature under the sun, Easy Digital Downloads makes selling digital simple and complete by providing just the features you need.
If you're dealing with digital downloads, this WordPress plugin is probably the best solution for your website. As opposed to having all the e-commerce features under the sun, Easy Digital Downloads offers just the features you need to take the challenge out of selling digital products. Visit : https://wordpress.org/plugins/ easy-digital-downloads/
What's your favorite? Let us know in the comments section below!