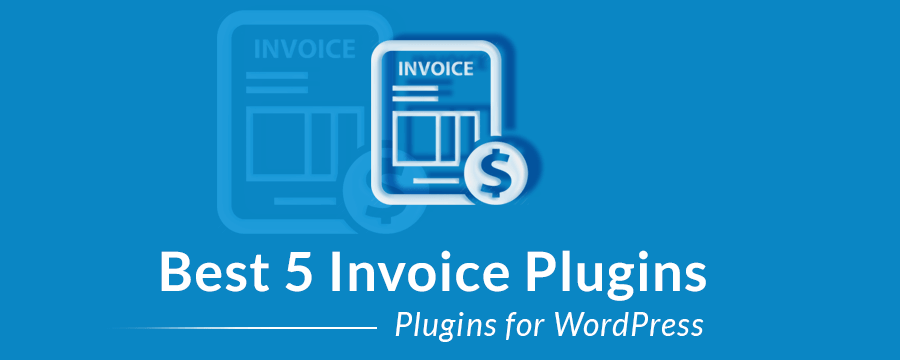 There are many tools built around WordPress now that can make your business run more efficiently and one such area is invoicing clients – there are a number of WordPress plugins you can use for generating and managing invoices. Managing your finances as a small business owner can be difficult at a times, especially when it comes to getting paid for work you have done so it helps to have some sort of invoicing and tracking software.
This is the age of E-commerce and most of the clients want to buy his/ her necessary things by online. Every client wants to take the best opportunity from the owner of the shop. I've started a small business to sell some products. I chosed WooCommerce as default shopping cart because I've experienced with WordPress. After my shop go to online, I'm looking for WordPress plugins to invoice my clients.
Fortunately, there are dozens of payment and billing plugins available for WordPress blogs. In this articles, I will show you best 5 WordPress plugins to invoice your clients which can use for generating and managing invoices. If you work with WordPress, sooner or later you will need a good invoicing application to generate estimates and bill your clients.
1. WP Invoice :
[ All Time : 157,630 & Active Installs : 5000+ ]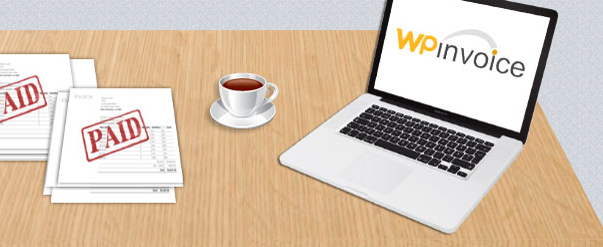 WP-Invoice lets WordPress blog owners send itemized invoices to their clients. Ideal for web developers, SEO consultants, general contractors, or anyone with a WordPress blog and clients to bill. The plugin ties into WP's user management database to keep track of your clients and their information. Once an invoice is created from the WP admin section, an email with a brief description and a unique link is sent to client. Clients follow the link to your blog's special invoice page, view their invoice, and pay their bill using PayPal. The control panel is very user-friendly and intuitive.
Some features : Free and Paid Add-ons available, WP-CRM Integration, Brand new user interface for much improved invoicing filtering and searching, Partial Payments with minimum amount, Receipt Page with Invoice Log, Per-defined Line Items, Discount Line Items, Custom Payment Entry, and administrative adjustments, Customizable Invoice and Receipt Templates, Create invoices from the WordPress control panel, Pre-fill customer information using the WordPress user list etc. Visit : https://wordpress.org/plugins/wp-invoice/
2. Sprout Invoices :
[ All Time : 19,268 & Active Installs : 800+ ]

Sprout Invoicing allows for custom estimate and invoice templates, which you can brand for your business via a standards WordPress theme template. Notification editing allows for plain-text or HTML, so you can also match the branding in your email communications. The free Sprout Invoicing plugin allows you to accept payment via Paypal Pro or send customers to Paypal to pay invoices.
The Sprout App marketplace includes additional upgrades, payment add, Create estimates and invoices within your WordPress site. Accept invoice payments from multiple payment processors. Our mission at Sprout Apps is to build a suite of apps to help us all work more efficiently and provide complete control the WordPress way. Our latest Sprout Apps are Sprout Invoices and Help Scout Desk, with many more to come. Visit : https://wordpress.org/plugins/sprout-invoices/
3. Invoice King Pro :
[ All Time : 7,923 & Active Installs : 400+ ]


Invoice King Pro makes creating and sending your invoices simple. The invoice creation interface gives you full control over every word on your invoice. Choose a different theme to give your invoices the look, style and layout that you want. If there isn't a layout that suits your needs, thats ok, it can be created! Themes are available on the King Pro Plugins website. Client information is stored and editable in the system so next time you need to invoice them, it is even quicker to create your invoice. Just choose the existing client from the dropdown and click the insert button which will populate all the client fields that the theme uses.
The Invoice King Pro settings area will allow you to set some data that will be consistent across all of your invoices, so that you don't need to enter them for every invoice you create. Rest assured that if you need to change these details as a one-off, you can! Define your own columns for the invoice, no matter the theme/template/design. It's your invoice, so you have control on what is on it. Once the columns have been defined, you set up the calculation for the invoice simply by assigning columns and operators. Finally assigning what column will calculate the subtotal column will find you on your way to creating and sending your invoices. Visit : https://wordpress.org/plugins/invoice-king-pro/
4. Quip Invoice :
[ All Time : 110 & Active Installs : 10+ ]

Quip Invoices is a complete invoicing solution built directly into your WordPress website. Create and send invoices, accept payments, store client information and track your sales with Quip Invoices. Built from the ground up to cover all the invoicing needs of a small business, Quip Invoices is easy and intuitive to use.
Some features : Create fully-featured invoices, Invoice options include line-item level adjustments, tax rates, customizable company info & logo and more, Accept credit card payments directly. Powered by Stripe, Store client details for easy re-use, Automated tracking of when clients view and pay your invoices, Choose your own invoice numbers or just use the auto-generated ones, Special print styles so invoices look good on paper as well as on screen etc. Visit : https://wordpress.org/plugins/quip-invoices-free/
5.WooCommerce PDF Invoice :
[ All Time : 210,984 & Active Installs : 30,000+ ]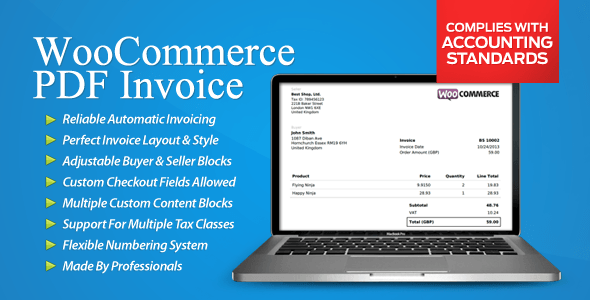 This WooCommerce extension automatically adds a PDF invoice to the order confirmation emails sent out to your customers. Includes a basic template (additional templates are available from WP Overnight) as well as the possibility to modify/create your own templates. In addition, you can choose to download or print invoices and packing slips from the WooCommerce order admin.
WooCommerce PDF Invoice is the most professional and feature-rich invoicing extension which comes with premium support. For those that mean business. Invoicing extensions are not ordinary extensions – documents must comply with accounting standards and regulations, the extension itself must be very reliable as a single flaw can mean additional costs later on. Having this in mind we spend countless hours researching accounting standards and developing a product that we can proudly refer to as the most professional WooCommerce invoicing extension in the world. Visit : https://wordpress.org/plugins/woocommerce-pdf-invoices-packing-slips/
What's your favorite? Let us know in the comments section below!
Joomla Custom Development

We have more than 100 extensions approved in official Joomla extension directory, which makes us one of the leading Joomla extension developer in the world. We are expert in developing system plugins, module and components. [Click here to learn about our Joomla Extension Services]
WordPress Custom Development
We are long time WordPress geek and we mean it. To convince you, our plugin author page in WordPress.org plugin directory is enough. So we are keeping it short and let's see what type of custom development services we provide for wordpress.[Click here to learn about our WordPress Custom Services]