Five Best Event Plugins For WordPress
Event management plugins provide an amazing set of features that can help save time and make it easy for your customers to join in your events. Building a website using WordPress is the ideal solution for most nonprofits and event planners; choose a theme and the appearance, functionality and framework of your website is taken care of.
With the right theme and plugins and you can very quickly build yourself a great looking event website. You can sell tickets from your website, build a social media following, provide detailed directions to your location. Most organizations run a series of events every year – from business-to-business conferences, webinars, and professional meet-ups to fundraising events, local community gatherings and employee clubs. With so many events taking place around the world and very little time to organize them. Today we take a look at five fantastic event management plugins for WordPress.
1. The Events Calendar : Price – Free
[ Start Download : All Time – 17,40,322 & Active Installation : 2,00,000+ ]

Events Calendar comprises a series of events management plugins that enable you to run and manage multiple events from your website with increased efficiency.The basic version is completely free and offers a ton of powerful features you can use to setup your events calendar in no time. It is ideal for one-off events.
But if you run an events management business and organize recurring events, the Pro version is what gives you the real power to manage recurring events.The Events Calendar is a carefully crafted, extensible plugin that lets you easily share your events. Beautiful. Solid. Awesome. Visit : https://wordpress.org/plugins/the-events-calendar/
2. Events Manager : Price – Free
[ Start Download : All Time – 11,89,999 & Active Installation : 1,00,000+ ]

Events Manager provides features for publishing events, calendars and event locations with ease. It also provides booking features for the events you set up. Events Manager doesn't come with all the bells and whistles that you'll find on other top plugins on the list, but it does offer a decent set of useful options for creating flexible event pages.What's more, Events Manager is Multisite-enabled out of the box and also supports BuddyPress, unlike many of its competitors.
There's a free version of the plugin that offers a basic set of features, but the Pro version is what you should consider as it comes with built-in spam protection, customizable booking forms, PayPal and Authorize.net payment integration, automated email reminders, a coupon and discounts manager, and premium support – all on top of the basic features. Visit: https://wordpress.org/plugins/events-manager/
3 . My Calendar : Price – Free
[ Start Download : All Time – 5,59,268 & Active Installation : 40,000+ ]

Accessible WordPress event calendar plugin. Show events from multiple calendars on pages, in posts, or in widgets.My Calendar does WordPress event management with richly customizable ways to display events. The plug-in supports individual event calendars within WordPress Multisite, multiple calendars displayed by categories, locations or author, or simple lists of upcoming events.
Easy to use for anybody, My Calendar provides enormous flexibility for designers and developers needing a custom calendar. One can use Standard calendar grid and list views of events, Show events in monthly, weekly, or daily view. Today's events, upcoming events, compact calendar, event search, Custom templates for event output Limit views by categories, location, author, or host Disable default CSS and default JavaScript or display only on specific Pages/Posts Editable CSS styles.Visit :https://wordpress.org/plugins/my-calendar/stats/
4 . Event Organiser : Price – Free
[ Start Download : All Time – 4,64,584 & Active Installation : 30,000+ ]

Event Organiser adds event management that integrates well with your WordPress site. By using WordPress' in-built 'custom post type', this plug-in allows you to create events that have the same functionality as posts, while adding further features that allow you to manage your events. This includes the possibility of repeating your event according to complex schedules and assign your events to venues.
This can all be done through an intuitive user interface, which allows you to view your events in the familiar WordPress list or in a calendar page in the admin area.Create and maintain events, including complex recurring patterns, venue management (with Google maps), calendars and customisable event lists. Visit : https://wordpress.org/plugins/event-organiser/
5 . Event Made Easy : Price – Free
[ Start Download : All Time : 1,62,634 & Active Installation : 10,000+ ]
Events Made Easy is a full-featured event management solution for WordPress. Events Made Easy supports public, private, draft and recurring events, locations management, RSVP (+ optional approval), Paypal, 2Checkout, FirstData and Google maps. With Events Made Easy you can plan and publish your event, or let people reserve spaces for your weekly meetings. You can add events list, calendars and description to your blog using multiple sidebar widgets or shortcodes.
Events Made Easy integrates with Google Maps; thanks to geocoding, Events Made Easy can find the location of your event and accordingly display a map. Events Made Easy handles RSVP and bookings, integrates payments for events using paypal and other payment gateways and allows payment tracking. Visit : https://wordpress.org/plugins/events-made-easy/
Conclusion
The above list comprises some of the best event management plugins for WordPress, but obviously it is not an exhaustive list. There are more plugins worth looking at, so do feel free to explore if you feel that one of the above doesn't suit your needs.
However, my personal pick from the above would be Event Espresso. It isn't the cheapest offering, but its price matches its functionality and ease of use.
Now i'm introducing a WordPress event countdown plugin name CBX Flexible Event Countdown for WordPress. It helps to countdown any kinds of event in your wordpress site. It is interesting that this plugin supports different types of countdown plugin which has already mentioned above. You can download this plugin from here.
What's your favorite? Let us know in the comments section below!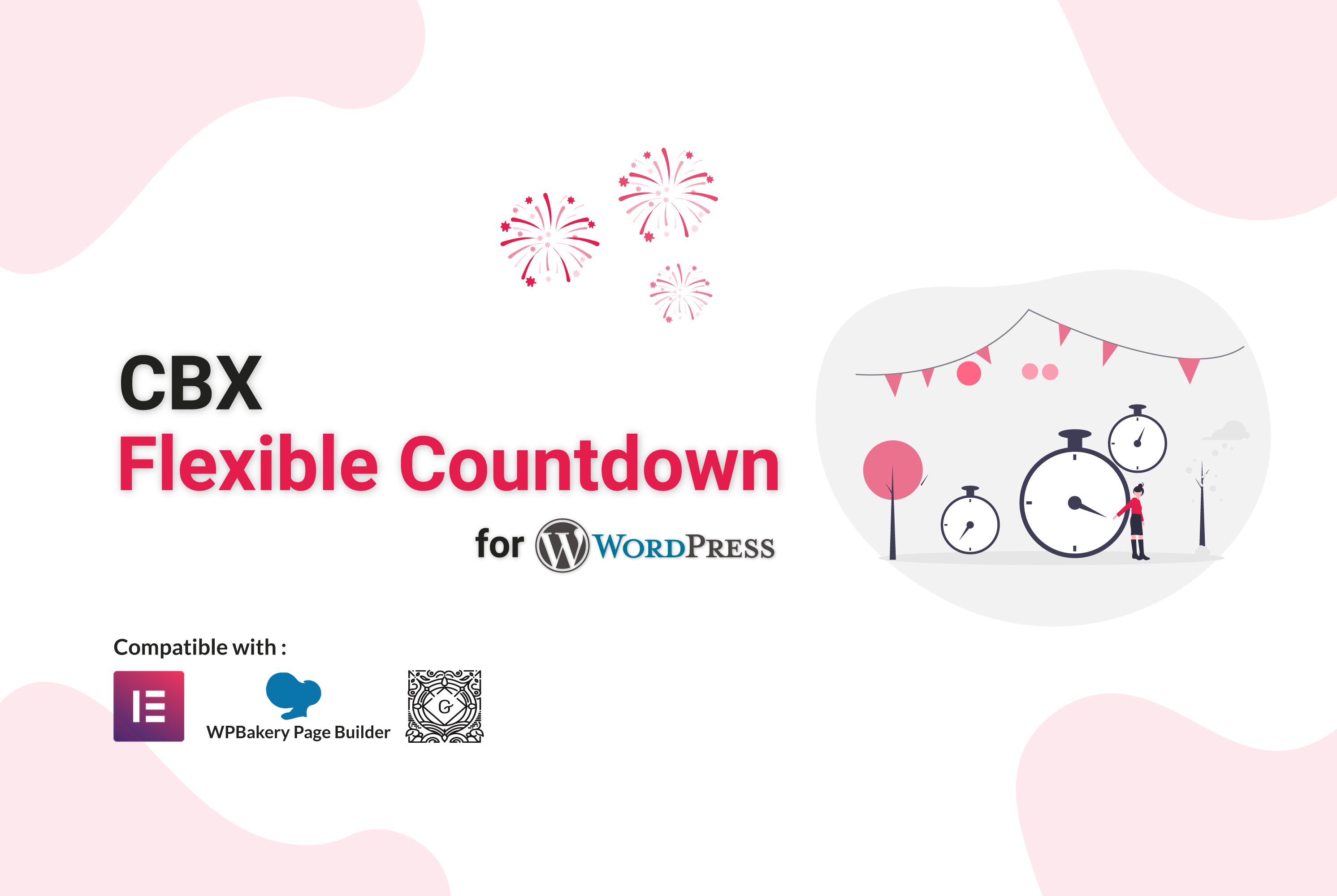 Different types of countdown styles are packed in a single countdown plugin with all flexible option to customize from the plugin options panel.