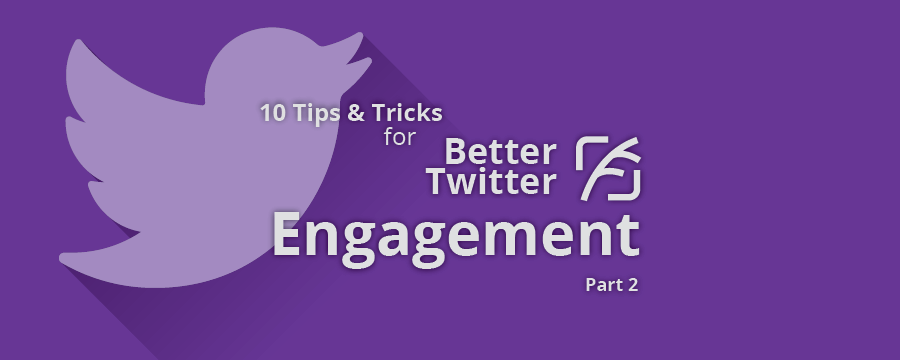 In part1 of this series, I discussed 10 tips for better twitter engagement. Hope this 2nd part will help more.
01. Reply
At first chose the tweet then clicked the reply button located at the bottom of the tweet, complete your reply and click tweet to post it.
02. Like
Like are represented by a small heart bottom of the tweet. If you want to like a tweet click the like icon and it will turn red for confirming you like
this. By liking you will engage with another person, so like others tweet and increase your engagement.


03. Follow Back Your Best Followers
It is important to follow everyone that follows you but sometimes it will create a problem if the followed twitter account doesn't go with your business goal. So it is better to follow some important one that suits for your business. You just need to focus on target people.
04. Pick a Short and Memorable Twitter Username
For Twitter, the shortest username is better. Many people like this and more people retweet your tweet. If your username is short and memorable then more people memorize you and your engagement will increase.
05. Share Quality Content
If you share quality content then you will get more retweet and more people follow you. When someone follows you then subscribe your post and basically want to see a quality full tweet. If your content is low quality then you will lose your followers.


06. Retweet as Fast as You Can
Twitter is a real-time social network. So, if you reply the shortest time then your engagement will better and you reach to people quickly. So tweet fast and be engaged.
07. Create a Story
I think everyone loves story. When you write something then make it as a story. If you follow this I think more people engaged with you. Sometimes, you can tell the story about yourself or your business.
08. Write Killer Headline
The killer heading is a good way of grabbing people's attraction.
09. Do Not Auto-Follow
Don't auto follow people, please check the profile before following. If you do this then there is a risk. If the people you follow is a spammer then he can be harmful to your profile. Follow after the check, Be safe.
10. Be Helpful
Twitter is the place where people share ideas and engaged with people's with same interests. The smart way to build up business here is writing blog posts. If you share blog post it is helpful for others then more people engaged with you. So be helpful and increased your engagement on twitter.
Joomla Custom Development

We have more than 100 extensions approved in official Joomla extension directory, which makes us one of the leading Joomla extension developer in the world. We are expert in developing system plugins, module and components. [Click here to learn about our Joomla Extension Services]
WordPress Custom Development
We are long time WordPress geek and we mean it. To convince you, our plugin author page in WordPress.org plugin directory is enough. So we are keeping it short and let's see what type of custom development services we provide for wordpress.[Click here to learn about our WordPress Custom Services]