Demystifying Social Media: Codeboxr Infographic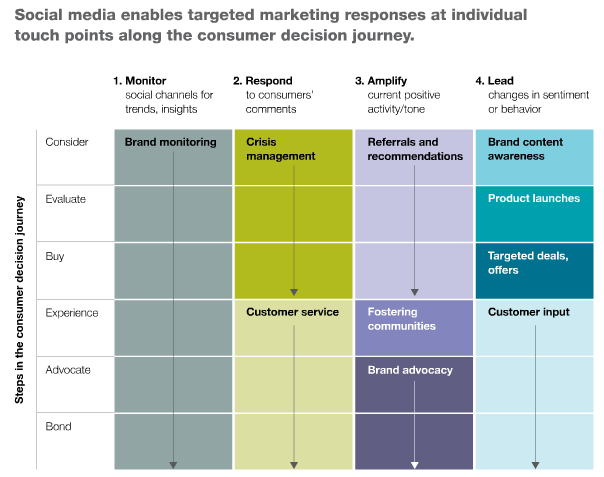 McKinsey&Company published a great article titled: Demystifying Social Media.
Executives certainly know what social media is. After all, if Facebook users constituted a country, it would be the world's third largest, behind China and India. Executives can even claim to know what makes social media so potent: its ability to amplify word-of-mouth effects. Yet the vast majority of executives have no idea how to harness social media's power. Companies diligently establish Twitter feeds and branded Facebook pages, but few have a deep understanding of exactly how social media interacts with consumers to expand product and brand recognition, drive sales and profitability, and engender loyalty.

We believe there are two interrelated reasons why social media remains an enigma wrapped in a riddle for many executives, particularly nonmarketers. The first is its seemingly nebulous nature. It's no secret that consumers increasingly go online to discuss products and brands, seek advice, and offer guidance. Yet it's often difficult to see where and how to influence these conversations, which take place across an ever-growing variety of platforms, among diverse and dispersed communities, and may occur either with lightning speed or over the course of months. Second, there's no single measure of social media's financial impact, and many companies find that it's difficult to justify devoting significant resources—financial or human—to an activity whose precise effect remains unclear.

What we hope to do here is to demystify social media. We have identified its four primary functions—to monitor, respond, amplify, and lead consumer behavior—and linked them to the journey consumers undertake when making purchasing decisions. Being able to identify exactly how, when, and where social media influences consumers helps executives to craft marketing strategies that take advantage of social media's unique ability to engage with customers.
>> Read the article in full here.
[+] Additional Multimedia to explore for this article here.
Inspired by this article, from Codeboxr here is a new Infographic: